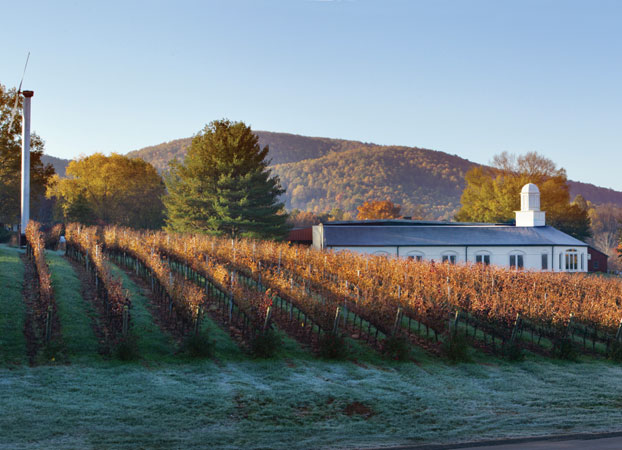 A new age for Virginia wines
Sommelier Jason Tesauro opens up a few bottles in the name of research and reports on experiments with ageing Virginia wines.
What do we know about how Virginia wines age?
'To join the pantheon of great wine regions, Virginia needs roots and ageability'
Last October , the Michelin Guide added Washington DC as the fourth American city to earn its own little red book.
It has taken decades, but the DC food scene has evolved to offer world-class restaurants.
And but a cork's throw away, whether by coincidence or conspiracy, Virginia wine is evolving in lock-step with Capitol region cuisine as serious and varied stuff worth exploring.
---
This article was first published in Decanter magazine: Subscribe here
---
It's one thing to be the new kid on the block, but to join the pantheon of great wine regions, Virginia needs more than ratings and proficiency.
It needs roots and ageability. When I first profiled the region for Decanter in 2013, we billed Virginia as 'America's Old World', praising its 213 wineries for finesse, moderate alcohol and food-friendliness.
Four years later, the count is nearly 270, and more and more labels are showing up in the UK and abroad. That's good news if you want to drink a bottle tonight, but are these Virginia imports also worthy of cellaring?
With such a young region – grapes have been grown here since colonial times, but the modern industry is only 40 years old – there aren't deep stores of old wines. And there's no employee handbook for Virginia winemakers telling them which grapes to grow and for how long to cellar them. In fact, when I contacted winemakers to enquire about age worthiness, the most common response was 'we're still answering that ourselves'.
---
'How are these older wines performing?'
---
To find out, I raided my own cellar and assembled library selections from many of the state's most stalwart producers. Things remain fluid in Virginia regarding her best-suited varieties, sites, clones and such, and thus our line-up spanned four AVAs, four categories (white, rosé, red, sweet) and 18 different grapes, including one American hybrid. The big question: how are these older wines performing?
Twelve friends sat with 45 wines, nearly 30 of which from 2010 or older. Neither a random selection nor an average sampling, this was a purposeful collection of Virginia's benchmark estates. Around the table were top winemakers and sommeliers, plus one collector and a restaurateur.
Master Sommelier Robert Jones summed up the whole flight: 'Nothing was too old or past its prime. But many wines had simply endured.'
This is an important observation, because not all wines are intended to age and not all wines improve with age. Forgetting the wines that simply weren't excellent to begin with, we're left with those that survived and those that thrived. A third of the older wines benefited, showing what sommeliers call 'tertiary development': those post-fruit complexities of earth, nuts, florals and spice that are sweet reward for patience.
Everything else just lasted. Those other wines had enough guts and structure for a journey, but the wines weren't better for it, merely older.
'Two wines immediately stood out as best reds of the night,' said Jones at the end of the tasting. We all knew which ones he meant. Linden's Hardscrabble 2006, a Bordeaux blend that showed beautiful density; and Barboursville Vineyards' Cabernet Franc 2006, which exuded freshness and elegant structure.
There was one more big surprise. Well, three, actually: Chrysalis Vineyards, Locksley Reserve, Norton 2000, 2001 and 2002. These rich, American hybrid wines are only a third or halfway through their life.
Overall, the wines told us much. First, Virginia is not homogenous. Climate, terrain, vintage, cellar talent – these vary more than you'd expect. Second, the wines that didn't shine weren't faulty from age, but from too much trickery in the cellar.
Virginia shows best when her wines exhibit natural beauty more than cosmetic work. Her best also aim for lightness and finesse, not opacity and brawn.
Most importantly, we answered the big question.
'Based on this set,' said Jones, 'Virginia's wines can absolutely age.'Just how far, who can say. Let's do this again in 10 years' time, shall we?'
Jason Tesauro is an author and speaker based in Richmond, Virginia, also working as brand manager and chief sommelier for Barboursville Vineyards.
Related stories: