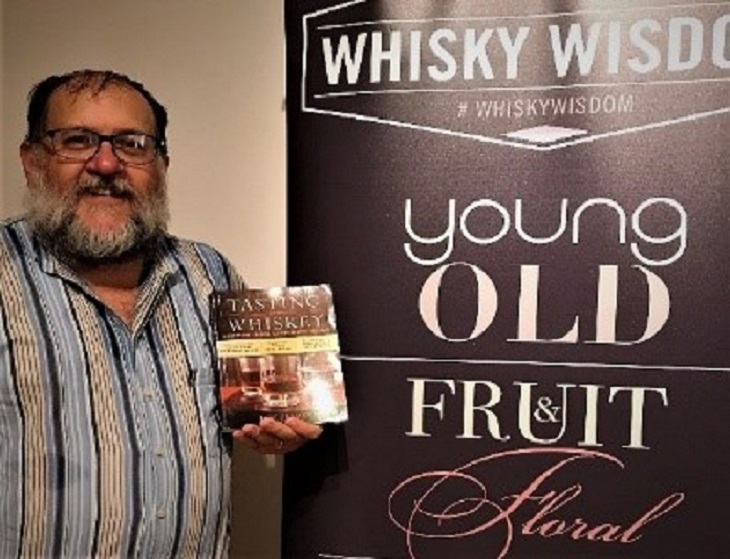 All about whiskey
The world of whiskey extends well beyond smelling, sipping and tasting. To learn about the brown liquid in your glass you should speak with Lew Bryson, one of the world's leading authorities on whiskey. If you don't have the time to take a whiskey course with Bryson, you can buy his book, "Tasting Whiskey. An insider's guide to the unique pleasures of the World's Finest Spirits" (Storey Publishing, 2014).
Beer First
Bryson started his alcohol laced career path in 1995 by writing about beer and spirits as the Managing Editor of Whisky Advocate (1996-2015). Currently his take on whiskey and beer can be reviewed in American Spirits, All About Beer, the Daily Beast and Scotchwhiskey.com.
If you were fortunate you received a copy of his book as a present. If Tasting Whiskey was not placed in your Christmas stocking, now would be the perfect time to head to Amazon and buy your own copy for once you start to explore the world of whiskey with the Bryson guide at your fingertips you will begin to understand and appreciate the complexity of what is in your glass.
In Tasting Whiskey Bryson shares his encyclopedic knowledge and expertise on the whys and wherefores of this delicious beverage. As a smart tour guide, he leads readers through the exploration of the traditions and nuances associated with bourbon, Scotch, Irish and Japanese whiskies, turning every reader in a whiskey believer.
What You Are Drinking
Whiskey is defined as a spirit "bottled at not less than 40 percent alcohol by volume (80 proof)." If you have Scotch whiskey in your glass who are drinking a whiskey produced in Scotland and:
The grain has been distilled at a distillery in Scotland from water and malted barley (to which only whole grains of other cereals may be added)
Processed at the distillery into a mash
Converted at that distillery into a fermentable substrate only by endogenous enzyme systems (only enzymes made by the malt itself)
Fermented at that distillery only by the addition of yeast
Distilled at an alcoholic strength by volume of less than 94.8 percent so that the distillate has an aroma and taste derived from the raw materials used in and the method of its production
Matured exclusively in oak casks of a capacity not exceeding 700 liters
Matured only in Scotland
Matured for a period of not less than 3 years
Matured only in an excise warehouse or a permitted place
Retains the color, aroma and taste derived from the raw materials used in and the method of its production and maturation
No substance has been added; additions limited to water and/or plain caramel coloring
Minimum alcoholic strength by volume of 40 percent (whiskeyinvestdirect.com)
Bourbon must be made from a grain mixture that is at least 41 percent corn.
Lots of Drinking
American whiskey grew 6.4 percent in volume in 2017, reaching 23.2 million 9-liter cases. Bourbon's volume increased 6.7 percent in 2017 to 20 million cases. There was also steady growth in Canadian and Irish whiskey and continued increase is expected.
Industry Leadership
According to Vinepair.com the top 5 whiskeys include:
Jack Daniel's, topping the list with $309,725,503 in sales. This Brown-Forman brand is the most popular and the best-selling spirit in the country and the 4th best-selling spirit in the world.
Crown Royal Canadian Whiskey. The Crown Royal Deluxe was created in honor of King George VI. It is a blended Canadian whisky owned by Diageo and is the top-selling Canadian whisky in the United States. It is bottled at 80 proof or more.
Fireball Cinnamon Whiskey. Made in Canada with distilled and aged Canadian whisky.
Fireball is noted with 33 percent ABV (66 proof) and is considered a flavored whiskey or a "specialty" distilled spirit.
Jim Beam Bourbon Whiskey. A blend of corn, rye and barley, this best-selling bourbon has been around for more than 220 years. It is sold in 200 countries with the US, Germany, and Australia leading the pack.
Jameson Irish Whiskey. This is the best-selling Irish whiskey in the world, with 90 percent of its production exported. The company is owned by Pernod Ricard since 1988.
Diversity in Whiskies
Scotland produces most of the world's whiskey and has been the market leader for at least 100 years. Whiskey is also produced in the USA (37 million cases), Canada (21 million cases), Ireland (7 million cases), Japan, England, Wales, South Africa, Australia, Taiwan, Spain and Sweden.
There are two main types of Scotch whiskey: single malt and blended. Single malt accounts for 10 percent of global sales by volume; however, most Scotch whiskey sold worldwide is blended and made from a mix of several different malt and grain whiskies. Japan is the only other major whisky-making country to have adopted the same single malt blended whisky model.
The USA produces approximately 37 million cases of whiskey each year. The most popular cereals used in American distilling are barley, rye, wheat and maize. A feature of American whiskey is the strong, sweet vanilla flavor derived from the obligatory maturation in new oak casks.
Some chose Coke as a mixer for American whiskey while premium brands (Maker's Mark and Woodford Reserve) are enjoyed neat or in traditional whiskey cocktails (i.e., Manhattan, Old Fashioned, Whiskey Sour).
Canada produces 21+ million cases of whiskey with Crown Royal, Black Velvet, and Canadian Club representing half of all sales. Canadian whiskey is noted for its light and smooth style, and most of it is blended. The laws of Canada stipulate that the product must be aged for a minimum of 3 years in oak casks and allows for caramel to be added.
Some experts think that Ireland is the birthplace of whiskey although currently the country has only 7 distilleries operating and the three newest distilleries have no established products in the market.
Ireland produces approximately 7 million cases of whiskey and most of sales are attributed to Jameson, selling 4.5m cases, or 64 percent of the total Irish whiskey sales. In second place, Tullamore Dew, is growing at over 10 percent per year but still under 1 million cases. Most Irish whiskey is distilled 3 times (other Scotch whiskies are distilled 2 times). Because the use of peat in the malting process is rare, Irish whiskey has a smoother finish as opposed to the smoke, earthy overtones common to some Scotch.
Japan distills its whisky twice, in copper pot stills and uses oak in the maturation of the spirit. In Japan, Suntory's Yamazaki Single Malt Sherry Cask 2013 was named "the best whiskey in the world," by Jim Murray (Whiskey Bible). Japan started making whiskey in the early 1920s and modelled production on the Scotch method that Suntory's master distiller, Masetsaka Taketsuru, studied for 3 years in Scotland. When he returned to Japan, he helped to establish the Yoichi distillery.
Whiskey is also made in India, selling over 120 million cases. The majority of Indian whisky is not made from cereals but from molasses, artificially flavored and unaged. For this reason, it is not allowed to be sold as whiskey in the EU. In India, many of the locally made products add Scotch whisky to enhance the flavor.
Whiskey Fest. Curated
At a recent Whiskey Fest in New York City, I had the opportunity to taste a few of the best whiskies in the marketplace.
Old Forester. Produced in Shively, Kentucky
Old Forester bourbon was started by George Garvin and was the first bourbon to be sold in sealed glass bottles to ensure quality. It was made according to Brown's 1870 original batch process of batching barrels from 3 distilleries to create a consistent flavor profile.
Dr. William Forrester was a customer of Brown when he was working as a pharmaceutical salesman. When Forrester retired, Brown dropped the second R in the name. During Prohibition, while many distilleries were forced to close, Brown-Forman applied for and received a federal license to continue producing Old Forester for medical purposes.
Ben Riach. Produced in the Speyside area of Scotland
The BenRiach 10 Years Old is produced in classic Speyside style. The casks used are ex-bourbon and ex-sherry. The eye is delighted with summer yellow while the nose detects a combination of crisp, green apples, ginger and hints of tangerine that mingles with creamy vanilla, mint, citrus and sweet barley. The palate finds toasted oak spices, green apple skins and dried apricots that leads to hints of peach and soft banana. There are suggestions of anise, lemon zest and barley at the finish.
Slane. Produced at Slanecastle Demesne, County Meath, Ireland
Named after Slane Castle, the distillery is located approximately 45 minutes from Dublin. The Conyhgham family partnered with Cooley Distillery to source spirit and bottle under their own brand. Currently they have partnered with Brown Forman to assist in the design and construction of a distillery and tasting room on the grounds of the ancestral castle at a cost of $50 million.
Slane Irish Whiskey is blended and includes malt and grain whiskey. It is matured in three different cask types 1. new heavy toast/light char casks from the Brown Forman cooperage, 2. used Tennessee whiskey and bourbon casks and 3. Oloroso sherry casks from Jerez, Spain.
Maturation takes place in the separate casks and blended when the maturation process is completed. While there is no age statement, to be able to use the name "whiskey" in Ireland, the spirit has to spend at least 3 years in oak.
Widow Jane. Produced in Red Hook, Brooklyn, NY
The Widow Jane artisanal distillery as well as the warehouse, aging, barreling, blending and bottling is done in- house. Bourbon barrels and limestone filtered water enhances the natural flavors of the spirits.
The production process includes the use of a pot still and serial continuous distillation columns. The stills deliver unique flavors to the whiskey. The distillery offers public and private tours.
Widow Jane in made in Brooklyn, NY, using straight bourbon and matured in barrel batches using non-chill filtered and proofed with mineral water from Rosendale Mines of NY. Look for the smell of vanilla to the nose, with hints of orange, maple, nutmeg, cherry and almonds on the palate. The finish delivers charred oak and spices.
Yellowstone Bourbon. Produced by Limestone Branch Distillery, Lebanon, Kentucky
Yellowstone Bourbon (named after the national park) dates back to the mid-to-late 19th century where it was started by J. B. Dant, D.H. Taylor and J. T. William. During Prohibition (1920s) Yellowstone Bourbon was bottled for medicinal purposes only. In the 1960s it was the largest selling brand in Kentucky. The brand is currently linked with Luxco and the product is distilled and aged in Kentucky and bottled in Lebanon, Kentucky.
An orange caramel color attracts the eye while the nose detects caramel, herbs, brown sugar, spices with a bit of dark fruit and pastry. On the palate there are hints of peanuts, hazelnuts, toffee, caramel and spice linked to citrus peel, wood and vanilla. Think of candy at the finish – peanut brittle and sugared nuts.
Wyoming Whiskey. Produced in Kirby, Wyoming
Wyoming Whiskey is owned and operated by the Mead family, an independent enterprise that is based in the Big Horn Basin of Wyoming. The family arrived in Wyoming in 1890 and for 125 years raised cattle and hay at ranches in Spring Gulch and Kirby. The company was started by Brad and Kate Mead and the Distiller is Sam Mead who joined the company in 2014 and controls all products including Small Batch, Single Barrel and Barrel Strength.
Brad Rageth in Byron, Wyoming selects strains of non-GMO corn, wheat, barley and winter rye for specific starch and sugar yields, the building blocks of bourbon. They use a strain that matures in 92 days and is hand-selected. The Rageth Farm also provides summer and winter wheat that is grown exclusively for Wyoming Whiskey and a winter rye for new products.
The water for the whiskey is from a limestone aquifer, located a mile below Manderson, Wyoming in the Madison Formation. The limestone rock is ancient and the water it filters has not seen daylight since the Bronze age, over 6000 years ago.
Future of Whiskey
Whiskey producers are dealing with the challenge of staying relevant and wondering how to continue to appeal to the changing tastes of consumers while staying within the confines of the legal systems. The …" consumer is inquisitive, knowledgeable and noisy," according to Ian Palmer of InchDairnie Distillery. Palmer is interested in moving his products into international markets, northern Europe, North and South America and the Far East, "That's where we see potential…"
According to Becky Paskin (ScotchWhiskey.com), "The whisky world is throbbing with the noise of …many critical voices and opinions…. Ultimately, whisky's meaning lies in our enjoyment of what's in our glass. It's time we were all a little bit more Bean and took a step back to just enjoy the beauty in front of us."
Perhaps we should just follow the advice of Abraham Lincoln, "Well, I wish some of you would tell me the brand of whiskey that Grant drinks. I would like to send a barrel of it to my other generals."
― Abraham Lincoln
© Dr. Elinor Garely. This copyright article, including photos, may not be reproduced without written permission from the author.