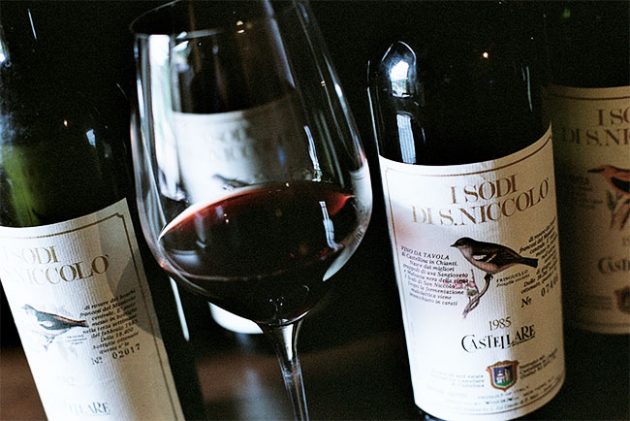 Anson: A new Super Tuscan counter culture
The ground is shifting in Italian wine, says Jane Anson, who predicts the rise of new rebels focused on indigenous varieties and asks what this could mean for the Super Tuscan movement.
So Rolling Stone is up for sale, almost 50 years to the day since its first issue was produced out of a loft in San Francisco with a loan of US$7,500. I started looking up early copies online when I read of the sale, finding a PDF of the first ever issue from November 1967. It looked more like a newspaper than a magazine, with an arresting front page image of John Lennon posing in a World War II service uniform for Richard Lester's film How I Won the War.
For wine lovers, revolution in the 1960s became so heady that it escaped all the way from California to the quiet slopes of Chianti Classico, and to the most unlikely of counter culture heros – Italian nobleman Marchese Mario Incisa della Rochetta. His Bordeaux-inspired Cabernet Sauvignon-led Sassicaia made its official launch out of French oak barrels in 1968, and reset the conversation about Italian wines, establishing a small band of rebel winemakers working outside the prevailing traditions, breaking the rules and setting the world of wine alight.
---
Have we reached peak Super Tuscan?
---
You don't need me to list the many brilliant wines inspired by Incisa della Rochetta's leap in the dark, but the Rolling Stone news seemed to rather neatly bookend a question I had when in Tuscany last weekend.
Namely whether we have reached Peak Super Tuscan, and whether today's true counter culture wines in Italy are those that use tradition rather than innovation?
Someone who should understand the issue more than most is Dr Paolo Panerai, owner of Rocca di Frassinello in Maremma and Castellare di Castellina in Chianti Classico. A journalist since 1970, he studied law and agricultural sciences, became editor of Panorama, Il Mondo and Capital magazines, and today owns Class Editori Spa; a financial publishing house that he founded in 1986 comprising an array of newspapers, magazines, press agencies, tv and radio (he's known, unsurprisingly, as the Bloomberg of Italy).
One of the problems for Rolling Stone, according to the New York Times' reading of the sale, is that it didn't evolve alongside the changing world of publishing. It noted the impact not only of recent law suits, that damaged its brand way beyond the financial cost, but also the slow burn of a changing media landscape and publisher Jan Wenner's general skepticism of the internet and the need for brand extension.
Panerai is a particularly interesting figure to look at in terms of the similarly evolving wine landscape, as he is owner of two extremely different expressions of the Super Tuscan (besides having his own press issues, namely having to constantly deny that he is the silent owner of Italy's most influential wine magazine Gambero Rosso).
First up for Panerai is the hugely impressive Rocca di Frassinello – located between Bolgheri and Scansano and originally a joint venture with Domaines Baron de Rothschild Lafite although the partnership is no longer in place (the Lafite barrels still make their way here after first use in Pauillac). Frassinello has a winery built by Renzo Piano, architect of the Georges Pompidou Centre in Paris and The Shard in London, and is the site of Super Tuscan IGT Baffonero, a 100% Merlot launched in 2007 as an express competitor to Masseto, Messorio, and Redigaffi.
In contrast, Panerai's first venture in Tuscan wine – ironically enough dating back to 1968 – came with the purchase of five farms in Chianti Classico that he put together to form the property Castellare di Castellina.
Winemaker Alessandro Cellai oversees both, but the atmospheres couldn't be more different. At Castellare, tradition is key, farming is organic (if uncertified) and Vino Santo is made by the traditional method of hanging the Malvasia and Trebbiano grapes to dry out slowly over the winter months. Here also is an IGT wine, so within the Super Tuscan umbrella, but this time a blend only of indigenous grape varieties – the Sangioveto clone of Sangiovese and Malvasia Nero, a grape that used to be extremely popular in Chianti but over the past 25 years has almost disappeared due to its sensitivity to humidity and rot.
'When it works, Malvasia Nero is the perfect partner to Sangiovese', Cellai, who trained under Giacomo Tachis, explained over a tasting. 'It adds roundness and sweetness, rather than aromatics, and the tannins are like velvet. We think of it as the Italian merlot'.
This wine, I Sodi di San Niccolo (referring to the soils where it is grown and the San Niccolo church that is located on the estate), was created in 1977 and was first bottled as a Vino da Tavola. It follows the same story as all these early Super Tuscans – the local rules at the time stated that Chianti Classico had to be made with 10% of white grapes, which Panerai chose not to do, and so the only option was to be labeled a table wine. They do grow Merlot and Cabernet Sauvignon at Castellare, but they are bottled separately and have never been part of the flagship wine.
'We wanted to prove that Super Tuscans could be made entirely with native Tuscan grapes,' said Panerai. 'We bottled as an IGT from 1995 once the category was approved, but when the rules changed again and we had the option to make it a DOCG Chianti Classico, we decided to keep it as an IGT. It's a wine that has always lived outside the appellation, and we liked the thought of a Super Tuscan that was born from only the local grapes'.
There are surprisingly few Super Tuscans that have gone this route. There is of course the iconic Pergole Torte and Isole e Olena's Cepparello, both 100% Sangiovese IGT Toscana. One of the originals, Vigorello, blends Cabernet, Petit Verdot and Merlot with Pugnitello, another ancient local variety. And far more take their cue from Tignanello, where Sangiovese is around 80% alongside Cabernet Franc and Cabernet Sauvignon. But the only other Super Tuscan that I can think of that is a blend of Sangiovese and Malvasia Nera is Capannelle Solare.
In many ways, Super Tuscans have never been stronger. They dominate trade in Italian wines on Liv-ex (5.1% in 2015 compared to 0.9% in 2010), led almost invariably by Sassicaia but closely followed by Masseto, Ornellaia and Tignanello. And I guess now the Chianti Classico rules have changed and the new level of Chianti Classico Gran Selezione has arrived, the question may be why bother keeping the traditional varieties outside of the system in the IGTs?
Well, perhaps because the counter-culture winemakers in 2017 are the ones looking at climate change, and responsible farming. Indigenous grape varieties, minimal additives and other techniques to maximize terroir are taking precedence over superstar wines in heavy bottles with lashings of oak enrobing Merlot and Cabernet Sauvignon. I'm willing to bet this is going to become even more true over the next few decades. Evolution, at least for the new arrivals on the Super Tuscan scene, may mean survival.
'The crisis of Chianti Classico in the 1970s and 1980s came about because of large scale plantings of the wrong clones of Sangiovese, that were planted for quantity over quality,' says Cellai. 'The answer the winemakers found was to plant Cabernet and Merlot, which provided a solution but also modified the character of the wine. I love seeing how the iconic international grapes thrive in our climate, but today there are clones that capture the innate beauty of Sangiovese without having to compromise. At the same time many of our local forgotten varieties resist drought and heat without sacrificing flavour, and offer welcome acidity. Surely there is room for Super Tuscans that capture the possibility of all this?'
---
Wine to try
I Sodi di S.Niccolo Toscana Rosso IGT 2013
Made from a blend of Sangioveto (85%) and Malvasia Nero (15%, probably Malvasia Nera di Brindisi for any ampelographers out there). Careful with use of barrels – this is 50% new oak but in the softer 2012 vintage they used only 5%. Vinificaiton in stainless steel, with a long, cool seven weeks maceration, followed by malolactic in concrete tanks. Combines clear concentration and persistency with minerality and fresh acidity. Attractive dark bitter chocolate and fennel notes alongside raspberry purée, violets and soft tannins. Lip-smacking, moreish stuff. 94
---
More Jane Anson columns on Decanter.com: