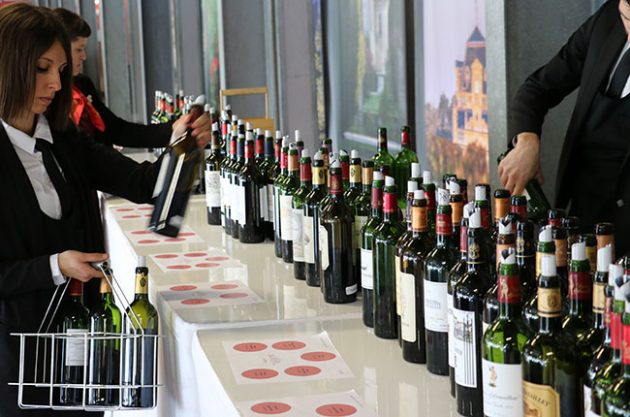 Anson: Bordeaux négociant system in flux
Several Bordeaux merchants are under increasing pressure to find capital, and some have been brought to the brink of revolt over en primeur price rises and release strategies.
As the Bordeaux 2016 campaign draws to a close in a flurry of ambitious châteaux 'repositionings', it might be worth taking a look at a little side story that's developing over here.
It can be summed up by the announcement last week that another Bordeaux négociant was taking on outside capital. Bordeaux Tradition, founded over 30 years ago by Ivan Cruse and today run by Frédéric Bernard, has just taken on a 50% investment from a Swiss-French company Adamian specialising in the distribution of copper, lead and zinc across more than 30 countries.
This is not a small négociant – Bordeaux Tradition makes 60% of its turnover from grand crus, buys over 20,000 cases of en primeur each year, selling 70% of it overseas with a turnover of €12 million according to the French magazine Journal des Enterprises.
Bernard confirmed he'd been looking for a new investor in the business for the past two years, and described himself as, 'delighted… I feel I've made it to the Premier League', while the official announcement stated, 'This partnership gives Bordeaux Tradition the financial means to expand, starting with the exceptional 2016 campaign.' He has stated his intention to hand over the entire company over the next five to six years and underlined how the investment is essential for running a business that needs increasingly deep pockets.
This is becoming an increasingly regular event around here. Sales of négociant houses rarely get the headlines that châteaux do, but they tell you a lot about the health and evolution of the Bordeaux system – and it's clear that things are not all plain sailing.
Let's look at the most high profile ones over the last few years, although I could add a number of smaller ones. Back in 2011 Philippe Raoux sold his négociant business to COFCO China (along with Château Viaud in Lalande-de-Pomerol) with the explicit intention of building distribution in China. A year later in 2012 it was DIVA's turn to sell a majority share (70%) to a Chinese company, this time Bright Food, China's largest food product group.
Two years later in 2014 Borie Manoux, a top-ten Bordeaux merchant headed up by Philippe Casteja, bought fellow négociant Mahler Besse (founded in 1892), a second purchase for them after buying Grands Vins de Gironde merchants back in 2011. More recently, in 2015, another old Bordeaux name in the shape of Cordier Mestrezat – parts of it dating back to 1815 – went to a large French agricultural cooperative In Vivo. And last year, 2016, saw both négociant GRM and châteaux owner and merchant La Guyennoise head to Maison Le Star (owned by a Frenchman Guillaume Brochard who immediately opened offices in Shanghai).
So far in 2017 things have kept up this frenetic pace. In March LD Vins received a 'large minority investment' from Jacky Lorenzetti (owner of Pédéslcaux and Lilian-Ladouys). Lorenzetti is worth €570 million and clearly can provide the deep pockets needed for bank-rolling En Primeur campaigns, and has proved himself supportive of the current system in other ways – besides restoring his châteaux, he rather interestingly bought the brand name '1855' at auction in 2015 and then gave free of charge to the Conseil des Grands Crus Classés.
We're not done yet. In April The Wine Merchant, created by Christophe Reboul Salze was bought by three Swiss private investors, Dona Bertarelli, Yann Guichard and Yann Borgstedt. Reboul-Salze will remain in place as director, but with the Bordeaux Tradition announcement last week, things are getting pretty head-spinning, and I hear several more sales are pending.
Way back in 2012, DIVA managing director Jean-Pierre Rousseau told me that the job of a négociant had become more and more capital intensive, 'and we need investment to develop to the next level'.
That was five years ago. The 2016 campaign tells you that there has been no let-up. The most recent releases include Vieux Château Certan at €192 per bottle ex-négociant, up 28% from last year (43% in the UK with the drop in sterling) and Figeac at €150 per bottle ex-Bordeaux, a full 47% up on the 2015 release and a three-fold price rise from 2014. It's been the same story across the board as the campaign progressed, after the early bright spots of Montrose and Cos d'Estournel that kept their 2015 prices (enabled, it has to be said, by high rises from 2014 to 2015).
But the last few weeks have seen prices more closely resembling 2010 pretty much across the board. And the smaller percentages released on to the market meansthat even when négociants bought the sought-after wines, they were annoying long-term clients by not being able to sell them enough stock. At the same time mid-sized châteaux suffer as the Grand Cru Classés take up all available funds.
For many years now, négociants have played the classic enabler role in the relationship – allowing châteaux addicted to price rises to keep finding a local market in the hope that one day they will get a reward. I have heard that certain châteaux (still only a trickle, but big names) have for the first time met actual resistance from négociants who have turned down allocations en masse in protest.
It's telling that in Suzanne Mustacich's book on the China-Bordeaux relationship Thirsty Dragon, she interviews the same Reboul Salze of The Wine Merchant, who tells her The Place de Bordeaux feels like a gamble. Buy low sell high feels like yesterday. Buy high then impossible to sell might be the new reality.
What will happen now isn't clear. As châteaux change their business model to selling older stock that has been held back at the châteaux, they are taking on négociants' roles as stock holders – which must surely mean they will be more closely exposed to consumers' reactions to prices. I would suggest they might find it a little trickier to convince even the most fervent wine lovers that this yearly roller-coaster is a good idea. And for those négociants that continue to act as stock holders themselves, the big difference now is that banks no longer are prepared to support the risk as En Primeur becomes more and more a rich man's game. Hence the need for outside investment from the private sector.
As ever, one campaign doesn't shed much light on long-term positions, but 2016 has proved once again – if any more convincing was necessary – that the châteaux approach has fundamentally changed. And négociants are at risk because of it. While researching this, I got a great tip from a château owner in the Médoc who suggested looking at the annual Negociant Directory where the major names display the percentage of their turnover that comes from the Grand Cru Classés.
It is intended as a statement of their success – but if En Primeur campaigns continue like this, it just might turn into an indication of their Achilles' heel.
More articles on Bordeaux en primeur:
Jane Anson looks at the latest en primeur wine releases…
See the latest releases and reaction…
See Jane Anson's latest en primeur notes…
Read Jane Anson's early thoughts on the barrel samples…
Read Jane Anson's early thoughts on the barrel samples…