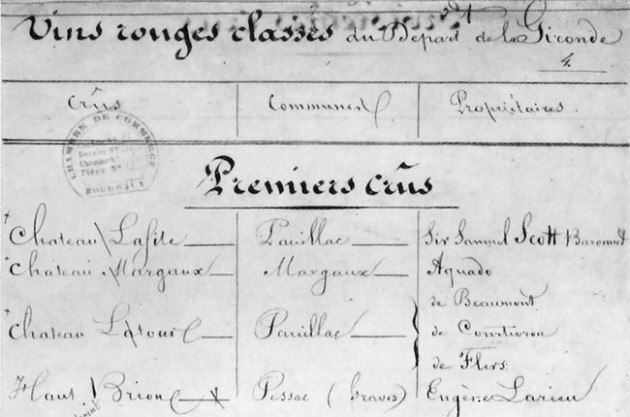 Anson: See who's promoted in new Liv-ex '1855 classification'
A new version of Bordeaux's 1855 classification drawn up by trading platform Liv-ex shows several promotions and a number of new entries. It also includes estates from California for the first time.
What is it about the wines of Bordeaux that makes people want to wrestle them into an orderly queue?
Thomas Jefferson was among the first to get the ball rolling in 1787, Sacha Lichine produced his in 1961, wine critic Tim Atkin followed suit in 2017, and there have been countless other contenders along the way.
This week sees the bi-annual update of one of the more interesting revisions of the 1855 classification that comes care of Liv-ex wine trading platform in London, started in 2009 and now in its eighth edition.
Taking the same methodology as the original 1855 ranking in terms of listing according to price, Liv-ex looks at estates and their second wines from the Left Bank. This year they have also added the Right Bank (as with both Lichine and Atkin – with Atkin bravely adding an aspect of perceived quality) and a further category of Rest of the World, so comparing Bordeaux prices against other icon wines, mainly from Burgundy, Tuscany and Napa. Liv-ex further ensures that at least five vintages of the wines listed have actually being traded on its platform since April 2016. Oh, and the price band has been revised upwards by 25% to reflect the change in overall prices on their internal Bordeaux 500 Index since 2015.
This means 1st Growths are recorded at £2,500 per case or higher, 2nd growths from £688 to £2,499, 3rd Growths from £438 to £687, 4th £313 o £437 and 5th from £250 to £312. In 2015 1st Growths were noted as £2,000 or above – so quite a leap this year and interestingly a move back up, as in 2015 the First Growth price was 18% lower than the 2013 version.
As a reminder, in 1855, 2nd growths stretched just from 2,500 francs to 2,700 francs, and 1st Growths were 3,000 francs and above (for a tonnneau, equivalent to around four barrels). Fifth Growth prices in 1855 started at less than half that of 1st Growths, unlike in 2017 where the price difference between them is ten-fold – reflective, of course, of the widening gulf in Bordeaux between the châteaux that live in the stratosphere and the rest (a gap, it should be noted, that the smaller classified châteaux are furiously trying to close, much to the dismay of their traditional drinkers).
Going Up: See who's been promoted
So, how does the world of Bordeaux look according to Liv-ex this year? Well, since 2015 there has been the addition of three new châteaux – Châteaux Cantemerle, Chasse Spleen and Clos de Marquis. Cantemerle was of course in the original 1855 list (although even then a last minute addition, scrawled alongside the rest after a furious intervention from then-owner Caroline de Villeneuve), and so not unexpected to be included here. But that still leaves two entirely new additions, with Chasse Spleen flying the flag for not only the Cru Bourgeois category, but also the lowly Moulis-en-Médoc appellation. Clos de Marquis is up in the more fashionable village of Saint Julien and part of the Léoville Las Cases family of properties, but still its arrival as a Fifth Growth shows how ambitiously – and apparently successfully – it has been priced in recent vintages.
And then there is Château Gloria, that wasn't in the 1855 listing but had made it to 5th Growth in 2015 and is now listed as a 4th Growth in 2017 – again a reflection of the strength of Saint Julien as a whole, and no doubt a reflection of the investments made by owner Jean-Louis Triaud (although for me the biggest surprise is that its sibling estate Château Saint Pierre hasn't made the list, as it was there last time around and is an increasingly strong name).
Other châteaux with a promotion over the last two years include Château Léoville Barton that has moved up from 3rd to 2nd Growth (putting paid sadly to the long-standing belief that this estate releases under market value). Châteaux La Lagune, Talbot and Issan move up from 4th to 3rd, and Gloria and Haut-Batailley up from 5th to 4th. Interestingly, this takes Haut-Batailley into the same price grouping as its neighbour Batailley, even before the new owner Jean-Charles and family has begun the inevitable investments that will be awaiting over the next few years.
Going Down
This may not come as a huge surprise, but nobody has dropped down the price-based ranking over the past two years. Next.
First Growths
Across both Banks, things have progressed more or less as you would expect. Left Bank 1st Growths include all original 1855 estates, with Mouton, plus La Mission Haut-Brion, now a long-term resident of the Livex First Growth category. Over on the Right Bank, the usual suspects are up in the 1st Growth area – Petrus and Le Pin clear winners at close to £19,000 and £16,500 per case. This is streaks ahead of the St Emilion and Left Bank Firsts, all of which range from £2,500 to £5,533. Only Pavie just misses out being listed in the top category, making it instead a 2nd Growth (although top of the Seconds, a position that Mouton may have some sympathy with. Worth noting that in Atkins' listing, with its perceived quality weighting, Pavie is also the only one of the 'true' Firsts to not make it into the category).
Second Wines
In the Second wines classification (listed separately), no surprises to see Carruades de Lafite up at the top at £1,749 per case of 12, followed by Forts de Latour and then Petit Mouton (this one surely set to rise even higher). Also in the 2nd Growth-equivalent category, but only just, are Le Clarence de Haut-Brion and La Chapelle de La Mission Haut-Brion, down at £729 and £490 respectively. The only other two Second Wines that make it to the classification are Chapelle d'Ausone and Alter Ego de Palmer, at 3rd and 4th level respectively and a strong indication of the strength of these brands.
Rest of the World
One of the most interesting additions to the Liv-ex rankings this year is the inclusion of wines from outside of Bordeaux. Bearing in mind again that these are only wines traded on the Liv-ex platform, they have reported a healthy 19 wines priced in the 1st Growth category, compared to 12 across Left and Right Bank Bordaeux. Domaine de la Romanée Conti wines occupy six of the top 10 spots – and if you're wondering, the 'least expensive' of the DRC wines is Echezeaux, at a mere £10,293 per case. There are only two non-French wines in the top ten, namely Screaming Eagle from Napa and Pingus from Spain (and this almost half the price of the closest Burgundy in the form of Rousseau Chambertin at number 9). Chile might be happy to see two wines in 2nd and 4th Growth position, with Almaviva and Casa Lapostelle. And just sliding into 5th Growth position we are back in Burgundy with the rather beautiful Domaine Henri Gouges Nuits St Georges monopole, Clos des Porrets.
This is being traded at £287 per case of 12, less expensive than La Tour Figeac in St-Emilion and almost exactly the same as Haut-Bages Libéral in Pauillac – and leaving the 'best value' or 'most affordable' of estates across the different categories to Cantemerle at £274 per case of 12, which seems somehow poetic given its 1855 history.
More on the Liv-ex methodology:
Liv-ex said,'The average Liv-ex trade price is calculated using actual trades on Liv-ex from 30/04/2016 to 01/05/2017. To warrant a classification, at least five vintages of a wine must have traded in the period. The average Liv-ex trade price is expressed for a 12x75cl unit in GBP and is volume weighted.'
More articles like this:
Aimed at identifying trends in the wine market across the Left Bank of Bordeaux, the ranking examined average prices of…
Liv-ex and BI report upturn in trading…
A plan to see the Bordeaux 1855 classification recognised as a UNESCO World Heritage status has been abandoned – at…