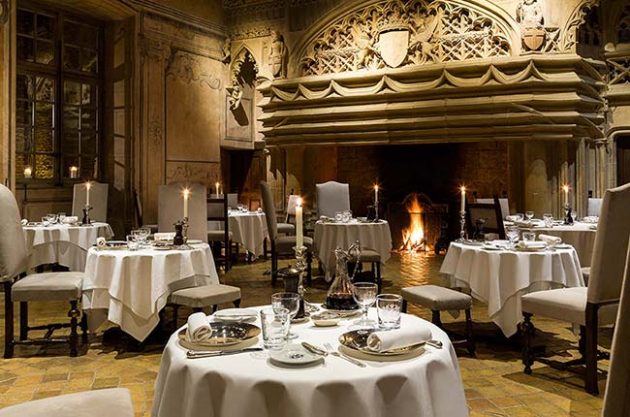 Anson: Who would be your perfect wine dinner guests?
Jane Anson speaks to well-known winemakers about which wine legends of the past – and present – they would most like to share a bottle with over the dinner table.
You've might have seen the regular piece in the New York Review of Books where authors are asked to host an imaginary literary dinner party and invite three writers, dead or alive, to join them around the dinner table.
I was talking about it this week with Hank Werronen, a US healthcare consultant, wine and poetry lover who I first met in Washington DC during the Heart's Delight charity wine auction. We met up again as he was over in Bordeaux making his own wine with the Lynch Bages'-run VINIV programme, and got to talking about how perfect this would be for winemakers, as what dinner party isn't enhanced by a few bottles on the table?
Hank had already got the ball rolling with Jean-Michel Cazes, and you'll find his answers below, and I went to a few of my favourite producers worldwide. So, with full credit to the New York Review of Books, and to Hank, here are a few dining tables that I would definitely like to be invited to…
Jean-Michel Cazes, Château Lynch Bages
Médoc old hands
These could include Jean Bouteiller of Pichon Baron, Jean-Eugène Borie of Ducru-Beaucaillou or my own grandfather Jean-Charles Cazes. They really made a difference in the 1940s and 1950s, as did the brilliant viticulturalist Lucien Lurton at Brane-Cantenac. I would also add Professor Emile Peynaud here, head of the Oenology Institute in Bordeaux who in my opinion is really the father of the great Bordeaux wines as we know them today. He was instrumental in changing our perspectives and, most importantly, in spreading the word. He was the spokesperson of the global revolution that took place after World War II, mostly active in the 1950s through the 1970s and was a valuable advisor to many properties. I was lucky enough to work with him closely for more than 10 years.
Alexis Lichine
American owner of Prieuré Lichine from 1951 until his death in 1989, as well as wine merchant and writer. Although he was not really a winemaker, he was instrumental in opening Bordeaux to new ideas and to the world outside our traditional markets.
Pierre Skawinsk
The Skawinski family dominated the Médoc technical scene all through the second half of the 19thcentury. Pierre (1812-1902) was a Polish refugee who earned an agricultural degree in the Grignon National School of Agriculture. He started his career as a farm manager in the Loire valley and was eventually hired by the Cruse family to oversee their many estates in the Médoc. He settled at Giscours. He was highly inventive and took part in the fight against mildew and Oïdium, then Phylloxera. Eventually he was director at Léoville Barton. His three sons Théophile, Charles and Paul also had brilliant careers as Grand Cru managers : Levoille Las Cases, Giscours, Pontet Canet, Rauzan Ségla, Cantenac-Brown, Leoville Poyferré, La Couronne (Haut-Batailley) and others. They invented the Médoc cuvier Skawinski', a gravity based vat that equipped most of the Médoc crus classés in the second half of the 19thcentury. A true revolution. One of them, Théophile, also managed Lynch-Bages for a short time and in 1866 he built the wine cellar that was in use until 1975 and that we have kept as a witness to the winemaking techniques of the time. Théophile also started the plant that made sulphur for the vineyards located on the port of Saint Christoly where it can still be seen today.
Randall Grahm, Bonny Doon/ Popelouchum
André Tchelistcheff
The legendary winemaker for Beaulieu Vineyards was credited with producing probably the greatest New World Pinot Noir of all time, the 1946, a feat he was never able to replicate. I'm not sure that even Tchelistcheff could explain why this particular vintage was so extraordinary, but I'm sure he had a number of ideas. Tchelistcheff was a fiendish chain-smoker, but I would be willing to put up with that if only to spend some time with him.
Dan Wheeler
I got a chance many years ago to spend several hours with Dan Wheeler, the eccentric owner of Nicasio Cellars in Soquel, CA, but would welcome the chance to meet him again. He poured for me from his cool, hand-dug cellar, tastes of some wines (Zinfandel is what I remember) that had been reposing in demijohns for close to twenty years – still remarkably fresh, and I am particularly fascinated with winemaking practices that promote longevity in wine. In some sense, Dan was the "Zelig" of the Santa Cruz Mountains, working with a number of the great Santa Cruz Mountain Vineyards – Montebello, Vine Hill, Beauregard (in Bonny Doon) in the 1950s and a number of the eccentric personalites of the appellation, including Martin Ray, David Bruce, Ken Burnap and others. He remains a pivotal if largely unknown figure.
Chaffee Hall
Chaffee Hall was the proprietor of Hallcrest Vineyards in Felton, not far from our original vineyard in Bonny Doon. He produced amazingly complex and elegant wines – Cabernet and Riesling in the 1940s and 1950s, virtually all under 12%abv. He was apparently a very companionable and highly intelligent man; I could imagine us commiserating on the current deplorable state of high-octane, over-ripe California wines.
Gaston Hochar, Chateau Musar

Emile Peynaud
I would like to ask him how he would preserve the terroir characteristics in the wines today with the climatic evolutions we are facing? How different did wines taste back in the 1960s versus now, and how would he see their evolution in the future? I would also ask if he had the chance to produce wine today, where would he like to produce it, from which variety, and what should the character and taste of the wine be?
Jean Ribereau-Gayon
The founder of the Bordeaux school of Oenology in 1949, who uncovered the mechanics of malolactic fermentation along with Emile Peynaud. With research improving every day, I would like to ask him if he thinks the time will come where we can fully understand and predict all the phenomenon that are happening in a bottle of wine during the aging process? Would he recommend the use of new techologies to modify the composition of a wine? What ethical issues came up during his research in the 1960s and does he believe we should stick with traditional methods of winemaking?
A Phoenician winemaker
What an opportunity this would be to learn what methods were used to produce wines 5,000 years ago. I would like to ask what red grape varieties did they use, how did they preserve the wine, and how different did their wine taste from the ones we produce today.
… and a perfect if not exactly 'on brief' response from
Ernst Loosen, Dr Loosen
John Cleese
Who wouldn't want to have dinner with John Cleese? His irreverent and decidedly English sense of humour suits me perfectly and he would certainly bring a lively spirit to any gathering. And he's quite knowledgeable about wine, so we could have intelligent conversations about what we're drinking – between silly walks.
Greg Allman
The Allman Brothers was my absolute favourite band in my Bohemian hippie days, when I was first getting involved in the family wine business. But I never got to see them perform, so to spend an evening with Greg (or Duane!) would be a real dream come true.
Paul Draper
I love all the great wines of Europe, of course, but there is something truly special about the wines from this wonderful gentleman from California. It is amazing to me what he has created there with the Ridge winery. The wines are masterpieces of American culture, and he is one of the most interesting and engaging people I've ever met. It would be a special honour to spend an evening with him.
More Jane Anson columns on Decanter.com:
Who could be big in the future…
Jane Anson's surprising rosé…
Jane Anson investigates the damage…
And is Tannat a hipster Malbec?…