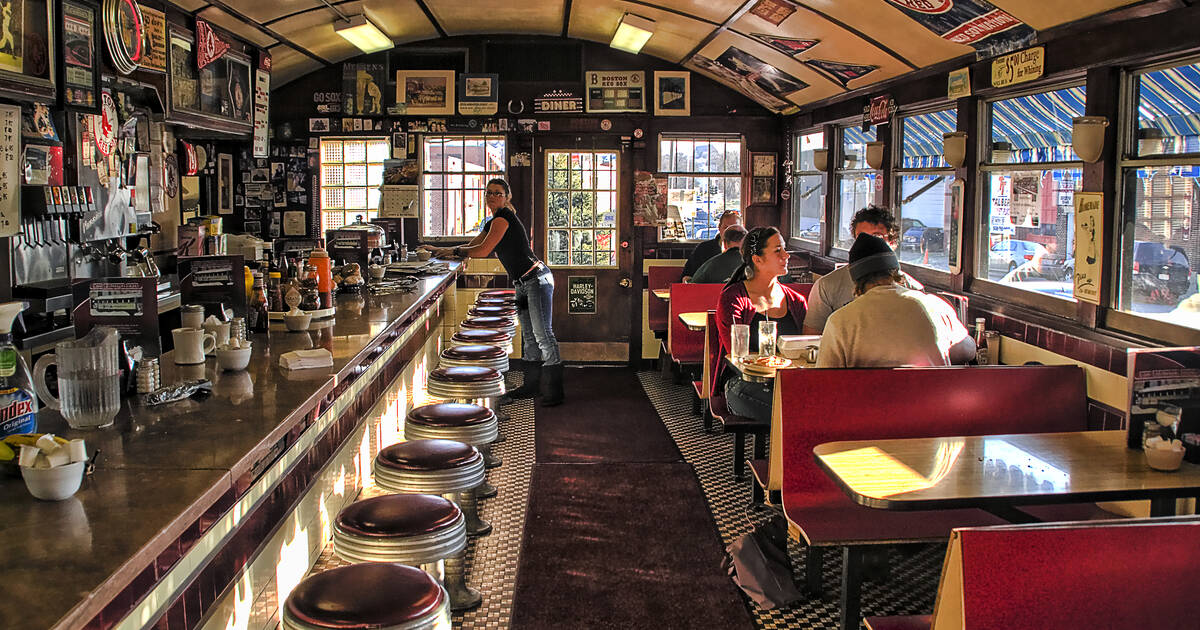 Best Diner Destinations in the USA
Diners are the unofficial comfort food ambassadors, the answer to hungry and weary visitors' prayers, and the ideal spot to enjoy a piece of Americana (with a side of fries, of course!). Recently, 3,000 tourists were polled by industry experts to determine the best diners in the nation.
#1 NEW YORK CITY, NY
New York City takes the top spot on the list of the best diner destinations in the country, with diners that never seem to sleep and always serve up delicious food. From classic pancakes and eggs to juicy burgers and fries, diners in the Big Apple offer a diverse range of American cuisine that is sure to satisfy any traveler's appetite. For decades, diners have been an integral part of the city's culture, providing a gathering place for people from all walks of life to come together and enjoy a meal. New York City boasts some of the most iconic diners in the United States, including the Empire Diner, Tom's Restaurant, and the Tick Tock Diner, all of which continue to draw crowds with their delicious food, unique atmosphere, and historic charm.
#2 HONOLULU, HI
Taking the second spot on the list is the tropical haven of Honolulu, Hawaii, where diners reflect the unique blend of cultures that make up Hawaii's diverse population, including Japanese, Filipino, and American influences. The diner culture in Honolulu is renowned for its varied and exciting menu, featuring dishes that combine the traditional American diner fare with Hawaiian flavors. This blending of culinary styles has given rise to dishes such as loco moco (a Hawaiian dish made with rice, hamburger patty, fried egg, and gravy), Spam musubi (a sushi-like snack made with spam and rice), and pancakes served with tropical fruits like guava and pineapple.
#3 DALLAS, TX
At number three on the list is Dallas, the Lone Star State's very own hub of culinary diversity, where diners play a significant role in the city's culinary scene. Some of the diners in Dallas have stood the test of time, having been around for decades and becoming an integral part of the city's fabric. These iconic diners have garnered a loyal following over the years, with customers who have been frequenting them for decades, creating a sense of familiarity and comfort that is hard to replicate. As a result, diners have become a beloved part of Dallas' cultural landscape, offering classic American fare with a Texas twist that is sure to leave any traveler with a lasting impression of the city.
#4 MIAMI BEACH, FL
In fourth place is the vibrant Miami Beach, with its stunning ocean views, bustling nightlife, and diverse culture that draws tourists from all over the world. The diner scene in Miami Beach is an integral part of its unique cultural landscape and has grown in popularity over the years. The city is home to a variety of diners that serve up classic American cuisine in a fun and nostalgic setting, including the 11th Street Diner and the Big Pink. These popular diners offer visitors a taste of classic American fare amidst the lively and colorful backdrop of Miami Beach, making it a must-visit destination for any lover of diners and all things American.
#5 ROSCOE, NY
Finally, in fifth place is the charming small town of Roscoe (NY), known for its unique and interesting diners that have been in operation for decades, despite its small population of only a few thousand. Roscoe's location at the intersection of several major highways makes it a popular stopover for travelers looking for a bite to eat and a chance to stretch their legs. Furthermore, Roscoe's proximity to the Catskill Mountains and other outdoor attractions makes it an ideal destination for hikers and nature enthusiasts who are in search of a hearty meal before or after a day of outdoor activities.
6 Albuquerque, New Mexico
7 Nashville, Tennessee
8 Santa Fe, New Mexico
9 Boston, Massachusetts
10 Fort Lauderdale, Florida
11 Portland, Maine
12 Durham, North Carolina
13 Hilo, Hawaii
14 Lafayette, Louisiana
15 Atlanta, Georgia
16 Yermo, California
17 Memphis, Tennessee
18 Seattle, Washington
19 Portland, Oregon
20 Lancaster, Pennsylvania
21 Charleston, South Carolina
22 Baltimore, Maryland
23 Salt Lake City, Utah
24 Kansas City, Kansas
25 Richmond, Virginia
26 Mandeville, Louisiana
27 Farmers Branch, Texas
28 St. Louis, Missouri
29 Lexington, Kentucky
30 Phoenix, Arizona
31 Anchorage, Alaska
32 Durango, Colorado
33 Fayetteville, Arkansas
34 Lusby, Maryland
35 Plymouth, California
36 Boulder, Colorado
37 Sedona, Arizona
38 Easton, Pennsylvania
39 Bennington, Vermont
40 Fargo, North Dakota
41 Pompton Plains, New Jersey
42 Branson, Missouri
43 Cleveland, Ohio
44 East Greenwich, Rhode Island
45 Marietta, Georgia
46 Arlington, Virginia
47 Littleton, New Hampshire
48 Sioux Falls, South Dakota
49 Detroit, Michigan
50 El Reno, Oklahoma
51 Rowley, Masschusetts
52 Boies, Idaho
53 Charlotte, North Carolina
54 Exeter, Rhode Island
55 Lansing, Michigan
56 Manchester, New Hampshire
57 St. Paul, Minnesota
58 Tulsa, Oklahoma
59 Seaford, Delaware
60 Frankfort, Kentucky
61 Des Moines, Iowa
62 Great Falls, Montana
63 Harrison, New Jersey
64 Indianapolis, Indiana
65 Boulder City, Nevada
66 Iowa City, Iowa
67 Winnemucca, Nevada
68 Bismarck , North Dakota
69 Newberry, South Carolina
70 Springfield, Illinois
71 Waldoboro, Maine
72 Charles Town, West Virginia
73 Foxworth, Mississippi
74 Kimball, South Dakota
75 Medford, Oregon
76 Milwaukee, Wisconsin
77 West Brattleboro, Vermont
78 Wilmington, Delaware
79 Casper, Wyoming
80 Cheyenee, Wyoming
81 Pataskala, Ohio
82 Southbury, Connecticut
83 Wichita, Kansas
84 Huntsville, Alabama
85 Omaha, Nebraska
86 Peoria, Illinois
87 Duluth, Minnesota
88 Coeur d'Alene, Idaho
89 Wauwatosa, Wisconsin
90 Havre, Montana
91 Homewood, Alabama
92 Sedro-Woolley, Washington
93 Moab, Utah
94 Vernon, Connecticut
95 Greenbrier, Arkansas
96 Harrison, Arkansas
97 Plainfield, Indiana
98 North Platte, Nebraska
99 Oxford, Mississippi
100 Sedro-Woolley, Washington
Respondents were quizzed further about their love of diners… 2-in-3 professed their love for classic diners with a vintage feel, proving that old is indeed gold. And it's not just the food that's got them hooked – a whopping 77% have fond memories associated with diners, whether it's catching up with friends or spending quality time with family.
So what is it about diners that keeps them coming back for more? The survey revealed the top five reasons: classic American comfort food, retro vibes and decor, 24-hour service, affordable prices, and a friendly and welcoming atmosphere. It's like stepping back in time to a simpler era where the only worry was whether to order pancakes or waffles (or both!).
And when it comes to road trips, diners are the go-to for 84% of respondents. Who needs fancy restaurants when you can have a plate of pancakes at a roadside diner? In fact, 1 in 4 said they're willing to travel interstate just to experience a new diner scene. Now that's what we call dedication to good eats!
Coffee that's always hot, plates that are always full, and a warm welcome no matter who you are – that's what diners are all about. They've been a part of American culture for generations, and that's because they offer a timeless experience that's hard to find anywhere else. Whether you're a local regular or a weary traveler passing through, diners make you feel like family. It's that sense of comfort, familiarity, and community that keeps people coming back, and will continue to do so for years to come.