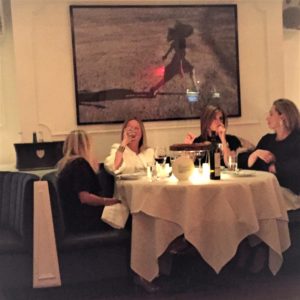 Bordeaux wines meet up @ Bagatelle in Manhattan
For those who need to be seen, the go-to French Mediterranean restaurant in the Meatpacking district of Manhattan is Bagatelle. Gentlemen take note: The name means the "light courtship of a woman."
Designed and managed by French Aymeric Clemente & Remi Laba, this restaurant creates an atmosphere and menu that suggests the flavors of the South of France and Mediterranean coast while providing an upscale backdrop for an intense wine/dine experience.
Do You Fit
If you are not sure that this is the right restaurant for you, the media kit for the property kindly provides the demographics for their guests: 25-50 years of age, affluent with disposable income, well-traveled jetsetters, food aficionados, trendsetters, influencers, sophisticated partiers and fashionable business travelers.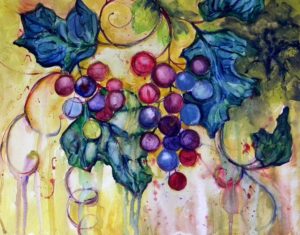 Wines of Bordeaux
Bordeaux is the world's most popular, important and influential wine region and the second most visited city in France, surpassed only by Paris. The Bordeaux wine industry is valued at 2 billion Euros and the region produces 900 million bottles of wine each year.
Close to 1.5 percent of the entire world's wines comes from Bordeaux and the region is responsible for up to 15 percent of all the wine produced in France each year. Most of the wine produced is red while sweet white wines (Sauternes), dry whites, rose and sparkling (Cremant de Bordeaux) take second place. Bordeaux wines are made by more than 8500 producers or chateaux and there are 54 appellations.
The most popular red grapes are Merlot, Cabernet Sauvignon, Cabernet Franc and a small amount of Petit Verdot, Malbec and Carmenere. The white grapes are Semillon, Sauvignon blanc, Muscadelle and a small amount of Ugni blanc, Colombard and Folle blanche.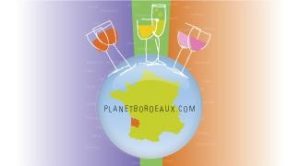 Planet Bordeaux
An invitation to imbibe the wines of Bordeaux is always a welcomed message. On a beautiful spring evening, a group of writers and wine experts sipped their way through a paired evening at Bagatelle that included the following wines:
• Chateau Lamothe de Haux, Bordeaux Blanc 2016. Sauvignon blanc – 40 percent, Semillon – 40 percent, Muscadelle – 20 percent. Skin contact (50 percent) and cold fermentation (16/18 degrees C). Aged on the lees – approximately 3 weeks.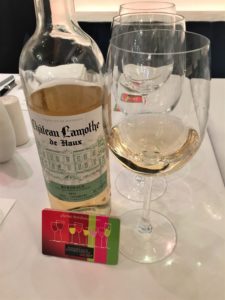 To the eye, gold with green highlights. The nose finds florals, fruit and grass. The palate is refreshed and delighted with tight, crispy citrus and intense acidity. Serve as an aperitif or with lobster salad.
• Croix d'Albret, Bordeaux Rouge 2015. Merlot – 70 percent, Cabernet Franc – 30 percent. Pair with pork and barbeque. Organically produced.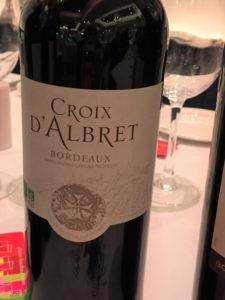 Bright red and slightly translucent to the eye. The nose is surprised by mocha, spices, black currants, raspberries and black berries. There are light melted tannins on the palate leading to a smooth Bordeaux-style finish.
• Croix d'Albret, Bordeaux Rose 2016. Pair with baked ham, turkey, grilled salmon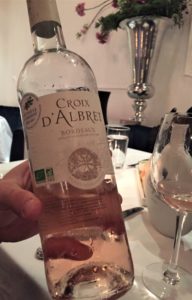 The eye is delighted with a silver-toned pale pink color. The whiffs of spring flowers, light raspberries and gooseberries mixed with cranberry offers a unique nose experience. On the palate, it is dry but the sweet fruit comes through – reminiscent of under-ripe strawberries with soft tannins and nice acidity and no oak.
• Chateau du Ballandreau Cuvee Excellence, Bordeaux Superieur Rouge 2014. Pair with short ribs, steak or beef stew.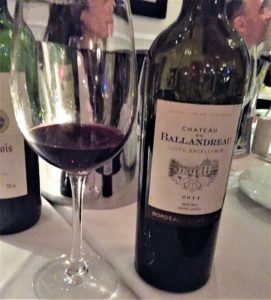 Deep red trending to black to the eye. The aromas suggest baked berry tarts, slate, toffee and grass. The palate enjoys roasted nuts and green apples, pomegranates and cranberries. There is a cedar finish with firm tannins and heavy oak.
• Chateau Roberperots, Bordeaux Rouge, Bordeaux Rouge 2014. Pair with beef stroganoff or roast lamb.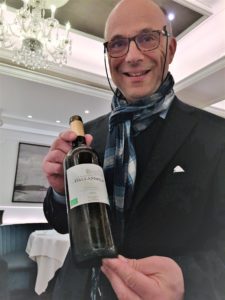 Chateau Roberperots has been managed by the same family for three generations. It is located in the heart of Bordeaux on clay-silt hillsides and plateau. There are 50 hectares of vines developed in sustainable agriculture by Odile and Jean-Francois Bruere. This cuvee was developed in celebration of their first daughter.
The color is dark garnet to the eye. The nose finds a mix of dark cherries, succulent strawberries, leather, wet stones and gravel, with a whiff of perfume from old red roses. The tannins are soft and there is a delicious mouthfeel with a powerful long finish.
For additional information, click here.
© Dr. Elinor Garely. This copyright article, including photos, may not be reproduced without written permission from the author.