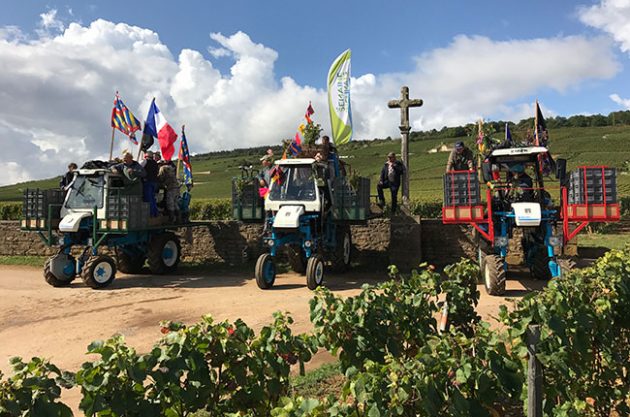 Burgundy 2017: When Côte d'Or prayers were answered?
It's been a rollercoaster, but 2017 could be the biggest overall crop since 2009. Can quantity combine with quality? William Kelley gives his initial view on how the Burgundy 2017 vintage looks after spending September in the region and following the harvest.
Along the Côte d'Or, the sound of honking horns and cheering pickers announces that the Burgundy 2017 harvest is coming to an end.
After a succession of meagre years, beset by hail, rot and frost, nature has finally answered growers' prayers, delivering a plentiful crop to equal or surpass the volumes achieved in 2009, the region's last abundant vintage. After the gloom of 2016, a year ravished by the worst frosts since 1985, spirits this year are buoyant and the atmosphere cheerful.
At domaines with empty cellars and correspondingly depleted coffers, 2017's bounty may prove of truly existential importance.
'We're thankful', confesses Cyril Adouin, whose Marsannay vineyards were ravished by frost in 2016. 'Everyone in the Côte d'Or is smiling this year', agrees Véronique Drouhin: 'it's so nice to have full fermenters!' Moreover, with such an abundance of wine now waiting in the wings, it is to be hoped that the pressure to increase prices for the 2016 vintage will be less keenly felt.
A complex growing season may be briefly summarized. When frosts threatened in April, growers determined not to relive the heartbreak of 2016 banded together, burning bales of straw to ward off the cold.
Only Chablis was less fortunate. As William Fèvre's Alain Marcuello told Andrew Jefford, 'the problem in Chablis is that the frost went on for 15 nights. Most growers ran out of frost candles after five days; there were none left anywhere in Europe by the end.'
Hot weather followed hard on the heels of the April chills, in some instances disrupting flowering, as Jacques Carillon reported in his Puligny-Montrachet premier crus. The summer's heat also stressed the vines, sometimes shriveling berries and retarding physiological ripening.
Hail on 10th July, its impact largely confined to Morey-Saint-Denis, damaged grapes. Then, in late August, much needed rain brought relief, helping vines to bring their fruit to fuller maturity.
By late August and early September, harvesting had begun. Arnaud Ente in Meursault, generally one of the region's first to pick, started on 25 August, and by 1 September the Chardonnay vintage was well under way in both the Côte de Beaune and the Mâconnais.
With rain forecast at the end of the week, the first reds were picked around the same time, Charles Lachaux of Vosne-Romanée and François Millet of Chambolle-Musigny's Domaine Comte de Vogüé both beginning on 2 September. Others chose to wait, Sebastien Cathiard only beginning two weeks later, and the Domaine Ponsot finally getting underway on 19 September.
As ever, deciding when to harvest was a delicate matter: rain did indeed transpire on 9 September, continuing on-and-off for the following week. 'If we could have counted on good weather, I'd have waited', reflected Jeremy Seysses of Domaine Dujac.
Some of those who did wait were bullish, others regretful. At many addresses, difficulties in finding pickers brought further complications: 'the French don't want to do the work anymore', was a common complaint.
Along the Côte d'Or, the crop was plentiful and generally healthy. Vines touched by frost the year before tended to give especially generous, sometimes excessive, yields: rumors of 100 hl/ha in parts of the Côte de Beaune, well in excess of the appellation limits, should give pause.
Skins were thick, thanks to the summer heat, and generally well-developed, reminding Cécile Tremblay of 2010, but seeds and stems were more unevenly ripe. Sugars, diluted by rain, were seldom especially high, and many producers will need to chaptalise.
Further north, growers in Chablis seem delighted with the grapes that were spared by the April frosts.
What can we expect from the wines? It's too early to have much sense of their character, and on the red side of the ledger, the vintage suggests comparatively few analogies, the cool harvest weather, punctuated by showers, having put paid to any premature comparisons with 2009.
---
It will be distinctions between producers that make all the difference
---
Some, including Jadot's Pierre Henri Gagey, tentatively invoke the red wines of 1999.
It certainly seems probable that the 2017 vintage, like 1999, will test the compatibility of quality and quantity. Low yields, argues Loïc Dugat-Py of Gevrey-Chambertin, were the secret to attaining full ripeness and retaining acidity, a contention that was frequently seconded along the Côte.
Over-cropped Pinot Noir may be supple and easy drinking, but it is unlikely to be either profound or age-worthy. If 2016 was a vintage where the weather drew stark contrasts across the Côte d'Or, ravaging some appellations but sparing others, 2017 has been even-handed: it will be distinctions between producers that make all the difference.
Chardonnay, more tolerant of high yields, is likely to prove a more forgiving medium than Pinot Noir, and expectations for the 2017 whites are high.
With its early start, the year presents easier analogies, superficially evoking 2015. 'On paper, the two are similar', admits Jacques Carillon, 'but I suspect the wines will be very different'.
Vincent Dancer of Chassagne-Montrachet sees signs of 'the volume of 2015 with the acidity of 2014', a happy union, pointing to the musts' good levels of malic acidity.
Further south, Vincent Dureil, Rully superstar, is similarly gratified by the wines' early balance. 'A very special vintage', concludes an optimistic Pierre Yves Colin—and indisputably, we may add, a timely one.