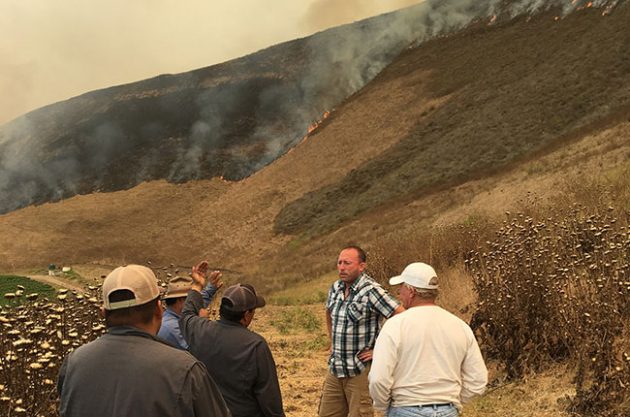 California: How Central Coast Alamo fire scorched vineyard
One of the largest California Central Coast wildfires for 50 years damaged a vineyard owned by Treasury Wine Estates, with nearby Bien Nacido Vineyards telling this week of how it 'dodged a bullet'.
Fierce flames from the Alamo fire in California's Central Coast area damaged vines at the North Canyon vineyard owned by Treasury Wine Estates (TWE) earlier this month.
'Fire outbreaks reached TWE's North Canyon Vineyard with damage to approximately 10% of the vineyard,' TWE vice president Rachel Ashley told Decanter.com this week.
Firefighters struggled to control the huge fire, first reported on 14 July, as it burned across the Santa Maria's dry grasslands. It was not 100% contained until six days later.
TWE spokesperson James Caudill told Decanter.com, 'We're focused on about 90 acres (36 hectares) or so that were impacted.'
'Grapevines are resilient,' he said. 'This is the point in the growing season when the crews are monitoring and working the vineyards hard to assure quality, so we will know more soon.'
Smoke taint will also be a concern. Ashley added that, because the grapes had not yet reached veraison – when grapes change colour at the start of ripening – 'the risk of impact on fruit [from smoke damage] is lower'.
---
---
Lucky escape for Bien Nacido
Bien Nacido Vineyards, owned by the Miller family since 1968, was in the path of the wildfire, which consumed a total of 29,000 acres before local and statewide fire teams got it under control.
Vice president of Bien Nacido Marshall Miller told how his vineyard fought the blaze, after the fire jumped two fire breaks and came within 15 feet of their Pinot Noir and Syrah vines.
'It was a two day battle, they couldn't hold the fire on the other side of the hill. The fire moved against the wind as it worked down the hillside, it becomes its own force when it gets to that scale.'
When another fire broke out at Whittier summer camp 10 miles away, firefighter crews had to redirect their resources to the fire that threatened more homes and lives.
Bien Nacido's team were left to protect the vineyard from the oncoming fire, but after an outbreak a few years ago they weren't taking any chances:
'We invested in our own tanker trucks, bulldozers and hoses,' said Miller. 'We cut a firebreak and hosed the bare earth — it was our last chance hold the line.'
Bien Nacido's crew of 30 people fought the blaze though Friday and Saturday night, finally Cali Fire and Santa Babara firefighters arrived to maintain the firebreaks and prevent hot-spotting.
'We dodged a bullet. There's not been a fire of this size in the past 50 years,' Miller told Decanter.com.
Qupé and Au Bon Climat also have wineries in the Bien Nacido estate.
Their marketing director, Katie O'Hara, said, 'The fire did get very close and we had to be evacuated. I think about five acres of vineyard were burnt, but due to smart thinking from vineyard managers and firemen, the damage was minimal.'
Written by Laura Seal for Decanter.com
Latest wine news:
UK police raid uncovers possible wine crime ring…
BI reports 43% sales rise due to Asian demand…
How that glass of wine got to your fold-away table…
Life wasn't so bad in the Dark Ages…