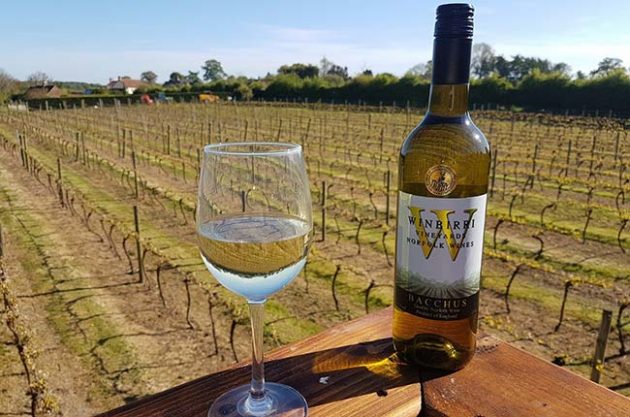 English wine Winbirri scoops one of top prizes at Decanter World Wine Awards 2017
Norfolk in eastern England has made a strong case for joining wine world royalty after a white wine from the region won one of the most coveted medals at this year's Decanter World Wine Awards.
Winbirri Vineyards wins one of only 34 Platinum Best in Show medals

Its 2015 Bacchus English white wine from Norfolk is a 'perfect aperitif ', say DWWA expert judges

Retailers move to get more of £13-a-bottle wine in stock
A still white wine made by Winbirri Vineyards near to Surlingham in East Anglia has won the Platinum Best in Show medal for best value white wine made from a single grape variety.
That variety is Bacchus, a grape relatively un-touched by most of the wine world but which has found a home in the fledgling English wine industry.
Winbirri's victory lays down a strong marker for English still wine, which has spent several years in the shadow of the the country's emerging sparkling wines.
---
See also:
---
'I think I might retire now,' joked Winbirri's owner and head winemaker, Lee Dyer, speaking to Decanter.com on Friday (19 May). 'It doesn't get any bigger than winning a Decanter award.'
Dyer spent most of Friday welcoming news crews and fielding media queries. 'For every call I take, I'm missing another five calls,' he said.
'I think the cat may be out of the bag now!' Winbirri had put on its Facebook page earlier in the day.
---
See also:
---
Earlier vintages of the Winbirri Bacchus wine were being stocked this week by both Waitrose and Lea & Sandeman, at £13.49 and £12.95 per bottle respectively.
Both retailers were out of stock on Friday morning (19 May), but a spokesperson for Lea & Sandeman said that the retailer was expecting a fresh delivery next week.
Judges described Winbirri's Bacchus 2015 as a 'perfect aperitif wine'.
They said that the wine has a 'complex, oily nose with spice, elderflower and citrus'.
They added that it is 'well-defined on the palate with grassy notes. Very elegant and delicate with a slight spritz and a long, clean finish'.
Only 34 Platinum Best in Show medals were awarded at DWWA 2017 out of more than 17,200 entries.
To win one of the top prizes, a wine must first be awarded a gold medal by an expert panel of judges led by a regional chair – in this instance, English wine expert Stephen Skelton MW. To secure a Platinum Best in Show, the wine must ultimately go up against peers from around the world.
All wines at DWWA are tasted blind by leading experts in their field, including Masters of Wine and Master Sommeliers, and the Platinum Best in Show judging panel consists of some of the top experts in the world.
The winery also tasted success with the same wine in 2016 after fellow producers in the UK industry named it their wine of the year.
An English sparkling wine has previously won one of the top medals at the Decanter World Wine Awards, helping to enhance the reputation of the UK wine industry. Ridgeview's Grosvenor Blanc de Blancs 2006 beat several Champagnes in the DWWA in 2010.
UK wine producers are in buoyant mood as this year's English Wine Week approaches. One million vines will be planted this year and sales hit an estimated £100 million in 2016.
The Platinum Best in Show judges at DWWA 2017 were:
Sarah Jane Evans MW
Gérard Basset MW MS OBE
Michael Hill Smith MW
Andrew Jefford, award-winning Decanter columnist
Andy Howard MW
Extra reporting by Eleanor Douglas and Laura Seal.
---
Stay tuned: All Platinum and Gold medals from DWWA 2017 are due to be published on Decanter.com on 25 May
---
More stories like this:
See which of the 16,000 wines entered into the Decanter World Wine Awards 2016 has scooped one of the 31…
Read our guide to the judging process…