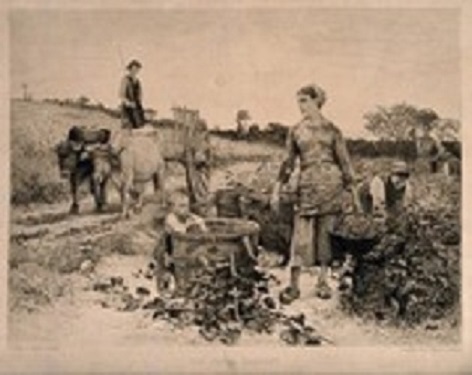 Exactly Where Do Women Belong? In Champagne!
Champagne belongs to women, from the ground and the grape, to the fermentation, bottling and drinking. Marie Antoinette noted that champagne made women beautiful and Empress Josephine enjoyed her Ruinart, although her supply was cut when she refused to pay her bills after her divorce. Odette Pol-Roger, a BFF with the late Sir Winston Churchill, was enamored with Odette's elegance and beauty as well as her champagne. He even named one of his race horses after her and left instructions that Odette was to dine with him when he was in Paris. When Churchill died the Pol-Rogers labels were bordered in black and a selection was named in his honor, Cuvee Sir Winston Churchill.
Great champagne houses have been built by women. Madame Clicquot took over her husband's failing winery, turned it into a multimillion-dollar operation and became the first international business woman in the world. Mme Clicquot invented the remuage system (the gradual tilting and turning of the bottles in which the wine ferments so that the sediment slips into the neck, from where it can be efficiently be removed) that continues to be used.
To celebrate women and Champagne, Blaine Ashley, New York Champagne Week Founder, brought together a group of distinguished women in the Champagne industry.
Current Champagne Leaders
Clemence Lelarge (Champagne Lelarge-Pugeot) is the marketing and export manager for Champagne Lelarge-Pugeot. The family has been in the grape growing business since the 18th century in Vrigny, a Premier Cru village in the Montagne de Reims. In the 1930s the family expanded their operation by investing in a pressing machine, starting their journey into wine making. The winery continued until the Germans destroyed everything during WW I, burning the vineyards and forcing the people to leave. When they were able to return, only one hectare of the Lelarge estate remained.
Purchasing another pressing machine, the family started a cooperative with other growers, until deciding to bottle their own wine. In the 1980s Lelarge's father took over the winery and today the family controls the entire operation of 8.7 hectares of calcareous, clay foam and sandy soils growing 4.4 hectares of Meuniere (vines from 1934), 1.5 hectares of Chardonnay, and 2.8 hectares of Pinot Noir. The vineyards are entirely organic, vegan friendly, biodynamic and certified by DEMETER, producing 60,000 bottles annually.
Notes. Lelarge – Pugeot – Nature et non dose
This is the first champagne with 0 manipulation and 0 sulfur; 50 percent Meunier, 25 percent Pinot Noir, and 25 percent Chardonnay. Age of vines: 35 years. Winemaking: 6 months – 50 percent in tank; 50 percent in Burgundy barrels; 16 months on the lees in bottle.
The cuvee is made naturally without additives. The grapes are pressed with a pneumatic press, followed by a long deburgage (settling) period. Alcoholic fermentation takes place in stainless steel tanks using pied de cuve, a technique used in natural winemaking to employ natural yeasts. A small batch of must is used to start a spontaneous fermentation using indigenous yeasts. Once this has been successful the pied de cuve is added to the remaining must to start the fermentation process.
Clear to the eye with hints of green; citrus and apples to the nose, supported by minerality on the palate. Pair with scallops or sushi.
Rita Jammet (La Caravelle Champagne) was born in Saudi Arabia and grew up in Lebanon and Switzerland. She laid the foundation for her career by pursuing a degree in economics and marketing at the University of Geneva, and then joining her father in international trade. With her husband she opened the New York based, La Caravelle that received a James Beard nomination. When the restaurant closed in 2004, the Jammet's continued the legacy of the restaurant through their new Champagne organization, La Caravelle.
Jammet started to market and distribute her La Caravelle Champagne to the hospitality, restaurant and retail industry. Beginning in 2004, Jammet has promoted La Caravelle and the region through her Bouquet Venture Hospitality Consulting enterprise. In recognition of her service to the food, wine and hospitality industries, Jammet was awarded the Order of Agricultural Merit by France's Ministry of Agriculture and Food.
Notes. Cuvee Nina. 40 percent Chardonnay, 30 percent Pinot Noir, 30 percent Pinot Meunier and produced by De Castellane Champagne house, Epernay, France. This brut is named after one of the Caravelle ships built by Columbus for his voyage to the New World.
Pale gold to the eye, with abundant, fine, quickly dissipating bubbles. The bouquet delivers florals, and sweet fruit (think pears, white peaches and apricots). On the palate, peaches and pears dominate the taste experience, with hints of florals linger on the palate. Pair with seafood, fish and chicken as well as Asian and Middle East cuisine.
Elodie Marion-Hulin (Champagne Marion Bosser) is the fourth generation of women to be directly engaged in the Champagne industry. She trained in Burgundy under Henri Boillot and Patrick Piuze where she learned how to make great wines. She is known to take a Burgundian approach to Champagne, follows sustainable farming practices and implements extended elevages (as long as 84 months for vintage wines). Her focus is on freshness and low dosages.
Marion-Hulin is president of the Group of Young Vintners and a member of the Commission Champanisation, the tasting committee for the Union Champagne that includes 12 small high-end cooperatives of the region. She is the only female cellar master in the 15-member panel. In addition, Marion-Hulin participates in discussions about viticulture, vinification and workers' benefits in the region.
Champagne Marion-Bosser, Extra-Brut Premier Cru. Blanc de Blanc. The Chardonnay is sourced from grand cru vineyards from the villages of Oger, Cramant, and Le Mesnil-sur Oger, noted for rich chalky limestone terroir. She follows sustainable farming practices and for her own vineyards plows to aerate the soil, de- buds to control yields, and uses integrated pest management instead of pesticides. She also uses calculated leaf-pulling on the east-facing side of the vines to dry up moisture from the morning dew. Bark mulch is scattered to serve as a natural fertilizer and the soil is regularly studied to quickly address concerns.
The grapes are harvested by hand and the champagne uses 60 percent reserve wine, 95 percent malolactic fermentation with a dosage of 5 g/L. Sur Latte ageing on the lees for 5 years. Vilification and elevage without oak.
Notes. Clear with hints of gold to the eye; the nose finds aromas of lemons and other citrus, apples and pears, bread and wet stones; elegant mousse, bold and expressive throughout the long finish. Pair with oysters, cold shellfish, fish in cream sauce, tempura, fried chicken.
Nicole Hakli. Is the US Brand Ambassador for Krug Champagne. Born in Detroit, Michigan, Hakli is an opera singer by training with a passion for wines. She joined Krug after nine years as the Sommelier/Beverage Director for Eleven Madison Park, The Nomad, Acme Restaurant and Momofuku Ssam Bar. She holds an Advanced Sommelier and Certified certification (issued by The Court of Master Sommeliers). In addition, Hakli was awarded Wine & Spirits Magazine Best New Sommelier (2016) and received Court of Master Sommeliers Rudd Scholar recognition (2017). She had the honor of presenting the TEXSOM Wine Awards (2017) on behalf of Turkish Wines.
Krug Grande cuvee started in 1843 from Joseph Krug's desire to offer the best champagne every year, regardless of weather conditions. Krug currently belongs to the LVMH group since 1999 and is a leading example of the art of champagne blending. Olivier Krug and cellar master Eric Lebel have refined their style by vinifying the wines in at least 25 years old small barrels for only 2 months, the time of fermentation, giving the wines a strong personality.
Notes. Krug. Grande Cuvee. 167 eme Edition. Brut. The blend uses reserve wines from 12 previous vintages dating back to 1995. The final composition: 47 percent Pinot Noir, 36 percent Chardonnay, 17 percent Meunier. Seven years on its lees in Krug cellars before disgorgement.
Notes. Golden to the eye with fine, intense bubbles that quickly dissipate; the nose discovers intense florals, citrus and marzipan to the nose; the palate finds the sweetness of nougat, honey and barley sugar; the nuttiness of almonds leads to a soft, opulent finish. Pair with crab and lobster, shell fish, oysters, charcuterie, and turkey.
Jen Pelka (The Riddler) is the Founder and CEO of The Riddler, an all-women funded Champagne bar and restaurant located in the Greenwich Village area of Manhattan. She brings over 15 years of experience in restaurant and food marketing to her enterprise. She is also the Founder of Magnum PR, a leading restaurant PR agency in San Francisco, with clients that include Shake Shack, Sweetgreen, Mister Jiu's, and Traci Des Jardins. Her career in restaurants started with Chef Daniel Boulud, at Daniel. She was also responsible for media relations at the Open Table, Gilt Taste and Tumblr. Pelka has appeared on the Forbes list of 30 Under 30, Pekla won an IACP Award for Best Culinary or Brand Site in 2012 and was a James Beard Award nominee for Best Food Coverage in a Food Publication. She is an alumna of Stanford University and the London School of Economics, where she studied the Philosophy of Science.
So Good For You
Champagne is healthy to drink and should be enjoyed daily. Research suggests that it helps to keep the cardiovascular system healthy (British Journal of Nutrition). The polyphenols (found in champagne grapes) slow the removal of nitric oxide from the blood increasing blood flow. It also lowers blood pressure and reduces the risk of clots (Jeremy PE Spencer, Ph.D., University of Reading, UK). Polypenols are maximized by sipping blanc de noir (champagne made from a high proportion of red grapes).
Good for the Economy
Champagne is an important contributor the French economy. The Champagne appellation represents 0.5 percent of world vineyard acreage and 4 percent of France's total vineyard area. The industry directly employs 30,000 people, including 15,000 salaried staff and 120,000 seasonal workers at harvest time. Champagne exports its wine to more than 190 countries, representing 10 percent by volume of the world consumption of sparkling wines.
The Event: The FIZZ is Female
© Dr. Elinor Garely. This copyright article, including photos, may not be reproduced without written permission from the author.