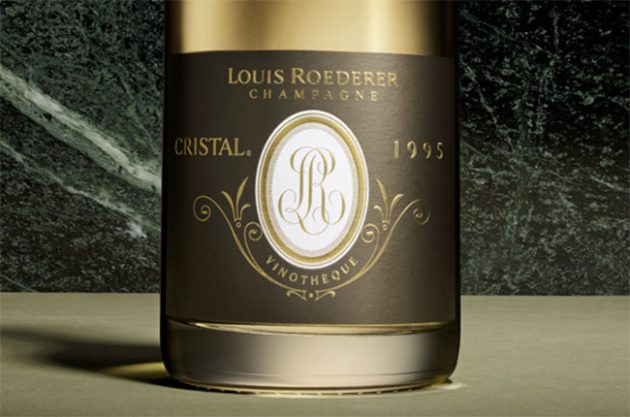 First taste: New Cristal Vinothèque Champagnes
Louis Roederer is to release a new, further aged expression of its luxury Cristal Champagne, named Vinothèque, and Decanter's John Stimpfig was one of the first to taste it.
Only 400 bottles of Cristal Vinothèque 1995 are set for launch around the world, according to Louis Roederer. It is also releasing around 200 bottles of Cristal Vinothèque 1996 rosé.
---
---
As Roederer said itself, it's not very often that the house launches a new version of Cristal and Vinothèque has been years in the planning. The last one was Cristal rosé Champagne in 1976, launched by Jean-Claude Rouzaud. His son, Frédéric Rouzaud, is now Roederer MD.
During its lifetime so far, the Vinothèque brut 1995 has been aged 'sur lattes' for 10 years in the Roederer cellars before being matured for a further decade under cork, according to the house.
Roederer's newest member of the Cristal family comes amid reports of rising demand for prestige and luxury Champagnes around the world.
Several journalists were recently given an exclusive taste of the luxury vintage Champagnes during Roederer's 241st birthday celebrations.
John Stimpfig, Decanter's content director, attended the anniversary dinner and said that the Vinothèque 1995 was paired with an 'origami of tuna'.
Pricing details for the wines have not yet been released.
Look out for more to come, according to Roederer's executive vice-president, Michel Janneau.
'The total number of bottles in existence of this "other" Cristal is infintesimally small, but – fear not – it is not without sequel,' he said. 'Other vintages will follow this.'
The first Cristal Vinothèque Champagnes have been overseen for much of their lives by Jean-Baptiste Lécaillon, who has been chef de caves at Roederer since 1999 having first joined the company a decade earlier. Lécaillon is also an executive vice-president at the group.
---