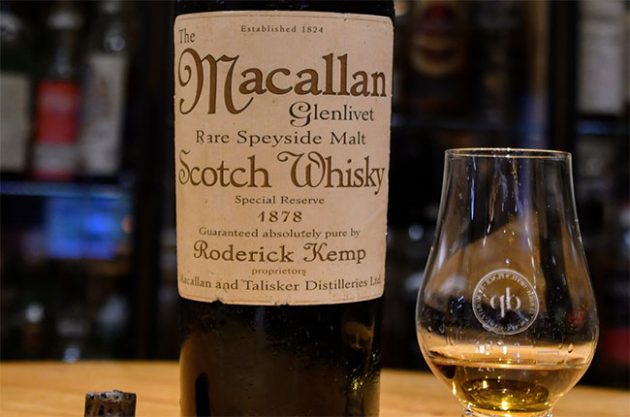 Rare Scotch whisky at eight thousand pounds-a-dram is fake
A bottle of Macallan 1878 Scotch whisky has been confirmed as a fake after a Chinese tourist paid nearly £8,000 for a single dram in a Swiss hotel bar.
Lab tests confirmed this week that the Macallan 1878 at the The Waldhaus Hotel Am See in St Moritz, Switzerland, was too good to be true.
A Chinese customer, named in press reports as 36-year-old writer Zhang Wei from Beijing, paid almost 10,000 Swiss francs (£7,700, $10,050) for a single glass of the ultra-rare Scotch whisky over the summer.
But, the hotel said that it subsequently sent the whisky for tests after suspicions were raised by experts following media coverage of what has been dubbed the world's most expensive Scotch.
Rare Whisky 101, a Scottish brokerage and consultancy, commissioned analysis at the University of Oxford on the hotel's behalf and found that the liquid inside the Macallan 1878 bottle was likely only created between 1970 and 1972.
More tests by Tatlock and Thomson lab showed the whisky was probably a blend of 60% malt and 40% grain; in other words, not a single malt Scotch whisky as claimed.
'The result has been a big shock to the system, and we are delighted to have repaid our customer in full as a gesture of goodwill,' said Sandro Bernasconi, Waldhaus Am See hotel manager and bar manager at Devils Place.
Bernasconi flew to Asia to refund the customer in person.
RW101 co-founder David Robertson said that the story was an example of rising concerns about counterfeits as greater amounts of mature whiskies are sold at auction and on the secondary market generally.
'Over the past year, we have been invited by numerous bottle owners and auction houses to assess suspicious bottles,' he said.
'As with any purchase, we would recommend that each buyer does their research, assesses the bottle and its packaging presentation, and where they can afford to do so, send some of the liquid for technical evaluation and/or carbon dating.'
More stories like this: