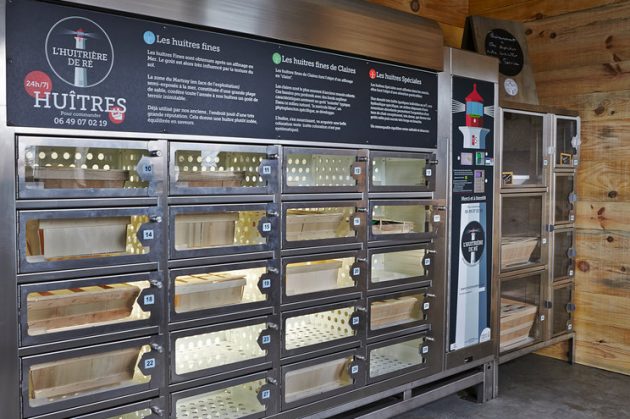 French seaside town gets oyster vending machine
Visitors to French seaside resort of Ars-en-Ré can now satisfy their cravings for shellfish 24/7 thanks to a vending machine that dishes up oysters.
Brigitte and Tony Berthelot, oyster farmers of L'Huîtrière de Ré, in the French island of Île de Ré, have introduced what is being billed as France's first oyster vending machine.
'People always arrive when the shop door is closed, which is frustrating for customers and for us,' Tony Berthelot told Ruptly TV.
---
---
'So we looked at what was being done in agriculture, because there are many distributors in the countryside. We contacted a manufacturer who responded and who fitted a machine for oysters.'
The machine sells oysters in various sizes and varieties at a starting price of €6.90 (£6.25) for 12.
To ensure food safety, the Berthelots re-stock the machine every morning and the oysters are sold closed.
Customers can pre-order oysters via text, which comes with a few add-ons like paté and sea asparagus.
'The machine has been here since April 2017,' the Berthelots told Decanter.com via email. Customers include tourists, local farm workers and younger people in the area, they said.
'We don't plan to expand, because we believe customers have more confidence in the products if they are near to the farm.'
More stories like this:
For London restaurants in recent years, the world may not have been their oyster, but the reverse appears to be…
Can the MWs rescue some pride against the Master Sommeliers?
Life wasn't so bad in the Dark Ages…
With Italian winemaker Ruffino…