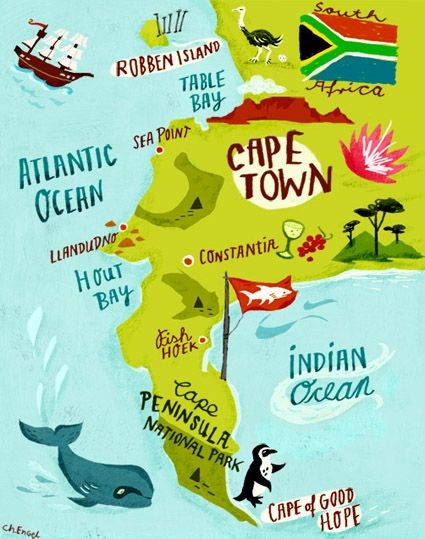 From Cape Town to Stellenbosch in under 1 hour
Cape Town is South Africa's second largest city, with 4 million people and 10+ million tourists (2017). As an international hub, it attracts visitors from Russia, France, and Germany as well as the UK, New Zealand, Nigeria, and China.
Located between the ocean and the mountains, with a national part in the center, this "Mother City" is the oldest city in South Africa with a cultural heritage that covers more than 300 years. It is home to the five most important attractions in South Africa including Table Mountain (explore by climbing or cable car) and the Kirstenbosch Botanical Gardens (noted as one the greatest gardens in the world).
The Victoria & Alfred Waterfront, with many internationally important hotel brands is also the destination for shopping, dining and entertainment and the port is the departure point for short cruises.
Water Crises Postponed
In the spring of this year (2018), the city made global news headlines because of its water shortage. How the problem developed is a mix of politics, bad management, an ageing infrastructure, water abuse and climate change. The good news for visitors is that the doomsday forecast of locked faucets has been postponed and now there are plans to drill for ground water, update the infrastructure, change plants and vegetation and expand desalinization plants.
When to Visit? It Depends
The most desirable time for a visit to Cape Town (if warm weather is your objective) is from late January to late April (tail end of the city's dry summer months). For hiking, look at late April to early June when the weather is clear and crisp. Foodies prefer late June to August while July to September is best for whale watching and wild flowers.
Cape Town as a Start Up
The first Europeans to explore Cape Town were the Portuguese seamen who stopped at Table Mountain on their way to India (1503). Other seafaring countries continued to use the port for fresh water and food until 1647. When explorers reported back to Holland that the area was safe and friendly, and the natives could be converted to servants and Christianity the Dutch East India Company got interested in the project and in 1651 they established an outpost in Cape Town. Slavery was introduced in 1658 and the location grew to include a hospital, a fort, workshops, granary and homes.
The population increased as the early settlers intermarried with the local Khoi and European immigrants, including young girls from Dutch orphanages and Huguenot exiles from France, were shipped to Cape Town by the East India Company. By the end of the 17th century, the settlements included Dutch, French, Germans, Swedes, Danes, Belgians, Africans and Asians and approximately 400 slaves.
Cape Town Today
If you like gourmet cuisine, good wines and beer, fine arts and crafts, terrific shopping options, aquariums and museums, you will be delighted with Cape Town, a city that is chockablock with lovely residential homes, hotels, restaurants, shops and traffic.
Sleeping
There are hundreds of excellent places to sleep in Cape Town and the list runs from posh and expensive to casual, comfy and perfect for backpackers. I had the good fortune to enjoy my Cape Town visit as a guest at the Cape Milner, a strongly recommended boutique property.
After traveling for hours through airports and congested roadways I was a happy camper when I was greeted at the Cape Town airport by a hotel representative and even happier when I arrived at the Cape Milner and entered the modern and attractive lobby.
A small boutique hotel (57 rooms) that features contemporary interiors with trending furniture and fixtures and a staff that goes beyond nice (part of their DNA). Located in a residential sector of the city, the lovely Tamboerskloof area gives visitors the impression that they are "living like a local."
The hotel is within walking distance of the Christopher Moller Art Gallery, the South African National Gallery, Clifton Bay and Camps Bay Beaches, as well as Table Mountain. The hotel dining room offers delicious options for breakfast, lunch and and there are local restaurants nearby.
I was warmly greeted by the staff and, although I arrived to a closed kitchen, the chef was willing to produce delicious goodies to keep my hunger at bay until the morning. As happy as I was with the public space, the enormous, contemporary designed bedroom and bath put me in the OMG zone.
Miss Molly is a Moreson Weimaraner whose profile is captured on the label. One of the few dogs with her own range of wines, I am told that the success has not gone to her head, and she continues to enjoy her status as a dog and a darling of her household.
Produced through Methode cap Classique it captures the effervescent personality of Miss Molly. The sparkling wine is bottle fermented in the traditional manner. The nose finds citrus (lemons and limes) and a mere suggestion of pineapple.
The Moreson winery is located in Franschhoek, approximately 1 hour from Cape Town and owned by the Friedman family. The winemaker is Clayton Reabow. A percent of sales from Miss Molly wines is donated to the South African Guide Dogs Association for the Blind and Animals in Distress.
Wine Trail to Stellenbosch
Want to get out of the noise of Cape Town and yearn for the beauty and tranquility of wine country, rent a car or join a tour and head to Stellenbosch and Franschhoek – the South Africa wine trail. The crests of the dramatically rising mountains circle the town including the Stellenbosch, Jonkershoek and Simonsberg mountains.
Stellenbosch is a vibrant university center as well as South Africa's second oldest town and South Africa's wine and gourmet capital. This is a beautiful and lively small community and the "city center" spans approximately 4 walkable oak-lined and interesting blocks that are chockful of restaurants, bars, art galleries, shopping and museums.
If you are driving, there are 3 different wine route and on each there are 5 -6 tasting room options for a total of 150 wineries. Without a car, pick up the Vine Hopper Wine Tour, select your route, and get on/off at the different estates.
The Grape Signature of South Africa. Pinotage
Pinotage is grown, almost exclusively, in South Africa. It is used for a wide range of wines from low-quality table wines to high-end elegant wines. The variety is a cross between Pinot Noir and Cinsault and was first bred by Abraham Perold (1925). Perold's first seed were planted in his garden and forgotten. Years later, another researcher found them and grafted them onto disease-resistant rootstock, producing the first commercial plantings in 1943.
• Zevenwacht Wine Estate (Dutch = 7 Expectations)
The first wine was made in 1825; however, it was not until 1987, when the land was purchased by Harold and Denise Johnson that wine making began in earnest.
Today the vineyard is family owned and operated. Jacques Viljoen is the winemaker and the wine consultant is Chris Keet.
• Pinotage. 100 percent Pinotage
The grapes are grown on the northern slopes of the Banhoek Valley, with altitudes ranging from 450-500m above sea level, where they experience moderate temperatures.
The estate vineyard supplies most of the grapes while additional fruit is provided by the Zevenrivieren farm. The grapes are harvested by hand in mid-March collecting 8 tons per hectare. The intensely favored and pigmented bunches are taken to wine fermenters for a cold-soak, overnight. This allows for color extraction early in the winemaking process. Fermentation occurs when temperatures peak at 25 degrees Celsius. The wine is pressed off the skins directly after fermentation. Following malolactic fermentation, the wine is matured for 6 months in French oak staves.
Notes. To the nose, chocolate, plums and dark cherries that follow through to delight of the palate. A long finish with firm dark chocolate tannins adds a memory to the experience. Pair with beef, game (deer or venison) or poultry.
• Marianne Wine Estate. Pinotage
This Stellenbosch estate is owned by Christian Dauriac who also owns three estates in France, Saint Emilion and Pomerol. The winery is named after Marianne, a strong powerful fictional woman who embodied the characteristics of the French Republic, such as liberty, brotherhood and equality.
Located in the valley of the Simonsberg Nature Reserve, a short distance from Stellenbosch. Marianne is an interesting combination of South African terroir with French know-how and the family owns 3 wine estates since 2004.
The winery produces between 80,000 – 100,000 bottles per vintage. The focus is on soft tannins and is fruit forward. French oak barrels, imported to South Africa, are constructed for the owner by French coopers. The red wines are barrel-aged in new French oak for up to 2 years. The managing director is Alex Brodbeck and the Operations Manager is Jana Brodbeck. The winemaker is Francois Haasbroek.
Notes. Deep in color, the Pinotage delivers the fruit aromas of plums, blackberries and light spices. On the palate there is a suggestion of marshmallows combined with integrated tannins (aged in French oak barrels for 16-22 months). Pair with lamb.
Shopping in Stellenbosch
Marze Botha Art Gallery. Started in 2008, the gallery is located on Stellenbosch main shopping street. It is home to original art and sculpture from well-known South African artists. Of special note are works by Danie Marais from Pretoria, South Africa. He studied art at the Central University of Technology in Bloemfontein and lives in the Western Coast near Cape Town. His work focuses on still live, landscapes, portraits, figures and wildlife.
Bits of Africa MUST be visited for visitors who want to take home lasting memories of the region for personal joy and gifts. Located on Church Street, the shop features functional art by Carrol Boyes as well as hand painted ceramics from South African artists.
Tsonga South Africa requires a visit for fabulous leather shoes and bags. The company was started by Peter Maree who saw an opportunity to produce high-quality leather footwear with a uniquely African style and comfort from hand-stitching. He took an abandoned school building and transformed it into the Thread of Hope training center where people from the local rural community learn skills in the manufacture of leather footwear.
For additional information, click here.
© Dr. Elinor Garely. This copyright article, including photos, may not be reproduced without written permission from the author.