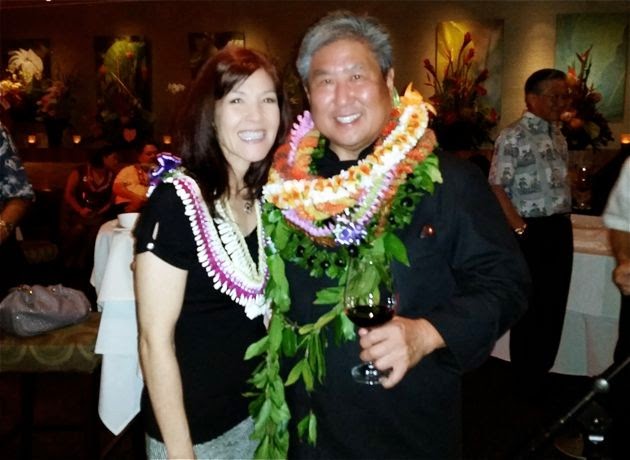 Hawaii restaurants among world's wine elite
Hawaii was honored in Wine Spectator's 2017 Restaurant Awards, which highlight restaurants around the world that offer the best wine selections.
This year, the Restaurant Awards program honored 3,592 dining destinations from all 50 states in the US and more than 75 countries internationally.
The Restaurant Awards began in 1981, and there are 3 levels: the Award of Excellence, the Best of Award of Excellence, and the Grand Award, with 2,335; 1,168; and 89 winners this year in each respective category. Five of the Grand Award winners—Del Frisco's Double Eagle Steak House in New York; Grill 23 & Bar in Boston; Les Climats in Paris; PM & Vänner in Växjö, Sweden; and Wally's Beverly Hills—are first timers.
"Restaurants continue to raise their game when it comes to wine, and we are particularly proud to present this year's winners," said Marvin R. Shanken, Editor & Publisher, Wine Spectator. "As wine becomes more important to diners, the Awards program is thriving—with an increasing number of entries, as well as growing print, digital and social audiences. Wine Spectator congratulates each and every award winner."
All winners are profiled at Restaurants.WineSpectator.com and in the Restaurant Awards app—both of which were launched last year, and have since been updated with improved features, visuals and performance. The app, available free on the App store, allows iPhone and iPad users to easily find nearby award-winning restaurants, with maps, plus helpful information about cuisine, wine, and pricing.
The Award of Excellence recognizes restaurants whose wine lists feature a well-chosen assortment of quality producers. Best of Award of Excellence recipients offer more extensive selections with significant vintage depth and excellent breadth across multiple regions.
The Grand Award is the program's highest honor. This elite group comprises the world's best wine programs, which deliver serious breadth of top producers, outstanding depth in mature vantages, excellent harmony with the menu, and superior presentation. Wine Spectator carefully assesses each Grand Award candidate, including rigorous independent, on-site inspections of the wine program, cellar, service, ambiance, and cuisine of the restaurant.
Making the Hawaii list:
ALAN WONG'S HONOLULU
Honolulu, Oahu
BEACHHOUSE AT THE MOANA
Moana Surfrider, Honolulu, Oahu
BLT MARKET
The Ritz-Carlton Residences, Waikiki Beach, Honolulu, Oahu
BLT STEAK
Trump International Hotel, Honolulu, Oahu
CHART HOUSE WAIKIKI
Honolulu, Oahu
D K STEAK HOUSE
Waikiki Beach Marriott Resort & Spa, Honolulu, Oahu
FLEETWOOD'S ON FRONT ST.
Lahaina, Maui
FRESCO ITALIAN RESTAURANT
Hilton Hawaiian Village, Honolulu, Oahu
GANNON'S, A PACIFIC VIEW RESTAURANT
Wailea, Maui
GERARD'S
The Plantation Inn, Lahaina, Maui
HALI'IMAILE GENERAL STORE
Makawao, Maui
HONU SEAFOOD & PIZZA
Lahaina, Maui
IL LUPINO TRATTORIA AND WINE BAR
Honolulu, Oahu
JACKIE REY'S OHANA GRILL
Kailua Kona, Hawaii
KŌ
Fairmont Kea Lani, Wailea, Maui
LA MER
Halekulani Hotel, Honolulu, Oahu
LAHAINA GRILL
Lahaina, Maui
LONGHI'S LAHAINA
Lahaina, Maui
LONGHI'S WAILEA
Wailea, Maui
MALA OCEAN TAVERN
Lahaina, Maui
MARIPOSA
Neiman Marcus, Honolulu, Oahu
MERRIMAN'S KAPALUA
Lahaina, Maui
MERRIMAN'S RESTAURANT WAIMEA
Kamuela, Hawaii
MORIMOTO MAUI
Wailea, Maui
MORTON'S, THE STEAKHOUSE
Honolulu, Oahu
NICK'S FISHMARKET
The Fairmont Kea Lani, Wailea, Maui
NOE
Four Seasons Resort O'ahu at Ko Olina, Kapolei, Oahu
PACIFIC'O
Lahaina, Maui
PULEHU, AN ITALIAN GRILL
The Westin Ka'anapali Ocean Resort Villas, Lahaina, Maui
ROY'S KO OLINA
Ko Olina Resort, Kapolei, Oahu
SARENTO'S ON THE BEACH
Kihei, Maui
SON'Z STEAKHOUSE
Hyatt Ka'anapali Beach, Kaanapali, Maui
VINO
Honolulu, Oahu
WOLFGANG'S STEAKHOUSE
Royal Hawaiian Center, Honolulu, Oahu
PHOTO: Chef Alan Wong