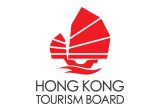 Hong Kong and Bordeaux: A winning tourism combination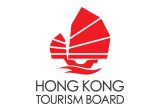 HKTB
Tourism and wine is a winning combination Hong Kong Tourism knows it.
The first Memorandum of Understanding between the Hong Kong Tourism Board (HKTB) and Bordeaux Greats Events — Office de Tourisme et des Congrès de Bordeaux Métropole on Wine and Food Tourism Promotion (MoU) was signed yesterday (16 June 2018) at the Bordeaux Wine Festival to further strengthen cooperation between the two cities on wine and food tourism promotion.
The MoU confirms that the HKTB and Bordeaux will continue their collaboration in staging the Hong Kong Wine & Dine Festival from 2018 to 2022. It also, for the first time, underlines a pledge to strengthen cooperation and exchanges on wine and food tourism between Hong Kong and Bordeaux. The two cities seek to further enhance their tourism appeal through joint promotions of their wine and gourmet food to visitors globally.
After the signing of the MoU, the HKTB hosted a cocktail reception for the wine industry in Bordeaux, at which highlights of the forthcoming 2018 Hong Kong Wine and Dine Festival were revealed, in an effort to attract the participation of the Bordeaux wine trade in the event.
The 2018 Hong Kong Wine and Dine Festival will continue to expand its scale and introduce new elements to surprise visitors and locals alike. This year, not only will the venue be the largest ever; there will also be plenty of new party elements to create a lively and exciting atmosphere. In addition, the HKTB will invite celebrity chefs in the region to work together to present a splendid feast, and offer a collection of the most famous street food for visitors and locals to savour the most authentic tastes from different regions and countries.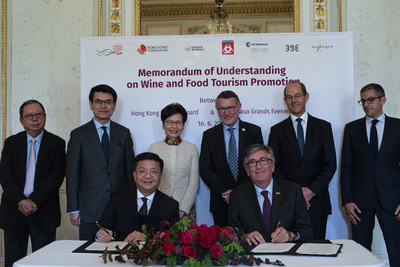 Hong Kong and Bordeaux sign a Memorandum of Understanding on wine and food tourism promotion.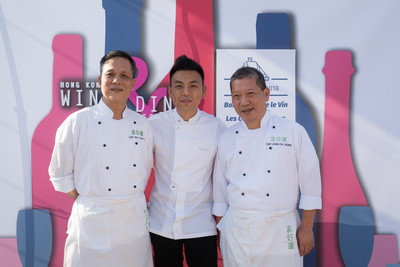 Michelin-starred chefs from Hong Kong present their signature dishes to the Bordeaux wine industry in the cocktail reception.
To showcase Hong Kong's culinary delights to the Bordeaux wine industry, three Hong Kong Michelin-starred chefs were invited by the HKTB to present their signature dishes at the cocktail
Related
yahoo