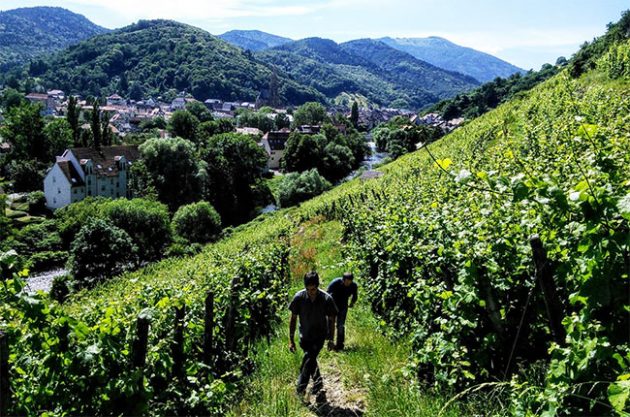 Jefford on Monday: Alsace notebook
Andrew Jefford salutes a region facing – and embracing – change.
After last week's jaunt around Burgundy, I accompanied students on a five-day tour through Alsace. There were surprises in store.
Generation Grand Cru
Here are some words I never thought I'd hear – at least at this famous address in Ribeauvillé. "I'm speaking a lot about Grand Cru," said Anne Trimbach. "It's the way to go to understand the beauty of Alsace. I know it's a bit complicated, but it can only help Alsace. We have such a diversity of soils and it's the best way to understand that." And Premier Cru? "Let's hope it happens."
Wow! Dial back a decade and a half; I was sitting across the table from her great-uncle Hubert. "We are opposed," he had told me then, when I asked about Grand Cru. "There is not enough discipline; yields are too high; quality is questionable; prices are ridiculous and criminal … This is a political time-bomb. No, no and no." Hubert is, happily, still with us; he's in the office every week. What, I asked Anne, did Hubert make of this change of heart? "With age," she said, "the older generation gets more mellow; he accepted it well. My father worked on him for a few years."
Ah … Anne's father is Pierre Trimbach, the company's winemaker; it turns out he had been a secret enthusiast for many years, nursing a dream of a collection of Grand Cru Rieslings. "We never do a revolution here," smiled Anne. "We just evolve." There is indeed now a Trimbach Grand Cru Collection, featuring the company's new purchases in Schlossberg and Geisberg; I wouldn't bet against Clos St Hune (from Rosacker) joining them one day, though there are publically no plans for this as yet.
It's a rout: fellow long-term refusniks Hugel and Léon Beyer are moving in the same direction. Hugel has its Grossi Laüe series (the equivalent of 'Grand Cru' in Alsatian dialect) while its Schoenenbourg wines have, I believe, been submitted for Grand Cru approval from 2015; while Marc Beyer said that his company also intended to use Grand Cru in future where relevant. I applaud the fact that the region's merchant grandees are finally getting behind the Grand Cru system for their domain wines. They will benefit; the system will flourish … and, of course, economics will dictate that a hierarchy of Grands Crus and Grand Cru producers will take shape. Thus the market will meet the challenge that the legislators dodged.
By the way, Anne Trimbach also pointed out how much more motivated and engaged young vineyard workers are in Alsace today compared to a decade or two ago when such labour was "just a job". Surely the journey towards expression, nuance and an understanding of site represented by the Grand Cru system has something to do with this?
Sec means sec
The obligatory labelling of dry Alsace wines as 'Sec' is on its way. I asked Marc Beyer (who says he produces fine dry Alsace wines "for the gastronomy orchestra") if he was happy about this. "No," he replied, with pained dignity. "It should not be necessary. Alsace wine should be dry." This was also what Marc Hugel had in mind when he called the coming scheme "a joke" last year.
I think consumers will greatly welcome it. Remember, though, that the use of Demi-Sec, Moelleux and Doux will be optional, in contrast to the obligatory 'Sec'. When I asked producers if they were thinking of using these other terms, there was a shaking of heads, especially about Demi-Sec, which was felt to sound vaguely pejorative. Admittedly the best solution of all would have been to adopt an 'index' scale to indicate relative sweetness graphically, as used by Zind-Humbrecht and others – but this proved too complex. 'Sec' is still better than nothing.
Cork blues
Thanks to Decanter's Alsace specialist Thierry Meyer, my students and I had the chance to enjoy a dinner of older Alsace wines at the exceptional Taverne Alsacienne in Ingersheim. The wines came in part from Thierry's own L'Oenothèque Alsace and partly from the local Confrérie de St Etienne, so they had been well stored. There were some stars (notably a graceful and limpid 1983 Cuvée Frédéric Emile from Trimbach, a meaty and balsam-like 1971 Tokay Réserve Exceptionnelle from Kuentz-Bas and a truly Tokaji-like 1990 Riesling Clos St Landelin Sélection des Grains Nobles from René Muré) but the manifold failings of cork suppliers between 1960 and 1990 cost us dearly, with five corked bottles out of 18 and others oxidatively spoiled.
There has been some movement on closures in Alsace: both the Barthelmé brothers at Albert Mann and the Blanck cousins at Paul Blanck use screwcaps for some of their range as do co-ops like Beblenheim, and Marc Hugel says that his decision to switch to Diam corks was "the most clever decision I took in my life … The nightmare is now behind us."
My view is that all Alsace Riesling, Muscat, Sylvaner, Pinot Blanc, Edelzwicker and Gentil wines would be best bottled under screwcap. The evolution of these Alsace whites in time, after all, relates to a kind of expansion, refinement and modulation of their fruit characters and their intricate fruit perfumes: such wines benefit most from the fruit-and-scent preservation which screwcap delivers.
By contrast, I'd chose Diam corks for the texturally richer (and sometimes frankly tannic) Pinot Gris and Gewürztraminer, where the developmental trajectory is closer to that of the classic oaked white: a broadening of flavour and a metamorphosis of fruit towards vinosity and structural power, accompanied by creamy, nutty, mushroomy, truffle-like or meaty forms of richness. Clean, reliable cork favours this kind of evolution.
Pinot breakthrough?
Pinot production in Alsace remains a secondary specialism (around 10% of Alsace production is red), but several producers mentioned how climate change is making ambitious Pinot production increasingly viable. The 2015 vintage, too, broke new barriers for Alsace's Pinot Noir producers. If you've never tried Alsace Pinot Noir, 2015 is the vintage to start: here are a couple of notes, followed by a selection of the rest of the week's outstanding bottles.
---
Pinot Noir
Léon Beyer, Comtes d'Eguisheim, Pinot Noir 2015
Only the third vintage of the Comtes d'Eguisheim Pinot produced (after 2003 and 2009), this has poised, billowing fresh-fruit scents with vivacious redcurrant and smoky cherry on the palate: structured, deep, graceful and articulate, a complete success (and made with 100% whole bunch, too). 92 points / 100
Albert Mann, Grand 'H', Pinot Noir 2015
From 40-year-old vines in Hengst, and made with 50 per cent whole bunch material in this vintage, this wine is deep red in colour, with dense red fruits and plenty of meaty richness. On the palate, the wine is deep, dense, ringing, structured and vivid: more Gevrey in style than Chambolle, with meaty flesh and ripe tannins. I've never tasted a better Alsace Pinot Noir than this. 94
---
Whites
Blanck, Grand Cru Schlossberg, Riesling 2014
Pure, fresh, planty and pungent scents, and a scything palate packed with bracing limey fruit. Intense, pure, balanced and complete. Philippe Blanck also showed us the 2008 to illustrate some of the ageing potential of this wine. The aromas had modulated to talc and orange flower, but the palate was still racy, delicate and fine. 93
Albert Boxler, Grand Cru Sommerberg 'D' (Dudenstein), Riesling 2015
Jean Boxler's 2015 wines maintain his dauntingly high standards. The Sommerberg 'D', from a small parcel containing old vines planted after 1945, is a masterful wine of great intensity, complexity and energy: almost explosive in the mouth. It is both opulent and vivacious: a typically Alsatian combination, but rarely realised with the drama and clarity of expression that you find here. 96
Cave Coopérative de Ribeauvillé, Grand Cru Altenberg de Bergheim, Riesling 2013
White-green in colour; orchard fruits and spring woodland scents; pure, precise, clean and dry, yet long and structured, too, from this sunny clay-soiled site. The proof that co-operatives can make excellent Grand Cru wines, too. 90
Schoffit, Clos St Theobald, Grand Cru Rangen, Pinot Gris 2010
Aromatic creamy softness, then vivid, smoky and rich on the palate. Dense, thick-textured and complex, with unusually vivid acidity to balance out the 37 g/l of sugar; a saline edge; then a long, almost malty finish. Grand wine from the region's most astonishing single site. 94
Trimbach, Cuvée des Seigneurs de Ribeauvillé, Gewurztraminer 2011
A richly dry Gewurz based on fruit from from Muhlfurst (this Hunawihr vineyard close to Rosacker is rumoured to be in pole position for Premier Cru status) and Rosacker itself: elegant, fine-lined and almost minty fresh in scent, with sumptuous, creamy flavours which merely hint at rose petal. Proof that fine Gewurztraminer can be restrained and elegant. 92
Trimbach, Clos Ste Hune, Riesling 2011
Clos St Hune is an unassuming, gently sloping Hunawihr hillside vineyard with no wall around it and no church at the top of the hill (the famous label, of course, portrays an elegant fantasy). The scents are quiet but evocative: an apple orchard; wet stones. Perfumed and lush on the palate, yet stony and long, too, with the apple here modulating towards apricot. Refreshing, enticing, supremely drinkable as well as intellectually satisfying. 94
Weinbach, Muscat 2016
There is no 'simple' Alsace wine which is harder to make well than Muscat. The Weinbach version (a blend of 70 per cent Ottonel with 30 per cent Muscat d'Alsace) is deftly exemplary, with admirable freshness and purity of scent and with pristine, fresh, lifted flavours, neither grassy nor catty. Together with Riesling, Muscat is the wine which perfectly illustrates the northern side of Alsace's nature (compared to the region's exotic 'sotherners': Pinot Gris and Gewurztraminer – at which, by the way, Weinbach also excels). 91
Zind Humbrecht, Heimbourg, Pinot Gris 2013
A brilliant dry Pinot Gris (just 6.9 /l residual sugar) which shows how this variety in Alsace can, in the right hands, acquire the density and force of personality of a red wine. It's still pale, but the haunting aromas allude to meat, grain, smoke and both fresh and dried orchard fruits. On the palate the wine is salty, rich, packed with almost every fruit essence you can think of: an astonishing roar from this west-facing limestone vineyard. 95
… and three quotations to finish
"To make a litre of Schlossberg, you need a litre of sweat." Jacky Barthelmé, Albert Mann
"The best wine is the one you take a second glass of." Marc Beyer, Léon Beyer
"Wines are like children: you need to watch them closely, but not to interefere all the time." Catherine Faller, Weinbach
More Andrew Jefford columns on Decanter.com:
The pressing issues in 2017 so far…
In 30 years, our columnist has never seen this…
Everything you need to know about Crémant de Bourgogne…
A chat with wine teacher Michael Schuster…