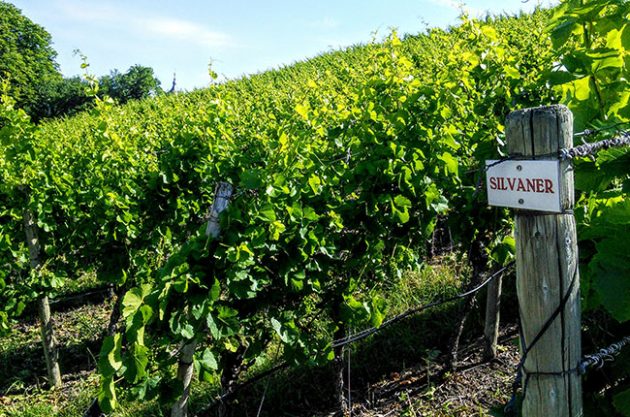 Jefford on Monday: Desperately seeking Silvaner
Andrew Jefford hunts down Silvaner in its Franconian stronghold – and is lost for words.
There are two sorts of white wine in the world: adjectival and non-adjectival.
Descriptors cluster around adjectival white wines like wasps around jam: Riesling is the prime example, but others of this ilk would include most Chardonnay (thanks in part to its happy relationship with oak barrels), botrytised Chenin Blanc, Muscat, Gewurztraminer, Traminer, Torrontés, Viognier, Sauvignon Blanc, serious Pinot Gris, the Mansengs, Albarinho, Bacchus … you can all add a few more.
Then come the non-adjectival white wines. These seduce not by prettiness of scent and articulacy of allusion, but by wealth, amplitude, vinosity, structure, flesh and depth, sometimes accompanied by a quiet, understated and less easily assignable set of allusions. Sémillon (in its pre-rotted state) tends to be unadjectival; so too do Grüner Veltliner, Picpoul de Pinet, Aligoté, Pinot Blanc, Palomino, Ugni Blanc/Trebbiano, Cortese, Arneis, Vermentino – and many white wine blends from the Rhône, Châteauneuf and elsewhere.
There is no dishonour to being unadjectival: sometimes (notably with food) that is exactly what drinkers relish. On those occasions, aromatic varieties (coarsely made, garish or mis-planted Sauvgnon Blanc, for example) can seem excessively or oppressively adjectival.
This distinction applies to white wines, I'd suggest, because they're fermented in most cases from juice alone. The fact that red wines spend days or weeks fermenting with their skins and pips mean that few if any are truly unadjectival in the same kind of way. (All great rosé, by contrast, tends to the unadjectival.)
Which variety is the unadjectival king or queen? I've a soft spot for the utterly strange, allusion-defying Ribolla Gialla, of which more in early autumn, but let me admit that I've never been so adjectivally challenged as I was during a recent visit to Franconia. Why? The wines were very good, after all, and vastly better than at the time of my last visit in the early 1990s. The reason is that Franconia's greatest and most terroir-friendly grape variety is unquestionably Silvaner, and Silvaner … just is. Its being is pure wine, wine with almost all the adjectives stripped away. Its perfection is gloriously inarticulate.
The grape reached this region of northwestern Bavaria from Austria in the mid-C17 (it's mentioned in a document held in the impressive archives at Fürstlich Castell'sches Domänenamt in 1659) as 'the Austrian grape', and we know from DNA analysis that it's a natural crossing between Savagnin and Österreichisch Weiss ('the Austrian white': yet another Gouais Blanc progeny). Grüner Veltliner, by the way, is also half-Savagnin.
Nowadays it's chiefly known in two regions. Alsace (where it's generally spelled Sylvaner) is one, though plantings have plummeted recently, with little more than 1,000 ha remaining in 2014, despite the fact that it became an approved variety for the Zoztenberg Grand Cru from 2006. Franconia is the second – and more significant. Here in Germany it is generally spelled Silvaner – though Sylvaner was common in former times, and is still used by some producers. (For the record, Rheinhessen has more Silvaner than Franconia, but it doesn't occupy the finest sites there as it does in Franconia.)
Silvaner is Franconia's second most widely planted variety after Müller-Thurgau – but the latter is used principally for bulk wines, while the vast majority of Franconia's serious, ambitious white wines are Silvaner. It occupies almost 1,500 ha of the total 6,230 ha, and it's in every great Franconian site. Riesling is runner-up, but it's way behind with just 330 ha. Most Franconian Silvaner is old-vine material, too – according to grower Christian Müller of Max Müller I, the average age of Silvaner in the region is between 50 and 60 years.
Believe me, Franconia has some stunningly difficult, challenging sites, easily the equal of anything in the Mosel or the Rheingau (or the Douro or the Northern Rhône). Those working in the challengingly steep Julius-Echter-Berg close to Iphofen (71 ha), the insanely steep Stein above Würzberg (85 ha) or the horrifyingly vertiginous Lump above Eschendorf (25 ha) invest around 1,500 hours of work a year on their vines. (Flat land vineyards need 250 or so.) They slip, they slide, they sweat as they climb up and climb down; without specially adapted footwear, they'd need to move on these slopes on all fours. And they do all of this for Silvaner. If it didn't reward their efforts with something special, they wouldn't.
I spent a lot of time asking growers what words they used about Silvaner, as well as what they looked for in the wines. 'Minerality' came up time and time again – there was something in the wines, in other words, which reminded growers of the sensual experience of working their soils (though such scents would be related to soil organic matter, not minerals as such). Dr Uwe Matheus of Wirsching is typical. "For me, I explain the taste of Silvaner as the opposite of Riesling. No taste of fruit but a strong taste of minerals. We don't have high acidity but the minerals take over a little bit the part of the acidity."
Sometimes pear or quince flavours are tentatively offered as analogies, as well as yellow summer fruits, including yellow apples; they also suggest straw, hay and what Germans call 'white herbs', meaning woodruff and other white-flowering wild plants ('mayflowers' in English). I have heard white pepper as an analogy, too, though I struggle to see this. As Franconian Silvaner ages, a little mushroom, nut butter and truffle can creep into the mix, though those allusions are common with many older whites.
Late harvest and dessert Silvaner in Franconia can be surprisingly successful; you'll find its rich sweetness is balanced and supported not so much by the tension of classically German 'fruity acidity' as by the hovering plantiness or leafiness which lurks just below the threshold of perception in Silvaner more generally, and which in the dessert wines manifests itself as a kind of tobacco-like richness and sometimes a very soft gingery spice.
Franconian producers can make Silvaner in a more overtly fruity style via techniques such as cool fermentation – but for them, this would be a step away from the great indigenous style. Tanja Strätz of Weingut Juliusspital describes this as "mineral, earthy and structured. People tell us we should follow this style, and that's what we think too. But when we have blind tastings, even the experienced critics tend to give their highest scores to the fruity style. That drives us crazy."
I'll leave the last word on Silvaner to Gisela Kreglinger, author of The Spirituality of Wine, who grew up on the family winery of the same name at Segnitz in Franconia. "For me," she says, "Silvaner represents the culture of the place. Franconians are shy and reserved, but observant, delicate, restrained. They have a lot to say – but you have to listen carefully. Silvaner is like that."
Tasting Silvaner from Franconia
Here's a selection of seven of the finest Silvaners I tasted during my recent visit to the region, described as best I'm able. Next week, I'll provide a 'Franconian Notebook' — charting the Franconian scene beyond Silvaner.
Weingut Am Stein, Vinz, Alte Reben, Silvaner Trocken 2015
This is made (by owner Ludwig Knoll and winemaker Dominik Diefenbach) from old vines ('Alte Reben') in the Stettener Stein vineyard close to Karlstad, and mainly fermented in concrete eggs with 20 per cent fermented in amphorae with stems. The result is limpid and poised, perfectly balanced between Silvaner in fresh green guise and vinous, ripe guise, and with sumptuous texture and fullness. Satisfying and gastronomic 92
Weingut Arnold, Randersacker Sonnenstuhl, Grosses Gewächs, Silvaner Trocken 2015
I don't know if it's a characteristic of the Randersacker vineyards just to the south of Würzberg, but this creamy, poised, smooth Silvaner does show a little more quiet orchard fruit than most (sweet quince and pear). It also shows how well Silvaner responds to subtle oaking in Franconia, with up to nine months on lees in small oak (one third new): the wine's substance amply counterbalances that external richness. 92
Fürstlich Castell'sches Domänenamt, Schlossberg, Grosses Gewächs, Silvaner Trocken 2008
This aristocratic estate is sited away from the Main river in the village of Castell in eastern Franconia; conditions are slightly cooler than alongside the river, and the steep 'Grand Cru' Schlossberg has marl soils scattered with surreal lumps of alabaster. The estate makes a point of keeping and selling older as well as younger vintages, and this fine 2008 is still available for purchase. The scents reminded me of older Loire Chenin Blanc (mossy wells and walnuts), while the flavour was more like white burgundy (something common to other aged Silvaners at around the 10-year-point) – deep, nutty, sappy and sinuous, with broad-chested wealth of flavour. 92
Juliusspital, Würzberger Stein, Grosses Gewächs, Silvaner Trocken 2015
I tasted this wine alongside the 2014 version, and it was fascinating to see the vintage characters side by side: 2014 was sappy and fresh, with a little lime fruit and honeysuckle charm, whereas the 2015 has more honeyed, melony tones, and with apricot hints in place of the lime. (But hints only!) There was also more structured palate wealth to the 2015: pure, driving, searching and sheer. 93
Max Müller I, Escherndorfer Lump, Silvaner Trocken 2015
Christian Müller's commitment to Silvaner extends to a tattoo ('Main Silvaner Rocks') on his left arm. This is an outstanding example, with a sense of richness and mellowness on the aromas (faint tangerine and almond oil?) and an impressively sappy, rich, chewy, dense palate which contrives to hint at sweetness while being totally dry, and to suggest electricity and vivacity within the full-flavoured style. 94
Horst Sauer, Escherndorfer Lump, Trockenbeerenauslese, Silvaner 2015
Horst Sauer's Escherndorf winery is justly celebrated for its fine dry Silvaner wines, but having also tasted this horizon-altering dessert Silvaner, it was hard to leave it un-noted. The grapes were picked in October with full botrytis and the must has fermented through to 6.5% abv, leaving 280 g/l of residual sugar. Deep gold in colour, with honeyed layers, a creamy nuttiness, a rich pear-peach liqueur density and subdued planty notes, too; the botrytis adds intricacy. It's heavy on the tongue, and has an almost muscular force you wouldn't often find elsewhere; the finish is like chewing dried peach with a few tobacco flecks. Almost. 96
Rainer Sauer, Escherndorfer Am Lumpen 1655, Grosses Gewächs, Silvaner Trocken 2012
The Rainer Sauer winery in Escherndorf itself is 70 per cent Silvaner, while the 'Am Lumpen 1655' designation covers the subsection of the Lump which the VDP regional association considers qualifies as Grosses Gewächs (Grand Cru). This fine white is showing little signs of age yet, with silver-green colours and sappy scents of springtime woodland, with perhaps a little cobnut richness and quiet pear fruit. The palate is vivid, stately, mouthfilling, gracious — and not un-perfumed either, though finding words to pin to the haunting scents is difficult; the finish is succulent and faintly saline. 94
More Andrew Jefford columns on Decanter.com
Andrew Jefford on the hunt for value in Piedmont…
The politics of wine colour…
The pressing issues in 2017 so far…
Jefford on the Alsace grand cru debate…