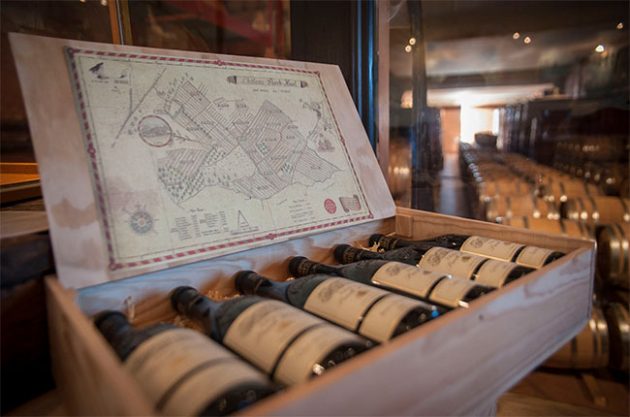 Jefford on Monday: Puech-Haut – barrels and beyond
Andrew Jefford takes a canter with a Languedoc dark horse.
Every wine region needs its star properties. Not, of course, to dominate, but to draw attention to what can be done, to open up distant markets, and to inspire and encourage smaller and newer competitors.
It's most useful if the stars strive for different forms of excellence rather than apeing or cloning each other. Languedoc is lucky in this respect. Mas de Daumas Gassac and Grange des Pères explore varietal non-conformism in different ways, the former with a fresh-edged classicism and the latter in a richer, more indigenous style. Mas Jullien's modulations have drawn it ever nearer to the finesse and ability to age which is the hallmark of most fine European reds; the baroque Peyre Rose tests the limits of the possible on many fronts; La Pèira's sensuality, sumptuousness and purity would be remarkable in any region; Didier Barral holds the torch for a 'natural' approach with inconsistent but sometimes magnificent results. There are many others, of course, and newer entrants (including Gérard Bertrand's Clos d'Ora) are adding to the region's interest.
There is, though, a dark horse in this increasingly crowded field: Puech-Haut. It's celebrated and successful, but I've often struggled to understand its wine. I had the chance to take a closer look when new co-owners Marc and Olga Escassut recently suggested a visit.
The holdings are significant: 200 ha all told, split between the historical zones of St Drézéry and St Christol, and the newer appellation of Pic St Loup (La Closerie du Pic). Visitors are welcomed. There's the world largest barrique, to start with; you can't miss it as you drive down the olive-lined drive, not least because it's painted red. Its theoretical contents of 300,000 litres make it larger than Mercier's giant barrel in Reims (at 160,000 litres) and the historical Heidelberg tun (at 219,000 litres). Walk on in: the giant barrique contains a shop where the world's most expensive bag-in-box wines are sold.
These take the form of miniature limited-edition 'barriques' (or 'Bib'art') which commemorate and reproduce the collection of artist-painted barriques which Puech-Haut's founder and now co-owner, Gérard Bru, has commissioned down the years ; the bag-in-box blend inside them, called Le Benjamin, is an IGP Oc based on the young vines of the three domaines plus some bought fruit. They're hugely popular with collectors; Puech-Haut sells 100,000 of them every year. There's also a museum of olive presses and a château – which, like the barrel, isn't exactly what it seems. It is, in fact, the old annexe to Montpellier's prefecture. Gérard Bru had it moved out to Puech-Haut stone by stone, and extended with some other bits and pieces (including some fine pillars from the former railway station in Grenoble).
As you're probably guessing by now, M.Bru is a character. He has winegrowing roots, and remembers his grandfather swopping wine for potatoes with 'the people from the mountains', and putting stones into his wine tanks as he sold their contents in order to keep them topped up. Gérard Bru began by founding an electical business which he eventually sold to Alstom, buying Puech-Haut in his middle years. He also bought a Camargue ranch where he raises 360 wagyu cattle for kobe-style beef production. When lunch time beckoned, out came steaks the size of small cushions which he whacked down onto the open grill flames in his kitchen.
It was 'the art of living' and 'the work of pleasure', he explained, that had been the leitmotiv of his second career — hence the beef and the wine. "I know nothing, other than how to surround myself with competent people," he claims, though that may be an exaggeration. The estate was celebrated for being one advised for a decade (until 2008) by Michel Rolland and (after a brief period with Claude Gros and Jean Natoli) now by Philippe Cambie; its wines have been enthusiastically reviewed by Robert Parker and his collaborators David Schildknecht and Jeb Dunnuck, and are sold in large quantities in the UK by Farr Vintners, not least thanks to a unique points-to-price ratio.
The Puech-Haut wines as they've been made so far seem to me to be the epitome of that 'New World Languedoc' style which appealed so strongly to outsiders in the 1990s, with deep, fleshy profiles, prominent acidity and lavish oak (some of the special cuvée wines have 24 months in new oak), but with discreet tannin profiles and hence smooth textures. The range includes a large number of occasional parcellaires. There are some successful whites, and a recent addition to the Puech-Haut offer is some of Languedoc's best (and most attractively packaged) rosés.
Will there be a change of direction now that the Escassuts are involved? They're both winemakers, Marc having formerly owned and run a wine-sourcing enterprise called Vignobles du Soleil. When Vignobles du Soleil became part of the Invivo agricultural co-operative group (which also owns Cordier and Mestrezat), Marc Escassut decided to invest in Puech-Haut.
I asked Marc Escassut whether he might ease back on the lavish oaking profiles. He pointed out that these had always been a key element of the Puech-Haut style, and the aim was not to make a sudden change of direction. The giant barrique and the 'Bib'art' bag-in-box series, of course, all underlines the estate's historical affection for wood. A more delicate approach to elevage might help the wines of the fine, high-potential Pic St Loup vineyards, for example, differentiate themselves more clearly from those produced in St Drézéry. More structure and density in the red wines (and a less prominent acid balance) would be welcome, too, at least by me – but we'll see what the future brings. The point about locomotives, after all, is that they should never stand still.
White wines
Ch Puech-Haut Blanc, Prestige, St Drézéry 2016
This steel-fermented blend of 60% Roussanne with 40% Marsanne has fresh, sweet floral aromas with some creamy lemon; the palate is lively and bright, sappy, with more lemon and nougatine richness in deftly judged balance. 90
Ch Puech-Haut, Tête de Belier Blanc, St Drézéry 2015
A barrel-fermented blend of Viognier with Marsanne and Roussanne, this is both aromatically and texturally lush and extravagant, with generous summer fruits, attractive vanilla and a mellow, marrowy vegetal backdrop to it. Drink soon before its weight begins to obtrude. 91
La Closerie du Pic Blanc, Pic St Loup 2015
This is a barrel-fermented blend (in new barriques) of 60 per cent old-vine Grenache Blanc with the balance from Viognier. The scents are soft, haunting and attractive, a blend of green malt, plant sap and a little crushed aniseed, while the palate is bright and tangy with yellow-plum sweetness and a forceful acid balance, too. 90
Rosé wines
Ch Puech-Haut, Tête de Belier Rosé, St Drézéry 2016
Bottled with a glass stopper and blended from 90 per cent Mourvèdre with just 10 per cent Grenache, this is a characterful though still pale rosé with scents of soft summer fruit and ripe peach, apricot and quince flavours with some sappiness. 91
La Closerie du Pic Rosé, Pic St Loup 2016
This Grenache/Syrah blend is a pale salmon-peach in colour with enticing scents combining creaminess with almondy freshness. It's vinous, firm and elegant on the palate, every inch a meal-time rosé, but with enough softness and charm for a glassful to seduce first, too. An outstanding effort for Languedoc. 93
Red wines
Les Complices Rouge, Languedoc 2016
This is Puech-Haut's entry-level red (and you wouldn't know it was a Puech-Haut wine from the label). It's an exuberantly fruity blend of Syrah and Grenache with a soft, fleshy, voluptuous, burnt-blackberry character – and no oak at all. Lots of guzzling pleasure here. 89
Ch Puech-Haut, Prestige, St Drézéry 2015
Made from 70 per cent Syrah with the balance from Grenache and principally aged in large wood rather than small, this is ripe, mushroomy and almost pruney in aroma and flavour, soft in texture, with firm acidity playing more of a balancing role than tannin. 87
Ch Puech-Haut, Tête de Belier, St Drézéry 2015
From a blend of 50% Syrah with 35% Grenache and a little Mourvèdre and Carignan, this has fig, prune, mushroom and menthol aromatic notes with mature ripe-fruit notes which mingle the dried fruits of the nose with a little dark raspberry. The oak dries the palate a little and makes it hard to see the skin tannins, though the overall style is generous and exuberant. 89
Ch Puech-Haut, Tête de Belier, St Drézéry 2014
The 2014 cuvée of Tête de Belier has soft red fruits in a plummy style with a touch of tobacco-leaf savouriness. It has a smooth, oaky-acid palate without great depth or structure, though the black pastille-style fruit is enjoyable. 87
Ch Puech-Haut, Clos du Pic, Pic St Loup 2013
This is one of no fewer than seven occasional 'parcellaires' produced using the Puech-Haut label, even though this particular wine comes from the Pic St Loup vineyards (which are otherwise differently labelled) It's a wine of tangy, gentle red-fruit style, but there is more breed to the Pic St Loup fruit than to the St Drezery fruit and a little more herbal allusion, too; some supporting tannins are palable, even though it is oak and acidity which creates the fundamental balance in this smooth-textured wine. 89
La Closerie du Pic, Pic St Loup 2015
A 60/40 blend of Grenache and Syrah in new wood, this is certainly oaky but you can also pick out notes of thyme and scrub, and there is more of a fresh creaminess to the fruit compared to the St Drézery fruit. There are herb and spice notes to the fruit on the palate behind the oak. 88
More Andrew Jefford columns on Decanter.com:
Winemaker Samuel Guibert of Mas de Daumas Gassac, who divides his time between France and California, noted in a recent…
Back in November, I reported on a conversation with Philippe Guigal – but omitted the final intriguing remark he made:…
Our guide to Languedoc's star estate…
Andrew Jefford provides a reality check…