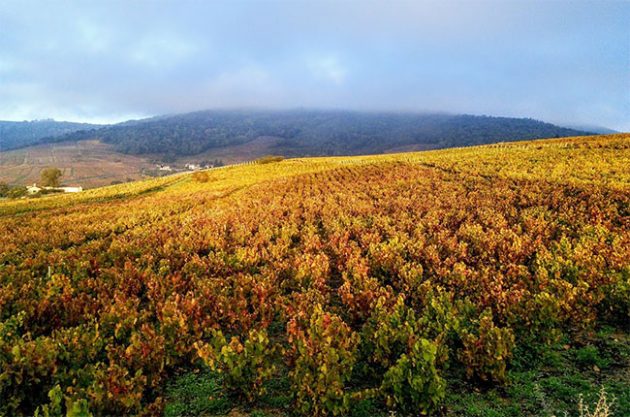 Jefford on Monday: Talent under the cosh
Two tough hail years are testing Beaujolais' new stars, as Andrew Jefford reports below.
I recently visited four of my favourite younger Beaujolais producers. Great wines, but bad news: all are facing career-threatening challenges thanks to two successive years of hail-induced losses.
Richard Rottiers, for example, has lost 80 per cent of his Moulin-à-Vent harvest in both 2016 and 2017. He's trying to supplement the meagre harvest with some micro-négoce wines, but finding Moulin-à-Vent (his own appellation) is impossible, and sourcing organically grown fruit in the Beaujolais crus (where many vineyards are on steep slopes — acutely challenging for organic practices) is always difficult. The result? He's decided to net his own vineyards against hail for 2018, even though he thinks that INAO will consequently force him to sell his Moulin-à-Vent as Vin de France. "Things have to change," he says, "or we'll die."
The brilliant Mee Godard is in a similar fix. Her Morgon vineyards were hailed three times this summer. She'd normally hope for at least 35 hl/ha, but she's harvested only 7 hl/ha. This, too, follows challenging losses last year as well – half the crop lost on her Morgon Corcellet (her largest holdings), for example. "I'm trying to get a little négociant card as I won't be able to keep going if there is another year like this."
Mathieu Mélinand and his partner Pauline Passot at Domaine des Marrans in Fleurie have lost 40 per cent of the harvest in 2017 after losing 50 per cent in 2016. Brother-and-sister team Louis-Benoît and Claude-Emmanuelle Desvignes have harvested just 23 hl/ha from their Morgon vineyards this year "though lots of our friends have nothing," according to Louis-Benoît. "The Côte de Py was the worst hit on July 30th, but we didn't have a single parcel that wasn't hit and some were completely wiped out."
Ever-stormier summers are now a fact of life, particularly for vineyards sited in continental climate zones like Beaujolais and Burgundy. INAO has been running tests on netted vineyards (already commonplace in hail-prone Mendoza) for three years, and growers hope that eventually they will be permitted, perhaps from the 2019 vintage. Will it be too late for the vulnerable?
The irony in all of this is that Beaujolais cru quality in 2017 looks exceptionally good, after very fair results in 2016 and a generous, fine-quality 2015 vintage, making this the perfect moment to assess the attainment of these young stars. Nature's violence, though, means that they cannot profit from their achievements as they deserve.
One of the perennial interests of ambitious Beaujolais is fermentation practices, which vary more in terms of fine detail from cellar to cellar than in any other region I know. (Even the name for a fermentation cellar in Beaujolais is different to elsewhere – here it's called not a cave, a caveau or a chai but a cuvage.)
A trait shared by Rottiers, Godard, Domaine de Marrans and Desvignes is that they all work with whole-bunch fruit as far as possible, though the exact percentage depends on the vintage and the quality of the raw materials (the hail damage of the last two years has meant that some destemming has been obligatory).
Godard is the only one of the four to crush the harvest, while the rest work with uncrushed bunches. All favour long, unhurried fermentations of 12 to 20 days with varying levels of intervention: one pumpover a day for Mathieu Mélinand; submerged cap with some pumpover and occasional rack-and-return for Richard Rottiers; pumpover to begin with followed by rack-and-return for the Desvignes family; both punch-downs and pumpover for Mee Godard, whose fermentations are the longest of all, though with just gentle trickling of the wine through the cap at the end of fermentation.
After fermentation, the cellaring stages vary, too: the Desvignes family use no oak at all, but only concrete and steel, while the others use a combination of large wooden foudres, demi-muids and smaller wood, almost all of it older. The results, as I hope the tasting notes below will indicate, are some superb wines, wines of structure, depth and penetration as well as beguiling fruit: truly wines which could be served on all of the same occasions as any great young Burgundy or Northern Rhône red.
I've got one last question for you, though: are you ready for Beaujolais like that? There is a school of aesthetics which declares Beaujolais of this sort to be 'over-extracted' and lacking in the delicacy, freshness, smooth succulence and perfumed immediacy which has lain at the core of Beaujolais' historic appeal, even in the crus. Should, in other words, all Beaujolais look exclusively north for its aesthetic identity, or should it be permitted to look south, too?
Denaturing or falsifying the character of the crus is not at stake; the character of Gamay in these distinguished sites comes out with the clarity of a solo horn call in either case. But do you point the expressive range of fine Fleurie, Morgon or Moulin-à-Vent towards what was historically sanctioned alone — or do you allow these wines a full range of expressive possibilities, even if that might seem confronting at first?
I'm firmly in the latter camp – and here's some examples from each grower to show why.
Morgon, Javernières, Louis Claude Desvignes 2016
Javernières is a sub-zone of Côte de Py with particularly generous, clayey soils sited on the southern part of the hill. Deep, translucent red in colour, with a warm, roasty, almost Gevrey-like style of aromatic fruit. On the palate, the wine is fleshy and exuberant, pure and long, and still in a whirl of scented fruit just now. The bass-line grippiness tells you that there will be plenty to sustain the wine in time once the fruit calms. 93 points /100
Morgon, Les Impénitents, Louis Claude Desvignes 2016
This special cuvée, a Beaujolais landmark, is made from three small parcels of vines within Javernières planted in 1912 and 1914. The scents of this clear, vividly coloured wine tell you that it was picked just on the cusp of perfect ripeness: blackberry and black cherry freshened by plant sap. It's sweet, fresh, complete and grand, with an almost saline edge to the fruit, splendid structure (in general this cuvee is made with 100 per cent whole bunch), complexity and dimensions. 9
Morgon, Les Impénitents, Louis Claude Desvignes 2010
A fine example of an aged Morgon, this is clear red in colour with just a little bricking. Sweet, warm, almost Pinotty scents dry grass, confit fruits and soft spices, but nothing in excess. Deep, complex and structured on the palate, with a breadth and generosity which (in contrast to the nose) looks south rather than north. Ready now. 91
Morgon, Grand Cras, Mee Godard 2016
Mee Godard has managed to capture the essence of the 2016 vintage with this clear, limpid, perfectly judged wine. Ethereal cherry scents mingle with a little ivy-leaf freshness, while the palate is poised, pure and alive with a tumble of flavours : sappy-salty cherry but much else, too. There's nothing overburdened or clumsy here; just fluttering freshness. 92
Morgon, Côte de Py, Mee Godard 2015
Darkly coloured, with a splendid aromatic profile now losing its primary fruit charm and settling down into something stonier and more shadowy, less evident. On the palate, it is deep, textured and grippy but so succulent, too – perfectly meshed tannins, in other words. The acids are splendid, too: bright, vivid, fruit-drenched, slowly sinking towards that gruff stoniness so satisfyingly evident in the aromas. A virtuoso effort. 94
Morgon, Passerelle 577, Mee Godard 2016
This is Mee Godard's top-wine: a micro-selection whose name alludes to her 'passage' as an adopted Korean child to France and eventually to Morgon. In this case, the 2016 is even better than the 2015 as the oak is a little less evident, though don't be misled: there is nothing forceful or galumphing about either wine. Ample, deftly coloured aromas draw you into a palate of fresh, zesty, gathered poise in which the energy of cherry, apple, plum and cranberry are dimpled with tannins and citrus zests. 95
Morgon, Corcelette, Domaine des Marrans 2015
Deep in colour, and whooping with kirsch-like black cherry fruits. The wine is dark, spicy, vivid and deep. It's fresh and deep on the palate, too, with soft tannins and explosively juicy, sour-cherry acidity which combine in a depth-charge of energy and fresh exuberance. 91
Fleurie, Clos du Pavillon, Domaine des Marrans 2015
From 70-year-old vines planted in a site which has both clay and pink granite sands, and given 18 months in big wood before bottling. Deep in colour, with fresh, pristine, sweet red fruits and spices. After that disarming nose, the depth of the palate surprises: crunchy, fresh, deep, with curling, rich acidity with a stony, 'granite' impact to it and decent backing tannins, too. The fruit finishes with citrus-pith bitter edges, yet the grace and charm of Fleurie is amply evident, too. 92
Moulin-à-Vent, Richard Rottiers 2016
Because of the slashed crop, Rottiers only made a single cuvée of Moulin-à-Vent in this vintage. Limpid and translucent, with lightly sketched floral aromas. On the palate, the wine is light, delicate and elegant, too: a beautiful liaison of aromatic finesse and fine-grained tannins, delicately printed with the austere grace of holly berry and citrus. 92
Moulin-à-Vent, Richard Rottiers 2015
After the deft understatement of the 2016, you quickly sense the burry, brambly generosity of this more deeply coloured 2015. It's not a massive mouthful, but it is very round, satisfying and complete, ballasted with sumptuous tannins and generous in expression rather than weight and force. 92
Moulin-à-Vent, Champ de Cour, Richard Rottiers 2015
This is made from a tiny 0.8 ha parcel of old vines in the Champ de Cour climat with clay-over-granite soils; unusually in this vintage it had a month with its skins and stems. Deep though translucent in colour, with sweet, fresh, graceful scents of raspberry liqueur and Christmas spice. Rich, tender, subtle, detailed and velvet-textured on the palate, with almost tarry autumnal flavours and bramble fruits. Pure pleasure. 94
---
---