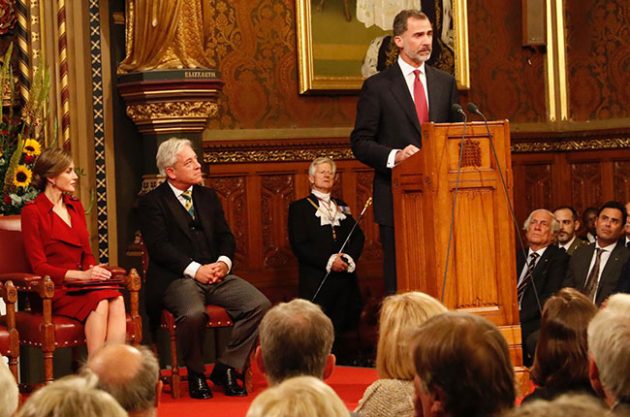 King of Spain and Queen bond over Sherry
It appears that Sherry has helped to oil the wheels of diplomacy between the UK and Spain after royal families from both countries enjoyed a glass at this week's state visit.
Buckingham Palace hosted a state banquet for the King Felipe VI and Queen Letizia of Spain this week.
King Felipe was quoted afterwards as saying that he was sure that Britain and Spain could overcome their differences. Britain's vote to leave the European Union has amplified a dispute over the future of Gibraltar.
And it appears that a discussion about Sherry might have helped the two sides find some common ground.
Guests at the Palace were served a glass of 'Laureate's Choice' Manzanilla Sherry, although it is common knowledge among royal servants and correspondents that the Queen is not normally a wine drinker.
It is just over three decades since Spanish Sherry producers revived a centuries-old tradition of giving England's Poet Laureate a butt of Sherry, equivalent to around 720 bottles.
The Sherry served yesterday came from the butt handed to current Poet Laureate to Queen Elizabeth II, Professor Dame Carol Ann Duffy, who also wrote the poem 'At Jerez' after visiting the region.
It is a custom that began in 1619 with Poet Laureate Ben Jonson, but the tradition temporarily stopped in 1790 when Henry Pye, the Laureate of the day, decided that he would rather take the money instead – agreeing £27 per year from the crown.
More articles like this:
Around 150 guests attended the Xi Jinping dinner held last at Buckingham Palace, the official residence of the Queen. Guests…
See how the UK government wine cellar was used last year…
Few civilians get a glimpse into the UK Government's inner chambers, but in a century-old cellar, Chris Mercer discovers Latour…
The British Isles has influenced certain wine styles more than any other nation. Julien Hitner looks back at the history…