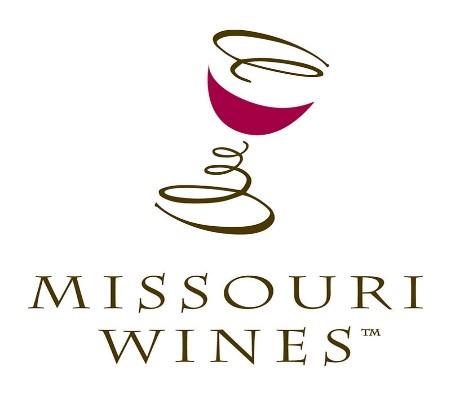 Missouri wines: A serious contender
Missouri First
Did you know that Missouri was the first state to take the wine industry seriously? Although Native Americans have been cultivating grapes since the beginning of time, the wine industry in America is relatively new and can be tracked to German migration to Missouri. The first wine from locally cultivated grapes was introduced in 1846 and two years later the local wineries produced 1000 gallons. By 1855, 500 acres of vineyard were in production and wine was shipped to St. Louis and other nearby locales. The next immigration wave brought Italians to Missouri and they contributed their expertise to the industry. By the mid-19th century this state was producing more wines (by volume), than any other state in the USA.
Missouri was the first state recognized as a federally designated American Viticulturally Area (currently there are four in the state) and Clayton Byers, the founder of Montelle Vineyards (1970) was a wine visionary. Currently the property is owned by Tony Koovumiian who notes that his wines are successful because of the terroir, microclimate and history resulting in wines that are, "fresh, fragrant, focused and well-balanced," and unique – due to the artistry of the winemaker.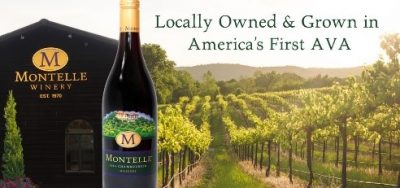 Missouri River and Hermann
The industry started along the Missouri River in the town of Hermann. One of the first wineries was Stone Hill (1847) and it became the second largest in the nation (and the third largest in the world). They shipped a million barrels of wine by the beginning of the 20th century and it won awards in Vienna (1873) and Philadelphia (1876).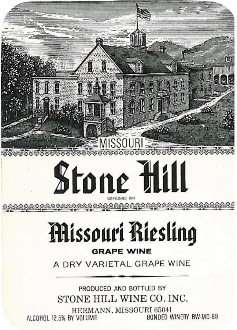 Missouri Saves European Wines
In the mid-19th century, the phylloxera louse hit the vineyards of Europe, destroying the Vitis Vinifera grape crop (especially in France) and it was Charles Valentine Riley (from Missouri) who suggested grafting Missouri pest resistant rootstock to save the European grapes. In addition, it was Missourian Hermann Jaeger, a viticulturist who cultivated many of the hardy rootstocks, who sent his vines to Europe to thwart the louse. He was also the first grower in the Western world to spray vines to control fungal disease.
Full Stop
And then there was Prohibition (1920) and the legislation shutdown the wineries, except for the operations at the St. Stanislaus Seminary in Florissant where the priests were permitted to make sacramental wines. Finally, in 1965 Stone Hill Winery restarted its operations, followed by Mt. Pleasant (Augusta, Missouri) and the rest is history.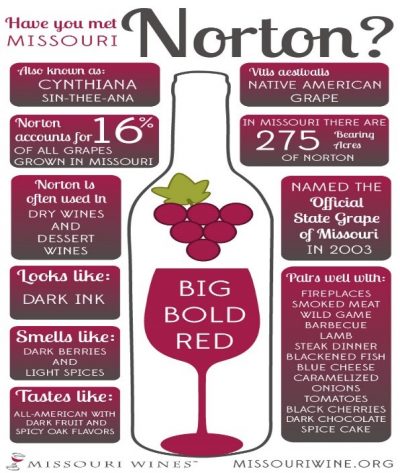 Grapes that Grow
The climate of Missouri, with its long, hot summers, good sun exposure and thick rock Ozarks soil have proven to be excellent climates for growing grapes, including:
• Catawba. Produces blush and rose wines. Strawberry -like, wines are usually medium bodied, sweet and fragrant.
• Cayuga. A New York hybrid produces a light fragrant fruit white wine (think German Riesling).
• Chambourcin. Produces a medium bodied red wine with the aroma a fruit (cherries), spice and earth (think Pinot Noir).
• Chardonel. A cross of Chardonnay and Seyval. Usually barrel fermented, it is dry and full-bodied.
• Concord. America's original dessert wine, with deep purple color, intense fruit and very sweet.
• Norton (or Cynthiana). Produces a rich, full-bodied red wine that ages well. Usually dry (think Cabernet Sauvignon) and spicy (think Zinfandel).
• Seyval. Produces a dry to semi-dry, clean, crisp, medium-bodied wine with an herbal fresh flavor (think Chenin Blanc). Barrel fermented Seyval delivers oaky complexity.
• St. Vincent. As a hybrid it produces reds that are delicate and elegant. It is known to have the character of Burgundy (but may be slightly sweet).
• Vidal. A white hybrid produces a dry to semi-dry full-bodied wine with fruity characteristics (think Italian dry whites). It presents with the clean citrus flavors of lemon and grapefruit for balance.
• Vignoles. A versatile grape that produces wines that range from dry to late harvest dessert wine. Luscious floral to the nose with pineapples and apricots served for the palate (think German Riesling).
Today, Missouri has 125 operating wineries and nearly 400 vineyards. The industry supports 14,000 jobs with an economic impact of more that $1 billion annually.
Missouri Wine Trail: St. Louis
1. Montelle Winery. Augusta, Missouri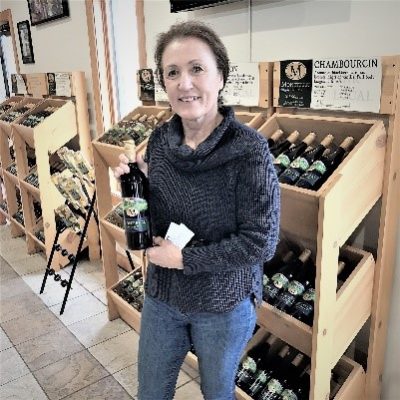 The AVA of Augusta covers 15 square miles of land, along the Missouri River. The vineyards are low, and south-facing on a bluff above the river, where the grapes benefit from exposure to sunlight during the growing seasons and are sheltered from harsh weather systems from the north. The deep silty alluvial soils are found along the highly fertile loess and outcrops of sandstone and are well-suited to the hybrid varieties grown here. The river valley and tributaries offer sheltered mesoclimates and frost protection in the spring and fall.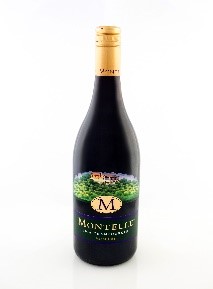 • Montelle Missouri Chambourcin
Appellation: Missouri; Varietal: Chambourcin; Fermentation: oak. This grape is a French-American interspecific hybrid grape variety that is resistant to fungal disease. The hybrid was produced by Joannes Seyve (1860) and available since 1963.
Notes: To the eye, deep red trending to black in color. The nose detects wafts of licorice, plums, blackberries and vanilla. On the palate, hints of spice, black cherry, plums with herbal characteristics. Long, complex finish. Pair with Crepes a la Bordelaise (sautéed mushrooms), or herb-crusted rack of lamb.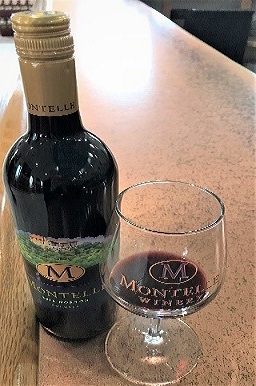 • Montelle Missouri Norton
Appellation: Augusta; Varietal: Norton; Fermented in stainless steel, aged in American oak.
Notes: To the eye, a deep burgundy hue. The nose detects raspberries, black cherries and cassis. The Norton brings thoughts of Syrah and Cabernet – deliciously fruit forward with hints of chocolate, dried spices, pepper, cherries and other red fruit. The finish delivers spices, vanilla and raspberries. Pair with steak, duck and hearty stews.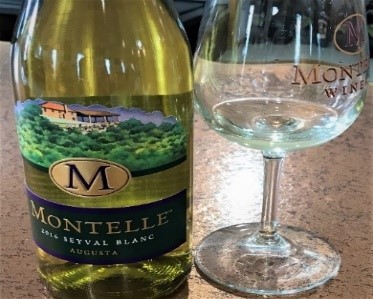 • Montelle Missouri Seyval Blanc
Appellation: Missouri; Varietal: Seyval; Fermentation: Stainless Steel. Seyval Blanc is a French hybrid produced by Bertille Seyve and Victor Villard (mid-20th century). Green skinned, it ripens early in the season and therefore adapts well to cool climates. It has been compared with Chardonnay and Sauvignon Blanc. With high acidity and a positive response to malolactic fermentation and barrel maturation…some compare it to Chardonnay.
Ranked fourth among the wines from this region with respect to number of prizes won, Montelle Seyval Blanc received a Silver medal for its 2016 Vintage at the Dan Berger International Wine Competition and the 2015 Chairman's Award, Best of Class Award, at the Dan Berger International Wine Competition (2014 vintage).
Notes: To the eye the tones run from blonde yellow to grass green. The nose finds apples, mint, pears, lemons, and lime essence while the palate finds spring-time – with crisp fruity notes. Delicious for a summer sip as an aperitif or paired with seafood, smoked or cold poached salmon and prawns or cold chicken and turkey salads.
2. Stone Hill Winery. Hermann, Missouri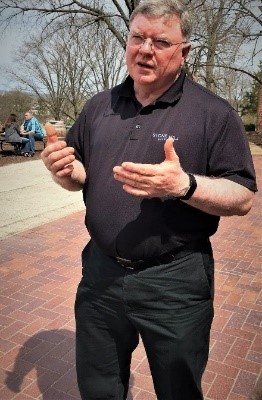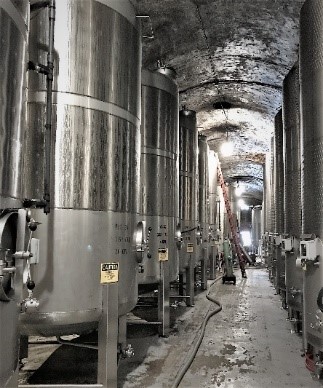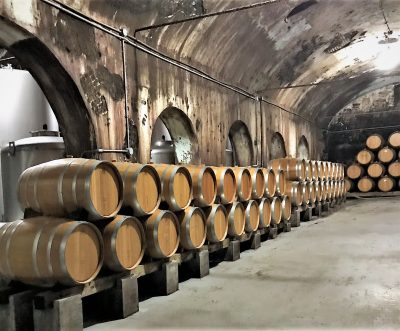 Since 1847, Stone Hill has been producing award winning wines. Today the operation is owned and managed by Jon and Karen Held. Stone Hill produces 300,000 gallons of wine and has received more than 4000 awards since 1988 with the 2011 Norton and 2012 Cross J Norton winning recognition (including Missouri Governor's Cup). French-American hybrid grapes (Vidal, Chardonel and Vignoles) dominate the production.
Jon Held, as President/Owner of Stone Hill, directs vineyard production and operations. Held was recognized as Winegrower of the Year (1994) by Wineries Unlimited Symposium. Dave Johnson is Senior Winemaker and Shaun Turnbull is Head Winemaker.
The Stone Hill buildings are listed on the National Register of Historic places and the restored carriage house and horse barn are perfect for gourmet German and American dining paired with Stone Hill wines.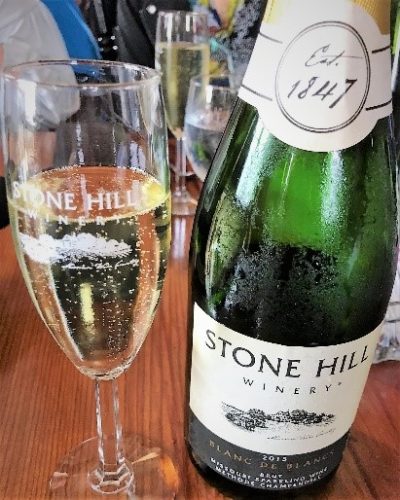 • Stone Hill. Blanc de Blanc
Naturally fermented in the bottle, riddled by hand (traditional French method – Methode Champenoise), aged on the yeast 3-3.5 years. Varietal: Vidal grapes. Received the Bronze Medal (2017), Missouri Wine Competition.
Notes: The eye notes a lovely golden buttery yellow. The nose find spice, golden apples, honey and a hint of sherry. This palate pleaser delivers finely carbonated bubbles that carry hints of kiwi and lime, green apples and toasted nuts. The complex finish brings a touch of oak linked with fine fruit tannins and spice. Pairs perfectly with salmon, bratwurst, potato pancakes.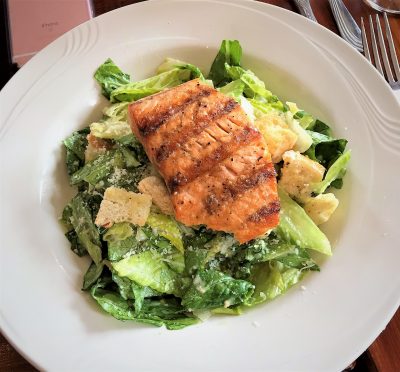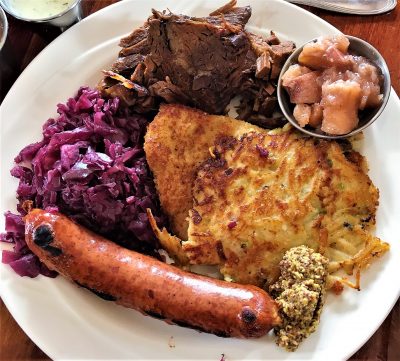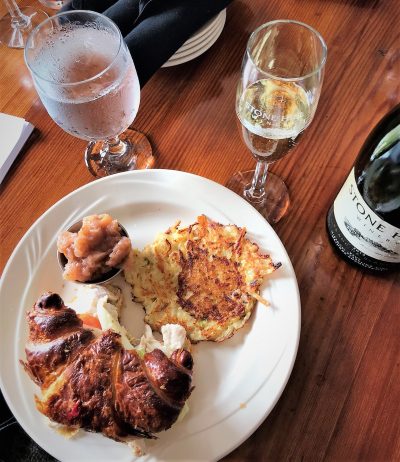 • Stone Hill. Cross J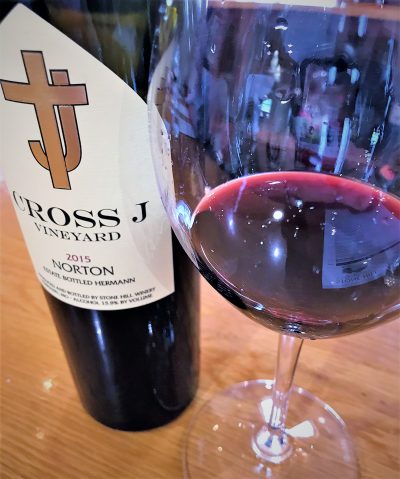 The Cross J Vineyard is located near Hermann on a steep river bluff overlooking the Missouri River. The deep Loess soil is Menfro silt loam. The entire 10-acre parcel is planted with the Norton grape.
The Norton grape was originally propagated in 1835 by D. N. Norton (Richmond, Virginia). It is a result of his efforts to develop a varietal that would effectively deal with Virginia's warm and humid climate. Small quantities of Norton headed west to Missouri and the local vintners realized the potential of the grape in their climate. A small quantity survived prohibition.
In the late 1980s Denis Horton (Horton Vineyard), brought cuttings of the Norton grape to the Old Dominion. The grape continues to be popular in Virginia and Missouri as it delivers a deep and inky color, a fragrant, plum-like character with low tannins and often barrel aged – it demonstrates strong character and a solid profile. Some define Norton as lighter in body than a Merlot, but fuller than a Pinot Noir.
Notes: The intense crimson hue attracts the eye, while the nose detects black cherries, black berries, chocolate, vanilla and spice. On the palate pistachio, limes, cedar and chocolate. The finish is fruit forward tempered with moderate oak, it delivers a smooth, rich and delicious taste experience. Pair with steak, beef stew, and chocolate.
3. Adam Puchta Winery

Since 1855, the Puchta's have been making wine and the winery is noted as the country's oldest continuously owned family winery. Located in Frene Valley, the winery is 2 miles southwest of Hermann and one of the 7 wineries along the Hermann Wine Trail. The enterprise produces more than 62,000 gallons of award winning wines each year including Vignoles, Vidal, Chardonel, Seyval, Traminette and Norton.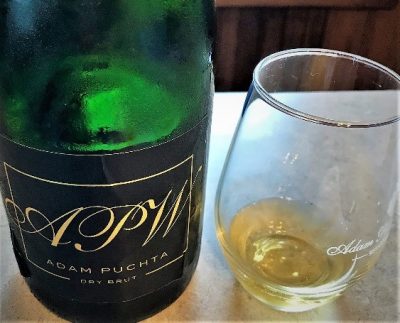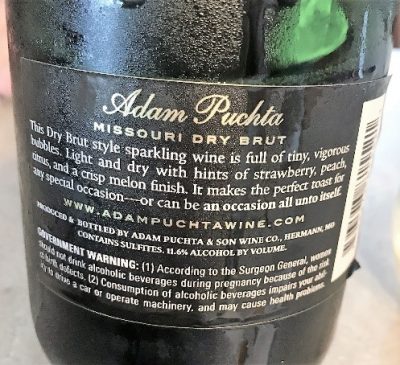 • Adam Puchta Missouri Dry Brut
This sparkling wine presents a bright golden hue with high energy bubbles that last through the finish. Look for aromas of strawberries, peaches, lemons and limes, and a flavorful end. Perfect as an aperitif.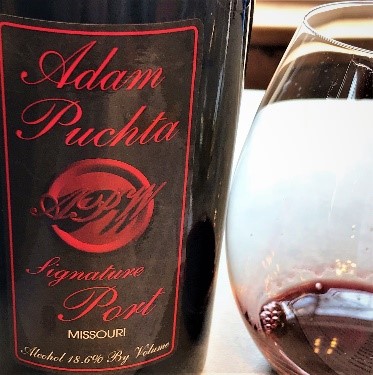 • Adam Puchta Signature Port
Dark rich and fruit forward, the port easily stands alone before or after dinner. Because it pairs well with chocolate, it makes an excellent addition to desserts. In the Mild-American wine competition (Iowa, 2018) the port was award a Silver medal.
In My Opinion
Although I have been enjoying the wines of Missouri for just a few months, I have become a very strong fan as it stands up to serious contenders from Europe, Eastern Europe, South America and other parts of the United States. Many wineries in Missouri are not producing wines in the quantity demanded for national or international distribution…so you may have to travel to the state to enjoy their contribution to the growing list of great American wines.
Going Forward
Peter Hofherr, formerly with the Missouri Wine and Grape Board stated, "The state and federal governments see wine as key to rural development, so there's lots of incentives. They have tax credits for winery and vineyard development. They have a program where one penny of every bottle goes to research and promotion and marketing for the wine industry." (Georgina Gustin, Post Dispatch, 20120)
For additional information, click here.
© Dr. Elinor Garely. This copyright article, including photos, may not be reproduced without written permission from the author.