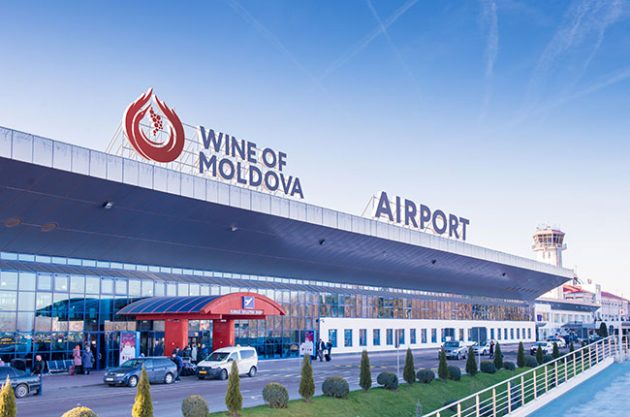 Moldova gets first 'wine airport'
The residents of Moldova have shown their support for the country's wine industry by voting to rename the capital's airport, 'Wines of Moldova Airport'.

Moldova gets first 'wine airport'
'Wines of Moldova' will appear on the front of their national airport (pictured), which was previously known as Chisinau International Airport.
The choices for the new name were a selection of references to Moldovan culture, including classical musician, Euga Doga and Moldova's first female pilot, Olga Culic.
Fictional fairy tale characters Pacala and Tandala were also amongst the choices.
Wines of Moldova hope this will send the message to tourists and visitors that Moldova is a 'country of wine.'
The vote was carried out on website by diez.md and over 8,000 people participated in it.
Moldovan wine industry
International varieties grown in Moldova include: Cabernet Sauvignon, Merlot, Sauvignon Blanc and Pinot Noir.
Rkatsiteli and Aligoté, more commonly found in eastern European wine regions, are also planted, .
Indigenous varieties include Feteasca Alba, Feteasca Nelba and Rare Neagra.
The Moldovan wine industry has suffered from conflicts with Russia in the past, including bans on Moldovan wines being imported to Russia.
The EU then relaxed trade rules with Moldova, as a riposte to the Russian bans.
67 million bottles are now exported worldwide, according to Wines of Moldova.
A Moldovan sweet wine won a Platinum award in the 2017 Decanter World Wine Awards, and can be bought from Laithwaite's for £8.
Related stories:
The European Commission has said it plans to drop trade barriers to Moldovan wine, in a riposte to Russia's ban…
Russia has been accused of playing politics after re-imposing a ban on imports of all Moldovan wine and brandy.
Russia has lifted its ban on Moldovan wine imports.
Russia has further clamped down on wine from Moldova and Georgia by banning imports of both brandies and sparkling wine,…
A school dedicated to preserving the ancient craft of producing qvevri…
Georgia's traditional winemaking method of fermenting grapes in earthenware, egg-shaped vessels has been added to the world heritage list of…