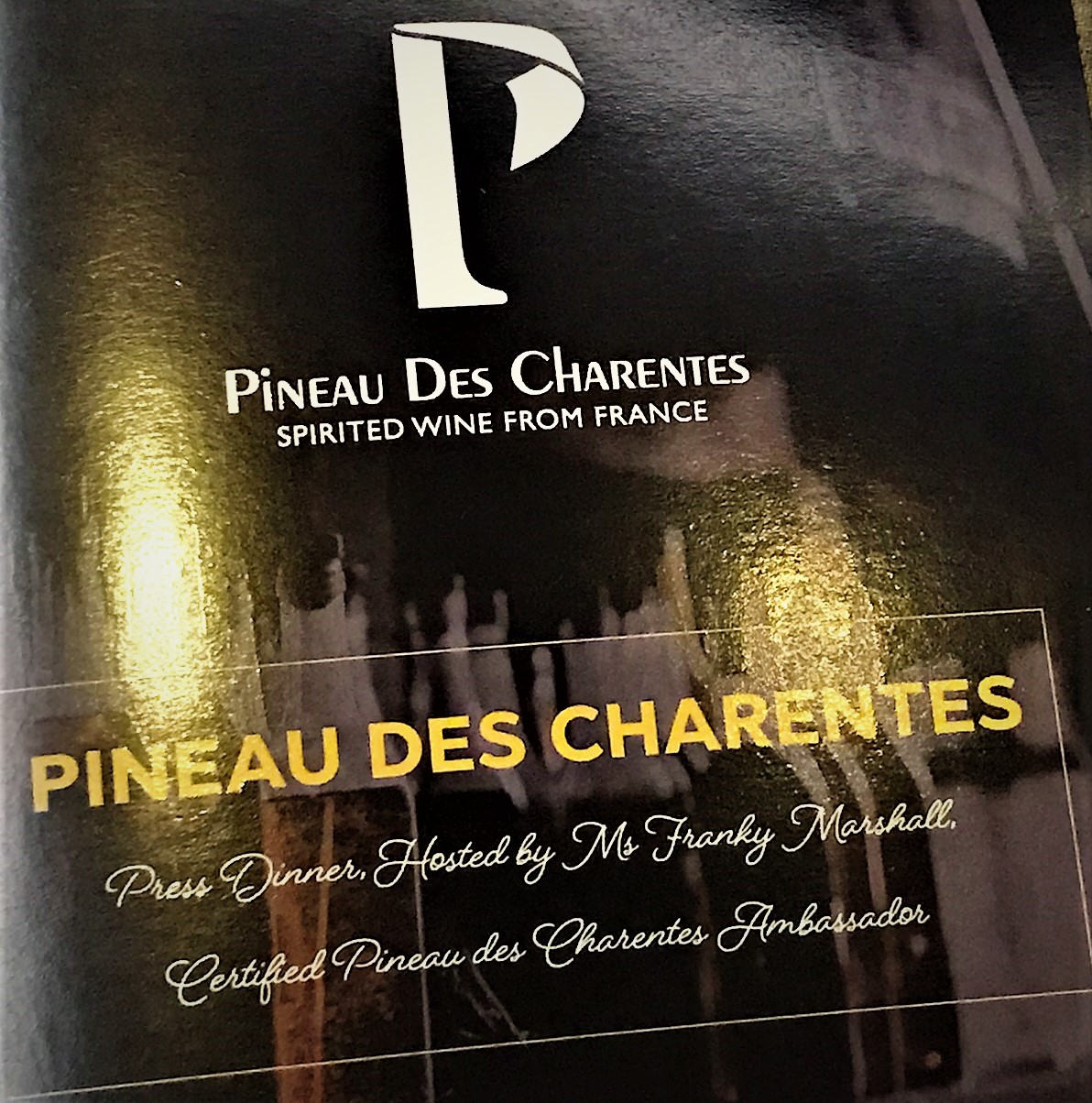 Pineau des Charentes: Cognac's little brother – arrives in red and white
Where is Charente
Charente is a small department in South West France, approximately 1 hour north of Bordeaux and 1 hour from the Atlantic coast. While its history dates back to Roman times, it has a very low profile in modern times, except for the fact that it is the home of Cognac.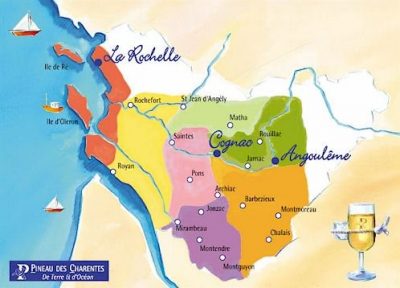 It is likely that a French aperitif is a part of your wine program. The most popular French aperitifs are Lillet (immortalized in Ian Fleming's Casino Royale and named Vesper), Kir and Kir Royale (white wine and crème de Cassis mixed with Champagne) served in a small flute; Byrrh (red wine with quinine – since 1866), Suze (distillation of gentian plant roots – since 1885) and Dubonnet (dry white wine infused with herbs; the red noted for being sweet, spicy and mixed with quinine – since 1846).
Being Forgetful Can be a Plus
Enter Pineau des Charentes, an old favorite that is making a comeback. This regional French aperitif from Charent, Charente-Maritime and Dordogne (Western France) is popular in France but considered a newbie elsewhere on the planet. As a fortified wine (mistelle or vin de liqueur) it is enhanced by adding fresh, unfermented grape juice or a blend of lightly fermented grape must, to which a Cognac eau-de-vie is added and matured.
Legend suggests that Pineau des Charentes entered the French scene in 1589 (time of Henry IV) when a winemaker accidentally added grape must into a barrel he thought was empty but actually contained eau de vie. The mixture was returned to the cellar for fermentation. Years later, the barrel was opened, and the contents produced the beverage now associated with the region of Charente.
In the early 20th century, Emile Daud, a winemaker from Burie (Charente-Maritime) was smart enough to commercialize the drink. In 1935, Pineau des Charentes received that status of Appellation d'Origine (AO) as a fortified wine and 10 years later, received the French label AOC and the European label of PDO (Protected Designation of Origin).
Wine but Not Wine
Wine by definition is fermented grape juice; however, there is no alcohol fermentation in Pineau des Charentes which uses freshly pressed grape juice that is combined with cognac and left to mature in oak casks for many years.
White Pineau des Charentes
The grapes used to make Pineau include Ugni Blanc, Folle Blanche and Colombard (occasionally Semillon, Sauvignon blanc and Montils) and aged for a minimum of 18 months (includes a minimum of 8 months in oak barrels). The grape must, and the Cognac must come from the same vineyard and the same terroir. When it is poured into the glass it is usually between 16-22 percent ABV and traditionally deep gold in color, delivering a sweet palate experience that is balanced by acidity and increased alcohol.
Red Pineau des Charentes
Available in red and rose, this Pineau is a product derived from Cabernet Franc, Cabernet Sauvignon, Malbec and Merlot, and aged for a minimum of 14 months, including 8 months in oak barrels. When ready for the market, the ABV lies between 16-22 percent with a variable color that ranges from deep mahogany brown to very dark pink.
Proof of Age
Some varieties are aged 5+ years in the barrel (frequently aged for decades). After 5 years it is known as vieux Pineau. If it has been barrel-aged for 10+ years, it is called tres vieux Pineau. Before age designations can be posted on the label, an examining commission is required to certify the duration of aging and the finished product.
Production
Look for approximately 14,000,000 liters of Pineau in the marketplace, with approximately 80 percent made in the Charente-Maritime department. The production is controlled by Appellation d'Origine Controlee and classified as "vin de liqueur" although it is not a truly a wine. In reality, the same producer grows grapes, makes the wine and distills it into brandy, presses the fresh grape juice and blends and matures the result. The geographical zone authorized for the production of Pineau des Charentes AOC is practically identical with Cognac. In fact, many of the artisanal producers of Pineau also sell their own Cognac.
Most producers harvest by machine under very strict rules following a formula for the ratios of brandy and fresh grape juice allowed and followed by each vintner. The year of the Pineau depends on the year of the eau de vie and not on the grape juice as the juice must be freshly squeezed from just- picked grapes (squeezed and mixed the same day as harvesting). The act of mixing the eau de vie with the fresh grape juice is known as "assemblage" or blending. It stops the fermentation of the grape must through a process called "mutage."
Getting from Harvest to Bottle
1. Grapes are harvested between September and October with the process spanning a two-week time period.
2. The white grapes are pressed, leaving the red grapes waiting in the wings (maceration) in order to get the color correct.
3. The grape juice is blended with Cognac (minimum of 60 percent ABV). The Pineau is then aged for a minimum of 1 year.
4. Aging occurs in oak barrels. The wood comes from Limousin and Troncais in France. It is this wood (that is both waterproof and porous) that allows evaporation of the esters and the "angel's share." It is the tannin that helps deliver flavor to the Pineau as it improves with age.
5. The white grapes are aged for a minimum of 1.5 years, including 1 year in the barrel. Red and rose Pineau is aged for 1 year, including 7 months in oak casks. The ageing is critical it gives the Pineau the nutty notes while the barrel ageing delivers a smooth and aromatic flavor.
6. In order to be considered Pineau des Charentes it must be bottled in the Charente region.
Pineau des Charentes process is complete after the assembly in French oak barrels at a ratio of approximately 75 percent grape juice and 25 percent Cognac. After ageing, the analysis should show an alcohol content between 1-22 percent and a sugar content of 125g of grapes per liter (as a minimum). The Pineau des Charentes does not evolve in the bottle and prolonged cellar conservation does not offer maturing; however, the extended cellar exposure will not hurt the Pineau (as long as the bottles are upright/vertical and away from light sources).
Serving
After opening, the Pineau can be safely stored in the refrigerator, in an upright position; allow it to reach room temperature before pouring into a tulip shaped glass.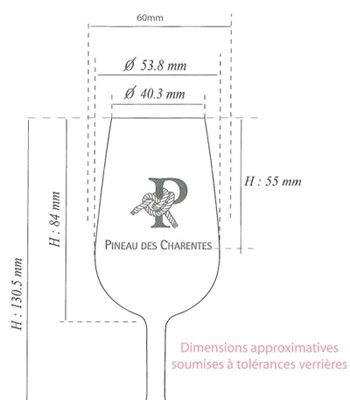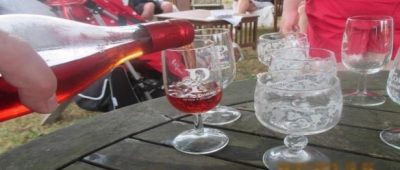 The Event: Introduction of Pineau des Charentes Paired with Dinner @ L'appart (NYC)
The delicious event was organized by Estee Sokemahou of Sopexa.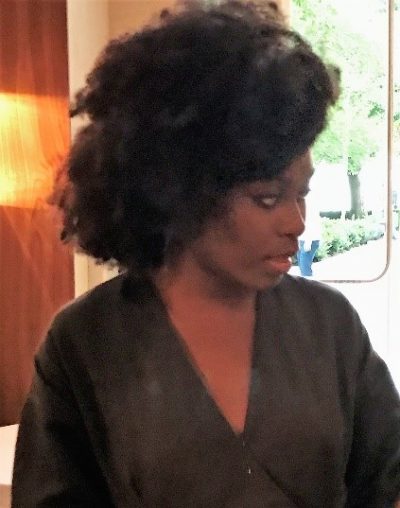 Franky Marshall a noted mixologist and Certified Pineau des Charentes US Ambassador led the conversation.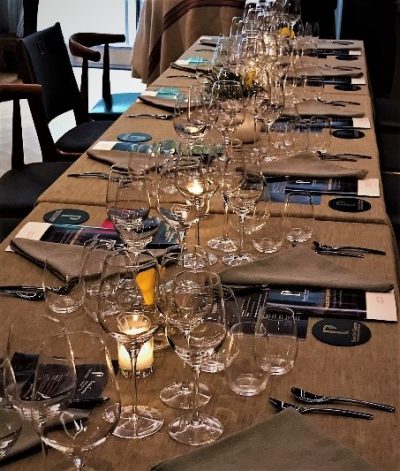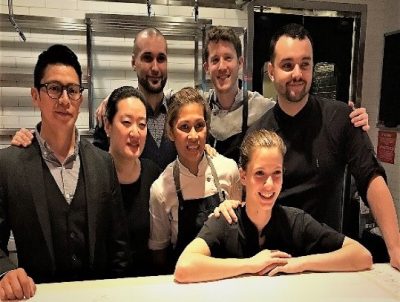 The event was presented at L'appart (in Le District), a small (28 seats) exclusive dining option that offers a French tasting menu prepared by chef Nicolas Abello.
This recent New York event was organized to introduce journalists to Pineau des Charentes and featured:
1. Hardy Coq d'or (Golden Rooster). Varietals: Ugni Blanc and Colombard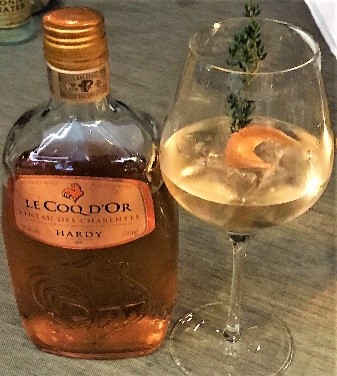 Anthony Hardy started his enterprise in the mid-19th century and the Cognac and spirits produced are considered to be among the best in the region. Today, Benedicte Hardy represents the 5th generation of Hardy Cognac makers. As the International Ambassador, she continues to build the company's reputation in the USA.
Coq d'Or is golden to the eye, offers a delicate aroma of dried fruit, honey, spices, persimmons and limes and delivers a sweet finish. Serve chilled. It mixes well with others and is frequently included in cocktails. Pair with croutons, Ricotta, figs and honey.
2. Normandin-Mercier. Varietal: Merlot. Aged 4 years in oak barrels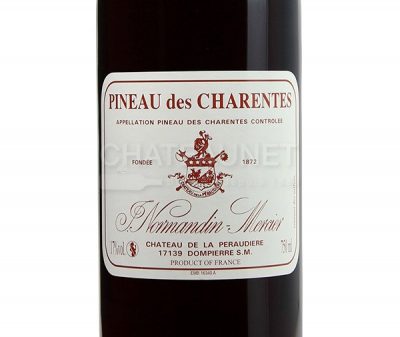 The Normandin family has owned the estate since 1872 and the recipe for Cognac and Pineau des Charentes has not changed for 140 years. Currently managed by Monsieur Edouard Normandin, the family's commitment to craftsmanship continues. With 100 percent unrectified bottlings, no wood chips, and no added caramel coloring, the Pineau continues to be handcrafted. Pure, organic, unfermented Merlot juice is used and infused with Cognac as specified by Normandin. The Pineau is stored in cold/dark cellars, 20 minutes from the seaside city of La Rochelle.
Ruby red to the eye with mahogany, copper and brown highlights that leads us to a garnet rim, the Pineau delivers an aroma of flowers, earl grey tea and Maraschino cherries. The finish suggests plums and molasses. Pair with red berry fruit tart or chocolate.
3. Domaine de la Margotterie. Varietals: Ugni Blanc and Colombard. Aged in oak casks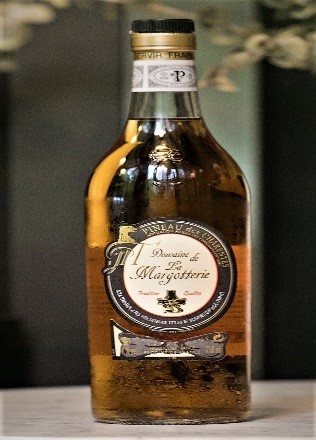 Golden caramel to the eye, the nose detects ripe summer fruits and honey that delivers a sweet palate experience suggesting almonds and apples. The sweetness is balanced by acidity and increased levels of alcohol. Pair with foie gras, chocolate cake or melon. Serve chilled.
4. Tessendier Park. Varietal: Montils (50 percent), Colombard (30 percent), Ugni Blanc (20 percent). Aged in oak barrels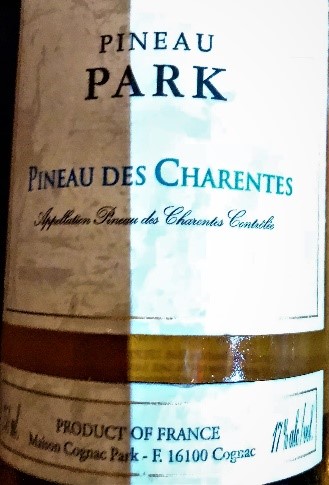 The estate dates back to the 19th century, and today the House of Tessendier & Fils is considered to be the "Creators of Cognac" with Jerome and Lilian Tessendier, 4th generation Cellar Masters, carrying on the tradition. Stored in ageing cellars, hundreds of eaux-de-vies from 6 different growing areas from the Cognac region (some for 100+ years), provides the Cellar Masters with unique and exceptional options for producing uniquely rich and aromatic blends.
Fresh fig, apricot, dried grapes and walnut to the palate. Serve with oysters and caviar.
5. Reviseur. Varietal: Ugni Blanc.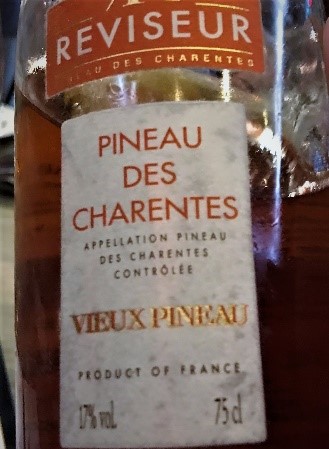 The Reviseur estate covers 90+ hectares and the vineyards face east/west – making it an exceptional location for producing aromatic wines. Distillation of the Cognac occurs in very small stills and aged in dry cellars.
Golden hue to the eye, while florals, caramelized nuts and dried fruits tantalize the nose. The palate is rewarded with spice and crisp fruit that is sweet but tempered by hints of toasted almonds, peaches, yellow raisins and honey. The finish suggests brown sugar, spice and sandalwood. Pair with Foie Gras.
6. Chateau de Beaulon. Varietal: Merlot. Aged in oak barrels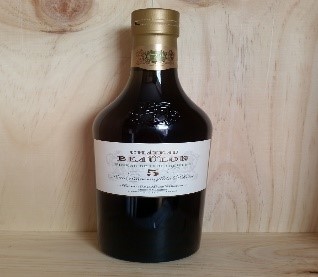 In the 15th century, during the reign of King Louis XI, the de Vinson family built the Chateau and the architectural style is Gothic and Renaissance. It was originally used to accommodate the Bishops of Bordeaux.
The Beaulon Pineau dates back to the 17th century and is known for its fruitiness of the noble Bordeaux grape varieties that include Cabernet Franc/Sauvignon and Merlot, combined with the fragrances of old cognacs and aged in oak. Directed by Christian Thomas for more than 40 years, the Cognac and Pineau are produced from a single vineyard (unique in the Charente region). The vineyards are registered in the cadastral register under the Beaulon estate, guaranteeing the authenticity of the chateau.
Look for black cherries, plums, prunes and blackcurrants for aroma and cinnamon, mocha and cocoa on the palate. Pair with lobster, duck or game.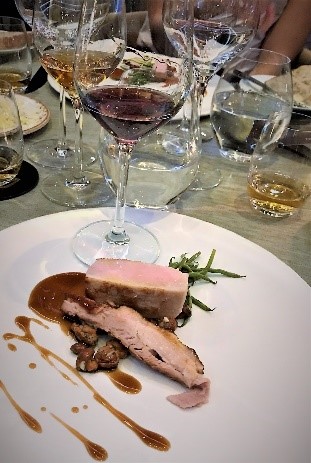 7. Pierre Ferrand. Varietal: Sauvignon and Semillon Blanc. Aged in oak for 12 months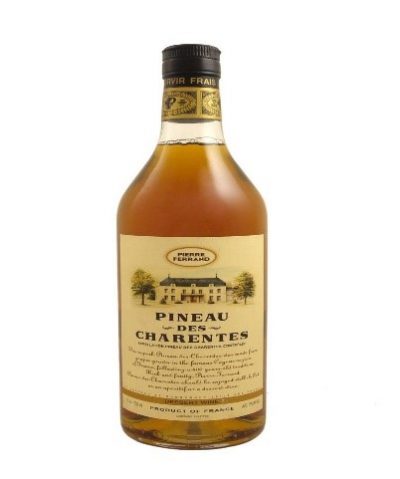 Amber with gold highlights to the eye. Look for notes of peaches, plums and prunes, with toasted nuts and hints of vanilla. First taste experience is fresh and fruity, followed by sweetness balanced with acidity. Best kept cold in the refrigerator and served chilled on hot days (think Rose in Provence). Can be mixed with rum, rye, and bourbon. Pair with cheese plates.
8. Bache Gabrielsen. Varietals: Ugni Blanc and Colombard. Aged in oak barrels for 15+ years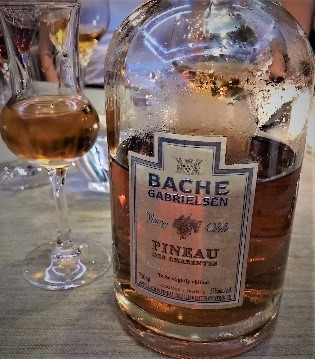 The founder was originally a manager from the Holmestrands Samlag for Braendevinshandel, an alcohol monopoly and the House of Bache-Gabrielsen dates back to 1905. Today, the business continues to be owned and directed by the Bache-Gabriesen family and Thomas Bache-Gabrielsen's great-grandson, Herve Bache-Gabrielsen, currently controls the operation.
Amber to the eye, the nose finds notes of honey, prunes, nuts, dried peaches and crystallized oranges surrounded by vanilla (from Limousin oak), while the palate is surprised by lots of fruit. The outcome is mellow, well-balanced and delicious. Pair with a desert that includes chocolate, apricots and almonds.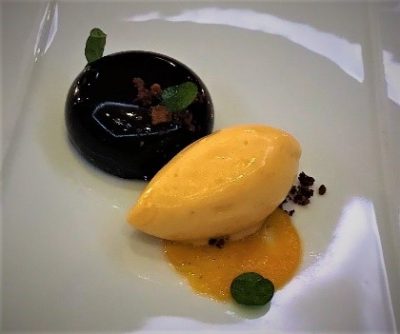 For additional information, click here.
© Dr. Elinor Garely. This copyright article, including photos, may not be reproduced without written permission from the author.