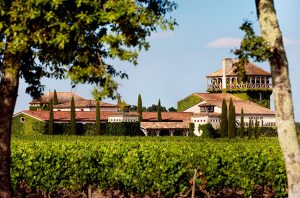 Smith Haut Lafitte: All the '7's from 1947 to 2017
It might be known as 'lucky seven' in some bingo halls, but vintage years ending in this number have rarely made life easy for Bordeaux red wine producers in the post-Second World War era. Jane Anson reports on a landmark tasting stretching from 1947 to 2007 at Smith Haut Lafitte, with the 2017 en primeur wines also included and three of the estate's white wines from 1987, 1997 and 2007.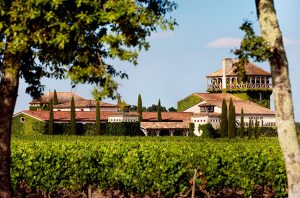 I think we can all agree that it's pretty brave to offer a vertical of '7' vintage wines from Bordeaux.
It's not a number that inspires much confidence in red wine lovers, although the vintages have historically been much kinder to whites. And while 2017 might be a notable exception in some areas, it was still a year that overall saw a white-knuckle ride for many properties and ended up with some of the most disparate results in recent memory.
So I was pleasantly surprised to get the invitation to taste Château Smith Haut Lafitte from 2017 back to the undisputed star of 1947. 'We learn as much as you do from tasting these wines,' is how owner Florence Cathiard put it, an attitude which for me highlights why this property is now delivering such brilliant bottles on a regular basis.
Any vertical is interesting to reveal the evolution in an estate, but these eight decades have seen undeniably vast changes in every aspect of winemaking in Bordeaux – as well as a change of appellation for Smith Haut Lafitte from Graves to Pessac-Léognan, and three changes of ownership.
Back in 1947, the château was a simple AOC Graves, while by 1957 it had become a Cru Classé de Graves for the red wine, and by the 1997 label it was AOC Pessac-Léognan (still Cru Classé de Graves).
Overseeing these changes were first the Duffour-Dubergier family (the first family member to own the estate was Lodi Martin Duffour-Dubergier, the man who as mayor of Bordeaux signed off the 1855 classification but sadly didn't think to include his own area's wines in the listing) followed by wine merchant Louis Eschenauer who bought the château in 1958. By the time Florence and Daniel Cathiard arrived in 1990, it was very much in need of the investment that they brought.
Let's go through the '7s' before looking at the wines.
1947
1947, that came just two years after the end of World War II, remains one of the legends of the 20th century, hot and dry from start to finish.
Jancis Robinson has called it 'magically faulty' because grapes were harvested during a heatwave with a sugar content that no-one knew how to handle at the time (remember there was no temperature control in the tanks which is why you find volatile acidity in so many wines and more residual sugar than you would today).
As a rule yields were high (Cheval Blanc harvest was double that of 1945 for example), and it was more of a Right Bank vintage than a Left, perhaps because the gravels suffered particularly badly with the heat and many estates in the Médoc resorted to shipping in blocks of ice from Bordeaux restaurants to be put into the fermentation tanks to cool things down.
1957
1957 was a lot less auspicious than the 47, and it began the run of bad luck for the number 7. The main issue here was a lack of warmth. August was one of the coldest on record, and the whole summer had issues with getting enough sunshine on to the grapes, although by the time October rolled around the sun finally came out.
All of this meant high acidity, so tough to drink at first.
1967
1967 didn't exactly fare much better. While the Summer of Love was unfolding in California, Bordeaux château owners were having their own fun over July and August of 1967, with a hot dry July and August, until they were greeted with a washout for harvest.
It meant there were issues with ripeness, although there were some bright spots on well-drained soils and with Merlots that had managed to get to good ripeness before the rains came.
These were the years of extremely high yields, however, which didn't help with concentration levels in the wines. It was, I should add, a great year over in Sauternes, so adding weight to the other myth that difficult years for red are often great for whites.
1977
1977 manages just one star out of five in the Decanter vintage rating. It was a tough year from start to finish, with frosts in Spring, and a damp June and July.
August had some bright weeks but rain kept stubbornly returning, until finally good weather came back in September (the driest on record since 1851 apparently), and harvest was extremely late as estates tried to give the grapes sufficient time to ripen – meaning as ever Cabernet Sauvignon got the best chance to benefit, and both Pauillac and Graves were seen as being among the few successful spots.
It was still alive on my tasting, but the least enjoyable of the flight.
1987
Moving on to 1987, and we had a brief flicker of 'is the curse of the '7' over?'. It was another year where everything was going great until harvest came around, when rain arrived and stubbornly refused to go away, bringing hopes for an easy vintage crashing down.
1997
In contrast 1997, according to Pascal Ribereau-Gayon at the faculty of oenology, started well, had a rainy May, a difficult summer (hot but wet in August), and then good weather during harvest. Ribereau-Gayon commented at the time that it would be remembered by most winemakers as an exceptionally early but uneven year where they were tortured by 'hesitations over when to start picking'.
He points out other early years being 1893 when picking started on 15 August, and apparently 1616, when picking started on 5 August! In 1997, the main problem was that the same grapes on the same plots followed very different ripening patterns, so careful sorting was essential in both vineyard and cellar.
2007
And finally, 2007. After an extremely hot April that made people start to worry they were facing another 2003, the cool and wet weather that stuck across most of the region from May right through to August made the mid season extremely difficult (August saw double the usual amount of rain in many parts of Bordeaux).
But a hot and dry September gave hope to Cabernet Sauvignon more than Merlot.
In Villenave d'Ornon, so not far from Smith Haut Lafitte, the weather station recorded just 38mm of rain in September and 30mm in October both easily less than half of the 30 year average. It was again a year where the white wines were seen to succeed more generally than the reds, but this was one of the reds in the line-up that I enjoyed and would recommend for drinking now.
It's definitely worth underlining that you don't wait for any of these but overall this was a fascinating and thoroughly rewarding vertical.
---
Jane's tasting notes for Smith Haut Lafitte wines
Editor's note: We have included Jane's en primeur tasting notes on the Smith Haut Lafitte red and white first wines from the 2017 vintage. It was of course marked by one of the worst frosts in living memory in Bordeaux, but, as Jane notes in her vintage overview, some great wines have been made despite it being overall an uneven year.
---
Other articles for Premium members that you may like:
The post Smith Haut Lafitte: All the '7's from 1947 to 2017 appeared first on Decanter.