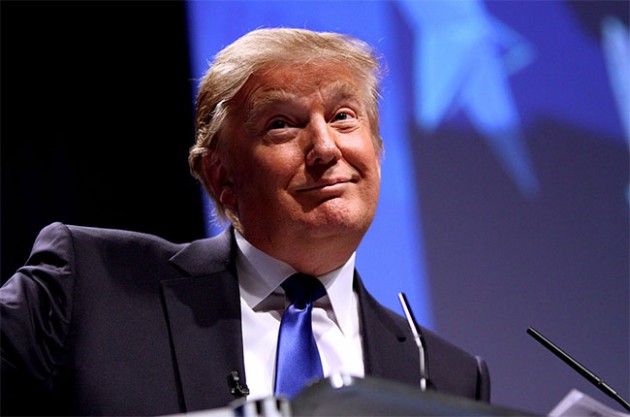 Trump name-drops Virginia winery but exaggerates size
President Donald Trump name-dropped the Virginia winery that he acquired in 2011 during a press conference on white supremacist violence in the state – but his comments don't appear to be entirely accurate.
President Trump reminded journalists of the winery he acquired in 2011 when asked whether he intended to visit Charlottesville, Virginia following the recent deadly violence that erupted around a white supremacist rally and counter-demonstration.
According to transcripts of the press conference, Trump said, 'I own a house in Charlottesville. Does anyone know I own a house in Charlottesville?
'It is the winery.'
He added, 'I own actually one of the largest wineries in the United States. It's in Charlottesville.'
The Trump winery itself has previously attempted to put some distance between its operations and the president.
Donald Trump did buy the winery in 2011, from Patricia Kluge, but it is currently run by his son, Eric Trump.
'Trump Winery is a registered trade name of Eric Trump Wine Manufacturing LLC, which is not owned, managed or affiliated with Donald J. Trump, The Trump Organisation or any of their affiliates,' says a disclaimer on the Trump winery website.
---
---
Plus, it is debatable as to whether the winery could count as one of the largest in the US. Annual production has been estimated at around 36,000 nine-litre cases of wine per year, equivalent to 432,000 bottles.
While that means Trump winery is among the biggest in Virginia, figures released by industry publication Wine & Vines yesterday (15 August) show that hundreds of wineries were estimated to have a higher level of production.
The publication's analysis, updated in July 2017, said that there were 65 US wineries producing more than half-a-million cases and a further 263 'medium' wineries producing more than 50,000 cases annually.
California accounts for nearly 90% of US wine production.
More articles:
Winery run by president's son Eric wants foreign vineyard workers…
Patricia Kluge has left the winery she used to own a year after US property billionaire and former presidential candidate…
A California 'Champagne' plus two other wines make the list…
Just over a year ago, I visited Donald Trump's Virginia winery. It was a beautiful October day of long shadows…