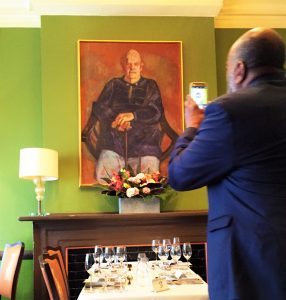 Westcoast wild: British Columbia wines and seafood
Receiving an invitation to an event at the James Beard House for food/wine/spirits writers is better than receiving an invitation to the White House. Fabulous fantasies of gourmet dining, extraordinary wine selections and a professional wait staff fill the days until the actual event.
Fête!
The April 5, 2017 program at the James Beard House was a primer to the wines and seafood of British Columbia to celebrate the 150th Anniversary of Canada. The program was orchestrated by Chef Ned Bell and his Friends. When Bell is not in New York, he is the Executive Chef of the Vancouver Aquarium and Ocean Wise, an organization that helps consumers make sustainable seafood choices.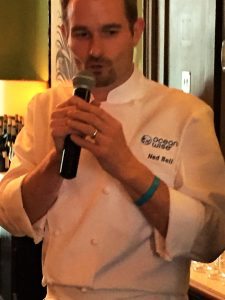 The Legend of James Beard
In addition to being a cookbook author, educator, syndicated columnist and television personality, James Beard was a champion of American cuisine. Professional chefs and industry professionals as well as gourmets and people who just like to eat well, were either taught by him, mentored by him and/or inspired by him – to appreciate the culinary arts.
It is fortunate for food lovers that Beard turned out to be a terrible actor (theatre was his first career move). Sensitive to trends, Beard and friend Bill Rhodes opened Hors d'Oeuvre, a catering organization that capitalized on the cocktail party fad at the time. From there he moved into lecturing, writing and publishing his first book, Hors D'Oeuvre and Canapes (1940); six years later he appeared on NBC's I Love to Eat becoming, according to Julia Childs, the Dean of American Cuisine.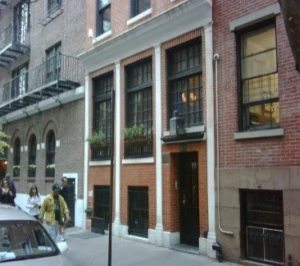 James Beard House is a 19th century NYC west side townhouse that is the former residence of the noted author and cooking educator. Currently it is the headquarters for the James Beard Foundation and space is used for private events and classes.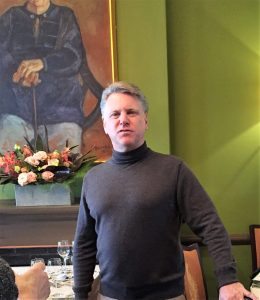 BC Wines, Miles Prodan, CEO and President of the BC Wine Institute
The wines of British Columbia are marketed through the British Columbia Wine Institute since 1990 as part of the government initiative to develop a competitive wine industry. This year the organization celebrates 27 years of the Vintners Quality Alliance (VQA), a standard that guarantees that wine is made from 100 percent BC grapes.
The quality of BC VQA wines has been globally recognized through international competitions and the destination has seen the growth of wine tourism. BC has also experienced an expansion of farm to table restaurants, the development of unique winery accommodations, a growing number of wine touring options and wine themed events.
BC wine exports have grown from $5.7 million (2011) to $19.3 million (2016), an increase of 237 percent. The industry has developed from 17 grape wineries in 1990 to 278 today. Approximately one million tourists visit BC wineries annually. The BC wine industry contributes $2.8 billion in provincial economic growth annually.
Let's Eat
Bringing their culinary skills to celebrate the 150th Birthday of Canada: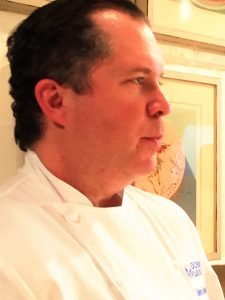 John Johnson, Four Seasons Hotel, NYC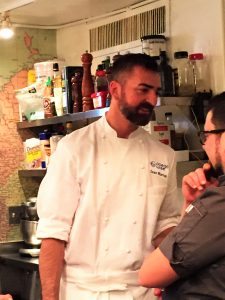 Sean Murray, Four Seasons Hotel, Chicago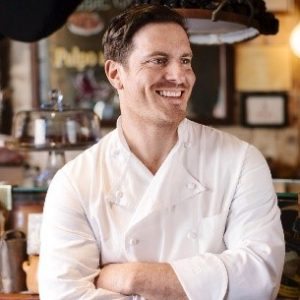 Seamus Mullen, Tertulia and El Colmado, NYC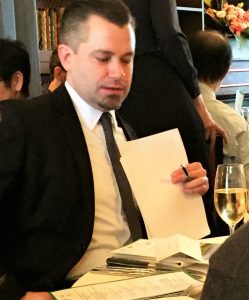 Shaun Acosta, Four Seasons Hotel, NYC Downtown
Top 40 Foodies under 40
The sommelier for the event was Kurtis Kolt who selected wines with premium BC VQA designation. As BC Sommelier of the Year (2010), Kolt is one of Vancouver's Top 40 Foodies under 40.
Over 100 journalists, sommeliers, chefs, wine makers and vendors were invited to experience a five-course fine dining moment, complete with white table cloths, and a plethora of forks and knives, appropriate for a banquet.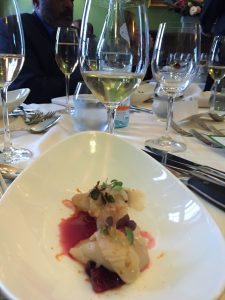 Noted guests included:

Kevin Zraly, formerly the Wine Director of Windows on the World Restaurant (1976-2001). Since 1976 he has taught classes at the Windows on the World Wine School (Marriott Marquis Hotel, NYC), graduating over 20,000 students. He is the author of the largest selling book on wine and received the 2011 James Beard Lifetime Achievement Award.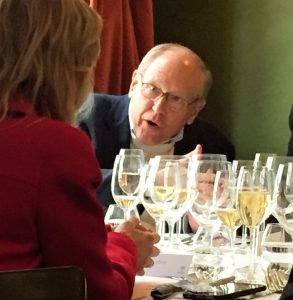 Michael Yurch, President of Bluest Sky Group, is the former President of Sherry-Lehman. Currently he is a member of the faculty at Sonoma State University, the leading institution on the wine industry. In addition, he is the founding member of the Informal Coalition to Preserve Consumer Access to Wine, a group formed to defend and expand the rights of American vintners to export their products.
Supervising the Birthday bash was Jose Lucio, Maître d'Hôtel.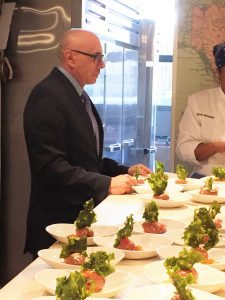 The Wine/Dine Event
• First Course
Geoduck & Pacific Scallops Crudo, Bottarga, Blood Orange
Paired with Steller's Jay Brut 2010, BC VQA Okanagan Valley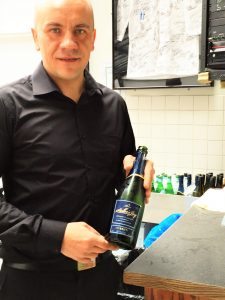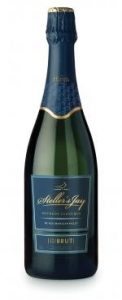 To the eye, light straw and petite, sparkling effervescence. The nose detects hints of grapefruit, green apples and minerality under an umbrella of sweetness. Clean, dry finish.
• Second Course
Albacore Tuna Tataki with Peas, Asparagus, Artichokes, Citrus Vinaigrette
Paired with Little Farm Winery Mulberry Tree Vineyard Riesling 2015, BC VQA Similkameen Valley.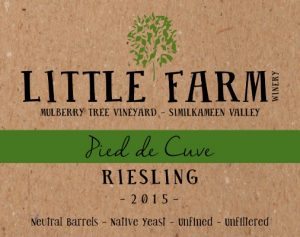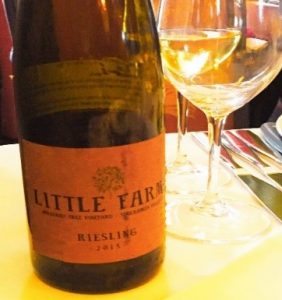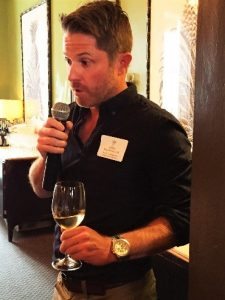 Rhys Pindar, Master of Wine
To the nose, lemon, lime and green apples with hints of tangerine and spice. To the palate, the fruitiness and citrus is tempered by minerality. The bone-dry finish is heightened by high acidity and a mineral core.
• Third Course
West Coast Mussel & Clam Soup, Fennel Pollen, Maple
Paired with Black Hills Estate Winery Chardonnay 2015, BC VQA Okanagan Valley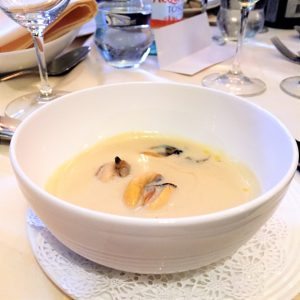 To the nose – fresh pears and apples with sweetness tempered by minerality. The palate is delighted with pineapples, and fresh apples with a hint of toasted oak and creamy vanilla plus a suggestion of caramel and toffee.
• Fourth Course
BC Salmon, Mushrooms, Celery Roots & Hearts, Black Truffle Dressing
Paired with Bordertown Vineyards and Estate Winery Cabernet Franc 2014, BC VQA Okanagan Valley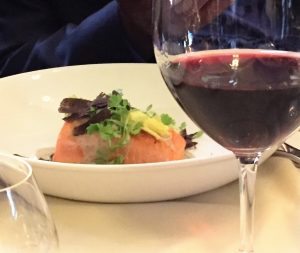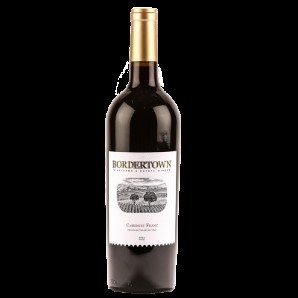 The nose is delighted with tobacco, dark spice and green pepper with a suggestion of mint. The berry flavors mix well with supple tannins and offer a pleasant and lengthy finish.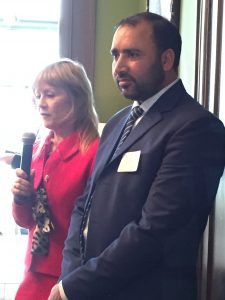 Cindy Ferrie and Mohan Gill, owner and viticulturist of Bordertown Vineyards and Estate Winery located in the Okanagan Valley, British Columbia
• Fifth Course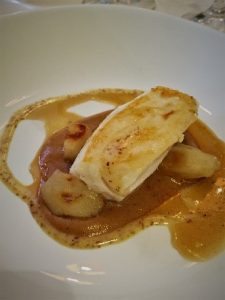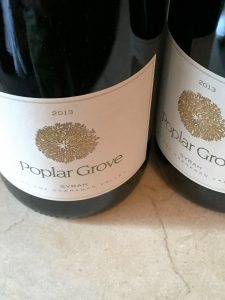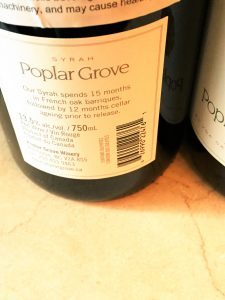 Roasted Haida Gwaii Halibut, Caramelized Onion Crema, Parsnip Foam, Black Pepper, Maple & Roasted Chicken Jus, Smoked Vancouver Island Sea Salt.
Paired with Poplar Grove Winery Syrah 2013, BC VQA Okanagan Valley
Deep crimson to the eye. To the nose, blueberries, violets, very ripe prunes and cherries, cranberries, cloves and a hint of smoke. The palate finds baked plums and black pepper with a suggestion of caramel. Tannins are soft and enhance the Syrah meatiness. The full-bodied finish adds another delicious layer of memories.
Dessert
Chocolate, Kelp, Caramel & Kumquats
Paired with Bench 1775 Winery Paradise Ranch Viognier Ice wine 2014, BC VQA Okanagan Valley
This amazingly delicious icewine is made from Viognier grapes, harvested at the peak of cold temperature of -15degrees C. Fruity and full of perfume the icewine is enhanced by hints of apricots, guava, pineapple and orange zest. Awards include: 2016 Wine Press Northwest Gold; 2016 Los Angeles International Wine Competition, Gold; 2016 Dan Berger's International Wine Competition, Silver; 2016 San Francisco International Wine Competition, Silver and InterVin International Wine Award, Bronze.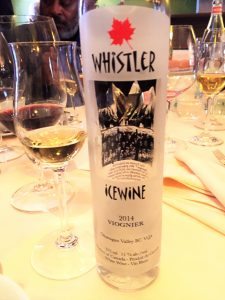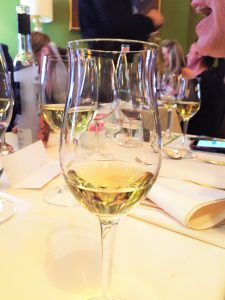 For additional information on BC Wines: winebc.org
© Dr. Elinor Garely. This copyright article, including photos, may not be reproduced without written permission from the author.