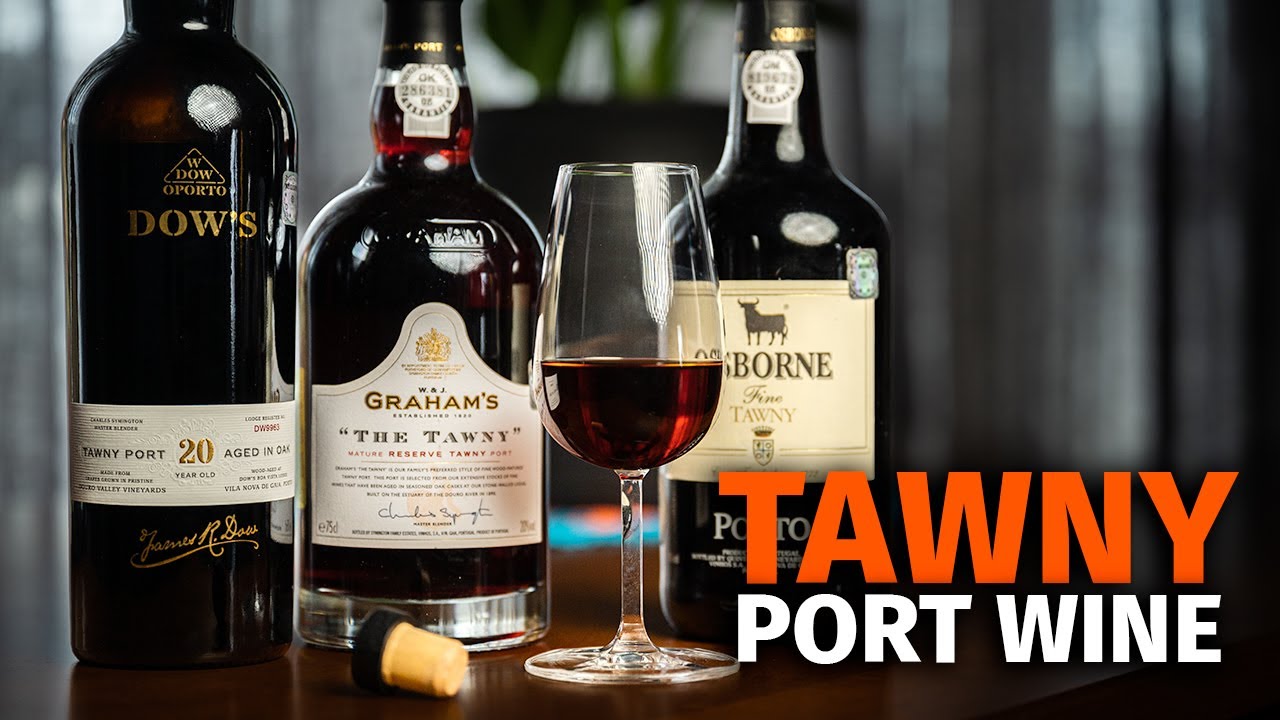 All about Port Wine
The soil, fruit, and blending expertise of the Oporto vintners result in wines with a distinctive character and flavor. Portuguese legislation has great control over the area.
Red Port
Tawny. Tawny port is a blend and matures in cask (wooden barrels), changing its color to produce a mix of nuts and fruit flavors that are prepared in small batches. Many tawny ports are categorized as premium and can be aged for many years resulting in layered taste sensations.
At the source. Red wine forms the foundation for many ports. Red wine contains the heart-protective antioxidant resveratrol. Research suggests that cancer, diabetes, and Alzheimer's disease can be prevented using resveratrol's antioxidant and anti-inflammatory qualities and is also good for arthritis, skin inflammation and enhances the immune system. It is also recommended for physical and mental health, weight loss, improved heartbeat rate, assists in the reduction of stomach inflammation, manages cholesterol levels and promotes strong mental health. The medical attributes have moved consumers from hard spirits to light alcohol. The health benefits are expected to increase the expansion of the market size as there is a preference among younger generations for premium wines for personal use and gifts adding to market growth.
The coronavirus pandemic in Spain and the rest of Europe led to an increase in the consumption of Port wine because of its taste, health benefits, and lower acidity compared to whiskey or beer. Port wines are varied and available as blackberry and raspberry, cinnamon, caramel, and chocolate.
White Port
White Port is usually made from a blend of white grapes including Esgana Cao (Sercial) and Malvasia Fina. The blend is regulated by the Instituto dos Vinhos do Douro e do Porto. The production process is similar to red Port; however, the maceration period is shorter. The alcoholic fermentation is arrested by introducing a neutral grape spirit of about 77 percent alcohol by volume. The process, known as fortification, results in a fortified wine that is high in sugar and alcohol.
A white Port is likely to display a golden color and emits aromas of honey and nuts with low acidity and sweetness levels ranging from off dry to fully sweet. Sweet Ports (lagrima= tears) are fermented in tanks (sometimes wood to impart color and complexity).
White Port should be served chilled in a white wine glass or mixed with equal parts of white Port and tonic or soda water in a cocktail glass with a lime wedge. It is perfect for sangria when the fruit is macerated in the white Port before mixing with a bottle of white wine. Unopened, white Port will keep for years; when opened, refrigerate for up to one month.
Produced
The Romans are presumed to have produced wines in Portugal after crossing the Douro River (137 BC) to conquer the Celts in what was then called Lusitania. The intensive planting of vineyards in the Alto Douro is traced to King Denis's efforts in the 14th century to promote agriculture throughout this region. Winemaking grew thanks to the British and they granted special trading privileges in the period after Spain recognized Portugal's independence under the 1668 Treaty of Lisbon.
The British expanded its wine interests in Portugal after first levying heavy duties and then a ban on French wine in the late 1600s in response to Louis XIV's protectionist policies. As the British increased their businesses, they began to experiment with additions to Portuguese wines. An abbot in a Larnego monastery added brandy to halt fermentation as it turns sugar into alcohol. By arresting this process, Port retains a sweetness while the brandy strengthens the alcoholic content.
The Methuen Treaty (1703) increased British imports of Portuguese wines by reducing the duty on these wines compared to that assessed on French wines. Drinking Port became a patriotic cause for the British to retaliate against the French.
Dr. Samuel Johnson, "Claret is the liquor for the boys: port for the men…" (Life of Samuel Johnson, 1791, Vol III), and poet Jonathan Swift (18th century) is noted for determining, "Bravely despise champagne at court. And choose to dine at home with port." By the end of the 18th century, the British were importing three times more Port than they do today, even though the UK's population is now much larger.
Terroir
The Alto Douro region in northern Portugal has the climate, soil, and topography needed by the grapes to produce Port wine. Extremes in weather, from scorching summers to cold winters, combined with rocky soil create highly concentrated flavors in the grapes imparting a unique and memorable flavor profile for Port. Lying beneath the soft, phosphate-rich stony soil (schist) from which the terraces are carved, is solid volcanic rock. When torrential rains pound the region, the narrow 70-degree terraces constructed along the gorge's side help prevent wines from washing away. The water soaks through the schist to collect above the non-porous volcanic rock, creating a reservoir of water that the vines and roots tap into during the dry summers. The surrounding mountains of Maro and Alvao e Montemuro protect the vineyards from harsh winds coming off the Atlantic Ocean.
Who Drinks Port?
The average consumer is aged 50-55. Even if you sit at your local bar (in the USA) for days/weeks on end, you are unlikely to see many people drinking port as most consumers are located in Europe and popular in the UK.
In 2020, the global port wine market was valued at $942.02 million and is projected to reach $1371.26 million by 2030 increasing at a CAGR of 4.26 percent from 2022 to 2030. The largest market segment is tawny port in terms of market share (2020) and this sector is expected to retain its dominance through 2030.
The Port Wine Institute Regulates Production
Countries guided by the European Union laws determine that only Portuguese wines from the Douro demarcation region have the right to be labeled as PORT as a method to protect the traditional and economic importance of the product and region. Usually, it is served as a digestif, after meals to accompany desserts of cheese and nuts and/or chocolate although tawny and white Port is also served as an aperitif, before meals.
To control the quality of Port, the Port Wine Institute regulates production:
1. Wines must be made from grapes grown in the Douro region (the world's oldest demarcated wine region (1756) as determined by a royal charter when the Marquis do Pombal was prime minister. The region's outlines remained unchanged until 1907 and changed again in 1921.
2. Grapes must be from the list of 15 red and 14 white varieties and are recommended, authorized, or temporarily authorized and include: Malvasia Fina, Viosinho, Donzelinho, and Gouveio (white). Tinta Baroca, Tinta Roriz, Tinto Cao, Touriga Francesa and Touriga Nacional (red). The most popular varieties: Mouriscos, Tintas, Tourigam for red; Malvasia Fina for white.
3. Must have an alcohol content of 19-27 percent of volume, except for the dry, light white types which can have a minimum of 16.5 percent. To achieve this, the addition of brandy is set at a ratio of approximately 1/5 of the volume of must, or about 115 liters of brandy to 435 liters of must.
4. Red ports are classified as: vintage, ruby (red), tawny, medium tawny, and light tawny
5. Whites are called: pale white, straw-colored white, or golden white
6. Sweetness: very sweet, sweet, half dry, dry, extra dry
7. Port can be distinguished by the specific vineyard (quinta) that produced it
Notable Port Wines
1. Kopke.
The Kopke family originated in Hamburg, Germany arriving in Lisbon, Portugal in 1638. Christiano Kopke began his career as a merchant and exporter of Portuguese products in Porto. When the wine (aka Portwine) was recognized, the House of Kopke (the oldest Portwine's export firm) became one of the leaders in the industry.
In June 2006, Kopke became part of the Sogevinus Group. Gonzalo Pedrosa and Pania Oliveira are responsible for the production and sale of Douro DOC wines (including Kopke, Casa Burmester, etc.) – quality Port wines with an emphasis on oak-age Colheita Ports. A leader in the Portuguese market of Port wine, the Sogevinus Group is responsible for producing 8.25 million bottles, with 7.05 million bottles of Port wine alone. The Group exports 60 percent of its total wine production to over 60 countries. The main markets include the Netherlands, France, the US, the UK, and Denmark. Their estates include 88g acres of vineyard and fruit trees in the Douro region.
• Colheita White 2003 (bottled in 2021)
Notes.
The 30-year-old white Port was aged for 30 years in seasoned oak casks. Amber hue to the eye; light sweetness to the nose with a hint of honey and honeysuckle, cherries in syrup, and molasses. On the palate dried tropical fruit, marzipan, orange marmalade, orange zest, spice (pepper and ginger). The finish to this sweet (20 percent abv) delicious story? Thoughts of raisins, figs, marzipan, and almonds.
Serve chilled as an aperitif and paired with foie gras. Excellent paired with mushroom risotto. As a dessert favorite, team with a spicy apple crumble or a crispy crepe.
• Kopke Colheita Port 2002
Blends of traditional Douro red varieties and grown on schist-sandstone soils at 600 meters of elevation, Colheitas are made from a single harvest and aged in oak barrels for various periods of time but never less than 7 years. Bottled from cask as the market directs.
Notes.
Brown with red highlights to the eye; the nose finds cherries, wood, dried fruit, toffee, citrus peel, figs, prunes, and cinnamon. A fruit medley entertains the palate directing attention to a slightly sweet finish that is highlighted by significant acidity and minerality.
A Final Thought
"What is better than to sit at the end of the day and drink Port with friends, or as a substitute for friends?
© Dr. Elinor Garely. This copyright article, including photos, may not be reproduced without written permission from the author.