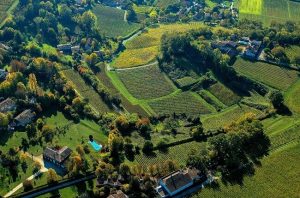 Anson: Vincent Dupuch – Bordeaux Right Bank's quiet magician
Jane Anson meets the man with a claim to be Bordeaux's best Right Bank consultant that most people will never have heard of, and leaves feeling optimistic about the fortunes of Fronsac.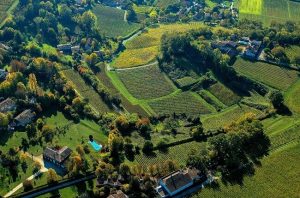 The commune of Saillans sits up at just over 80m in altitude, not the highest point in the Fronsac appellation (that would be 86m in Fronsac itself, just next to Château Les Trois Croix), but certainly the section with the densest concentration of big names.
You feel the potential as you drive around, well exposed limestone slopes descending down to the port (today little more than a jetty over the Dordogne river) with discreet signs that bear the names La Vieille Cure, Dalem, Villars, de Carles, they are all found here – as is Dany and Michel Rolland's family estate Château Fontenil.
I'm visiting the rather more discrete Château Tour du Moulin, because of a tip I received from Denis Durantou at L'Eglise Clinet. He tells me that he never buys an estate without Vincent Dupuch at his side, assessing together the quality of the terroir.
Tour du Moulin is Dupuch's home estate, and a recommendation from the Magician of Pomerol is good enough for me.
It turns out that Dupuch is an oenologist and consultant for around 20 of the biggest name Right Bank estates, even though you likely haven't heard of him. He prefers to work behind the scenes, doesn't have a website (doesn't even have the internet at home, much to the annoyance of his 13 year old son), and was reluctant to give me the names of his other clients, although I heard the words Petrus, Ausone and Lafleur among them.
He spends so much time on consulting (around 80% of his working week) that his own estate could do with a little more marketing, but it should really be counted in the same breath as Saillan's other star names.
Just 8.5ha (although only one hectare when he took over in 1987) spread over 28 different parcels in four entirely separate parts of Fronsac on a mix of the hard Calcaire à Asteries and the softer limestone-clay Molasses de Fronsadais, with some parts so steeply sloped he has created terraces. I tasted eight vintages heading back to 2001, and found excellent consistency and a reminder of that juicy, sweetly-fruited tension-building trick that limestone terroir can pull off better than any other soil type.
They are not heavy-shouldered wines and although there is clearly ripe fruit are not over exuberant when young ('Sometimes I think more about pleasing myself than the consumer' and 'barrels should add elegance and structure and then be forgotten' are two of his observations that should give you some idea of the restraint in his wines) but the 2001 alone made me realise what Durantou sees in Dupuch.
In fact looking over old Decanter scores, back in 2000 David Peppercorn singled it out for consistency in a Fronsac tasting, the only estate to score four stars from him in every year across a mini-vertical of the 1995, 1996 and 1997 vintages.
His clients today no doubt also appreciate Dupuch's background with the Gironde Chamber of Agriculture, where he worked for 16 years until 2002 specialising in the impact that vineyard work has on wine quality.
Among his particular areas of research have been:
the effects of canopy height and leaf cover;
the effects of grass and other cover crops between vine rows on vigour and concentration in grapes (spoiler alert 'everything is true and everything is not' he says, looking instead to terroir and grape variety interactions).
He is also a specialist in selecting vines for massal selection, something of increasing importance to all the estates mentioned above.
We spend a fascinating few hours poking around some of what he considers the hidden terroirs of Fronsac, particularly those blocks where the soil reaches just a few dozen centimetres before hitting limestone, and where the south-facing slopes allow the best fruit expressions to be drawn.
Among his tips are the plateau in the commune of La Rivière where you find Château La Rousselle (and various plots owned by both La Rivière and La Dauphine). This is where in 2011 he managed to purchase vines that had once been owned by his great grandfather.
He would like to buy more but the recent combine purchasing power of two large Chinese consortiums, and the new French owners of La Dauphine from Cegedim insurance, have pushed land prices – and more significantly competition for land – up in the region.
So, I almost hesitate to ask, does all this mean that Fronsac is finally finding its way back to the acclaim it once enjoyed?
'The balancing act in Bordeaux is what comes first – investment or recognition?' he says. 'To find the hidden terroirs in the region,' he says, 'you just have to look back into history.
'They may have fallen out of favour today, but there was a reason that they were once acclaimed. The key is to not only locate them but to find ways to bring back their expression – and usually that means money'.
The potential of Fronsac, of course, been flagged up many times – even in the face of uncomfortable truths such as Christian Mouiex admitting that he sold up his Fronsac estates because they never made any money.
But, as with Castillon, there is a feeling that this time, maybe, Fronsac is finding a firmer footing. In the meantime, I suggest getting to know the work of a man that some of the most acclaimed names of Pomerol and St-Emilion put their trust into.
Might it help further the renown of Fronsac if this quiet consultant steps out of the shadows? I'm guessing it might, but you'll have to take my word for it – Dupuch himself would be the last one to admit it.
The post Anson: Vincent Dupuch – Bordeaux Right Bank's quiet magician appeared first on Decanter.