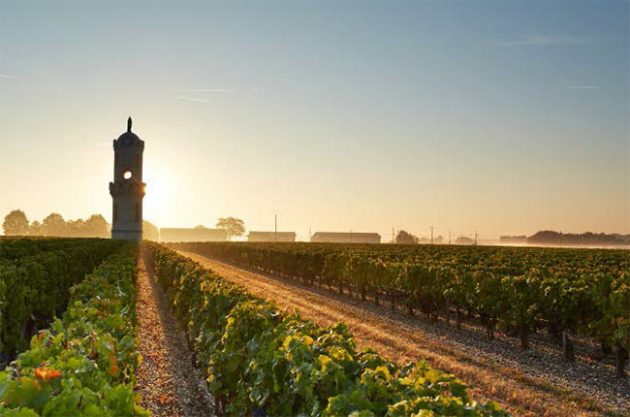 Anson: What it costs to buy a Bordeaux château
Fancy your chances as the next owner of a classified growth, or would you rather build from the bottom in Fronsac? Jane Anson has the latest vineyard prices across Bordeaux appellations.
It's that time of year, when the French land agency SAFER releases its updated price guide for buying viticultural lands around France, and we can fantasize about buying something in Bordeaux and then over-charging for our own en primeur wines.
Of course, we are only talking about vineyards here. So, make sure you have something spare for estate buildings and the brand name…
What's happening to vineyard prices across France?
The Rural Property Review covers the price of agricultural land – forests, grazing land, orchards, farms – in all regions of France. It shows the overall prices have risen by 13.5% since 2012.
For vines specifically, France saw just over 9,000 vineyard transactions in 2016, unchanged since 2015, covering 15,580 hectares of wines worth €780 million (down -2.6% from last year).
Vineyard land prices in AOC regions as a whole were stable, with just a 0.1% rise overall to an average of €104,000 per hectare, with a 2.2% rise for non-AOC regions.
Champagne was one of the few places to see a drop in price per hectare of -2.6%, with Burgundy-Jura-Beaujolais (they are recorded as one) seeing the biggest average rise of 6.8%, the Loire 5.8% and Bordeaux-Aquitaine 3%.
Who is buying?
In terms of who's buying, SAFER records that of all agricultural sales in France (so not just vines) overseas purchasers account for 5% of transactions, representing 64 purchases in 2016 worth €42 million – 2/3 Europeans with Belgian, Swiss and UK buyers at the top (although bear in mind if non-French are buying through a French company this will not be recorded).
SAFER has not split this information out for vineyards specifically, but does record that first-time purchases coming from a non-wine-owning background represents 23% of buyers, compared to 18% in 1993 – or 2,240 purchases in 2016, spending in toal €139 million.
The SAFER report linked the slight drop in Champagne prices to lower sales in France but also in the UK following the weakening of sterling – showing in case we needed any more reminding just how closely these two markets are interlinked.
Bordeaux wine château sales are down
In Bordeaux itself, prices remained stable or rose slightly in most appellations, but there was less on the market – the lowest number of estates or vines for sale since 2009 according to SAFER statistician Robert Levesque – with 16% less land available to buy representing 11% less capital expenditure than in 2015 – or 708 sales in 2016, down from 819 in 2015 and 803 in 2014.
Vineyard prices: Pauillac leads the way as Pomerol rises
Looking around Bordeaux, as ever Pauillac is at the top of the tree at €2 million average price per hectare, although this has now remained unchanged for the past three years.
Pomerol stands at €1.3 million average – a rise from €1.1 million over the past few years – with the very best lands exchanging hands at €4 million per hectare.
St Julien and Margaux are at €1.2 million per hectare, unchanged from last year but up from €1 million in 2014. The majority of appellations haven't budged in price – Moulis (€80,000 on average per hectare), Listrac (€75,000/ha), Haut-Médoc (€80,000/ha), Médoc (€50,000/ha), Cadillac (€18,000/ha), Sauternes (€35,000/ha), Blaye (€18,000/ha) and Bourg (€22,000/ha) are all unchanged from 2015. Generic AOC Bordeaux prices have risen slightly to an average of €16,000/ha from €15,000, but with the best plots reaching €25,000/ha.
Only one appellation has actually dropped in price over past few years: vineyards making Right Bank Liquoreux sweet wines, down from €16,000 to €15,000.
'The drop in sales is I think it driven more by a lack of supply than a lack of demand,' Alex Hall of Vineyard Intelligence told me when I called to ask for his feedback on the figures.
'Fewer vineyards, and notably fewer good quality examples, are coming onto the market. In areas such as AOC Bordeaux and the Côtes de Bordeaux I see a lot of the same estates on the market and relatively few new properties coming up for sale'.
'This also explains the fact that prices have remained relatively stable, although demand is pushing up prices in the more prestigious appellations such as St-Emilion (where prices vary right from €180,000/ha up to €2 million) and St-Estèphe (the variation here goes from €280,000/ha to over €800,000/ha).
Demand may have dropped slightly in terms of existing growers putting off buying more land due to overall economic uncertainty or the lag effect on balance sheets of the poor 2013 harvest. There has also been a fall in the number of Chinese purchases with the problems of taking money out of China, so this will have had some impact'.
Over at SAFER, Levesque pointed out that even if Chinese purchases have slowed down, they have had one clear and positive impact over recent years in both Canon Fronsac and Fronsac by 'reviving the attention of local players', as he put it – or drawing attention to the quality of the best terroirs.
This has meant an average price in 2016 of €100,000, up from €70,000 in 2014. 'Prices have continued to rise due to the significant number of transactions in recent years,' he said, with the best spots now exchanging hands at €150,000/ha in Canon-Fronsac.
Looking forward, it will be interesting to see if there is frost impact on sales in 2017 – plenty of winemakers in the smaller regions have spoken about the severe threat to cash flow that may lead to selling up, and apparently it is near impossible to find any vines to rent on a short term basis as growers look to replace lost production.
But for now, the key question for potential buyers is where does the smart money go? The tough part is weighing up cost per hectare versus potential bottle price and capital appreciation. It's particularly difficult to buy smart in Bordeaux, where there are such tight caps on generic AOC bottle prices. As Hall points out, 'Castillon is a good example of this.
The St-Emilion producers who bought land there in the 1990s and early 2000s were attracted by much cheaper land of a similar quality potential as St-Emilion but the wines cost the same to make (for an equivalent quality) and yet struggle to achieve the sort of prices a decent St-Emilion can achieve'.
Looking at prices, St-Estèphe looks like there is still potential for smart buying, especially with in-bottle price rises in recent years. Lalande-de-Pomerol is another appellation that neighbours the big guns and offers return-on-investment potential at €200,000/ha – or it might be smarter to head to regions where the price hierarchy doesn't exist to the same extent.
The Rhône, Provence and maybe the Loire could fit – Hall points out the average price in the Rhone and Provence stands at €43,000/ha, while the Loire is at €30,000/ha.
'So it is probably still possible to buy relatively inexpensive land and sell the wine at relatively high prices, provided you get the product and distribution right'.
And once you get those right you never know, there's always hope of being the next Whispering Angel…
More articles like this: