Decadent snacks with wine
The global market for snacks is expected to reach $138.2 billion by 2020 as a result of a frantic and frenetic lifestyle where consumers are replacing main meals with flexible, light and convenient snacking options.
Millennials (24-37), Generation X (38-48) and Generation Z (0-23), are responsible for the growth in better-for-you snack food consumption between and at meals. These groups have a positive attitude toward snacking with a preference for eating healthy food that is conveniently available. Millennials are more likely to snack than older consumers, with 24 percent likely to snack 4+ times each day and 23 percent are snacking more this year than last year.
Millennials and Wine
Millennials are also drinking lots of wine, consuming 42 percent of all the wine sold in the USA (2015), according to Wine Spectator. Wine-drinking millennials are also sipping more than older generations, formerly a major wine buyer market.
Social norms influence wine consumption; requesting another beverage may be the mark of someone who is different (and not a team player). The fact that wine comes in two colors makes it possible for hosts to offer their guests the illusion of choice.
The bifurcated choices (red or white, still or sparkling) give the illusion of autonomy. Another reason may be Freudian, not in sexual sense, but what Freud called der Narzibmus der kleinen Differenzen (the narcissism of small differences). Contemporary consumer culture faces criticism for exploiting the bias, providing customers with a superficial sense of unique endless trivial product variations to provide a sense of being better, only to mask an underlying uniformity and sameness.
It may be that the complexity of wine is essential to its popularity. The drinker can demonstrate status and be considered a connoisseur; however, the category must be absurdly hard to navigate and provide opportunities for contrived, hair-splitting distinctions that lets the buyer advertise his own judgment.
Other Habits
Between- meals eating has become a regular habit in the US, with 94 percent of Americans eating at least one per day (2015, Snacking Motivations and Attitudes, Mintel). At least 50 percent of adults snack 2-3 times each day, with 70 percent agreeing that anything can be considered a snack. Millennials prefer snacks with added nutrition but flavor is important. They are likely to purchase snacks high in fiber with claims of increased energy or high protein content to stave off hunger while bold flavors add to the desire for a different taste experience.
Why Snack
Approximately 62 percent of US consumers snack to satisfy a craving with 70 percent of consumers aged 55-62 responding positively to this question. Nearly one-third of consumers snack because it is too early or late to east a full meal, while 25 percent of Americans snack out of boredom and 16 percent snack because they are stressed; another group indicated they snack because they are bored.
Trends
Research from FONA International determined that new product introductions for savory snacks showed an 18 percent increase from 2014-1015. New products in North America demonstrated a 3 percent growth in 2014-2015 following a 19 percent growth 2013-2014.
A Mintel survey found that 38 percent of consumers consider the single most important factor influencing salty snack purchase is a new flavor. Top savory flavors include smoke, vinegar, honey, spice, beef, pizza, barbecue and chargrilled. Spicy flavors influence purchases and research suggests that continuous innovation with a savory focus will keep customers loyal while attracting new consumers.
There will be more popcorn on the shelves as it is growing at 21 percent while cheese snacks have a 38 percent share of market. Roasted/toasted palate pleasers are increasingly interesting to snackers. New roasted products increased by 18 percent during 2014-2015 with a focus on roasted coconut kale chips, oven-roasted sweet potato chips and a variety of roasted nuts, according to FONA International. Ancient grains, root vegetables and seaweed continue to be popular with consumers interested in seaweed with flavors that include onion, sriracha and barbecue.
Culinary Trend report (2017) noted canned sardines are frequently selected for snacks as they are low in calories and high in omega-3s and protein. SRG finds that other important snacks include chickpeas, legumes and turmeric.
Packaging influences purchases and on-the-go and re-sealable packaging is in high demand and meet consumers' preference for portability, share-ability and convenience. Single-serve packages are also important, especially to young consumers.
Not everyone is looking for healthy. SRG forecasters find people eating cake for breakfast, and Mintel predicts bedtime chocolates are the snack of choice.
Indra Nooyi, CEO of PepsiCo, at a recent Net/Net event, forecasted that "Bug related stuff is big," and "…the hottest thing is eating crickets." Pepsi is looking 10 years out and finding the… "weirdest food and beverage food and beverage habits are showing up."
Snack Sales
Location, location, location. Retail locations and word-of-mouth influence millennial snack purchases with 68 percent likely to try a product that has been recommended to them and will go out of their way to purchase from a specific store (43 percent). Affordability is important, along with nutrition (protein and vitamins).
Health. Consumers are concerned with their health and 34 percent limit their consumption of sweet snacks, with 45 percent of those 70+ focusing on this issue.
Although the marketplace is designing healthier products, 60 percent wished there were more healthy snacks options although 51 percent felt that taste was more important than health.
The lines between snacks and meals are blurring. "Consumers clearly associate certain times of day with main meals and between-meal occasion, but what they are eating at those occasions is changing," stated Darren Seifer, ND's food and beverage industry analyst. Seifer believes that food marketers and retailers can capitalize on the growing interest in healthy snack food but there must be a paradigm shift with the focus on providing convenience and food needs of the consumer rather than putting products in pre-defined buckets such as "snacks" or "main meal" categories.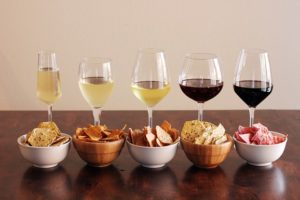 Wine/Snacks Paired
While snacks alone are delicious and satisfy both our wants and needs, without a glass of wine in one hand and the snack in the other, the wine/dine synergism is less than magical.
In general, BBQ Potato Chips should be accompanied by a red Zinfandel, while Tortilla chips and Salsa can be paired with a tart Riesling, Pinot Grigio or Sauvignon Blanc. Popcorn should always be accompanied with a Chardonnay or even Champagne while French Fries deserve a Merlot or Pinot Noir, although Pinot Grigio will also work. For Hummus, try a Pinot or Sangiovese while Twinkies will stand up nicely to a Riesling or Muscat. Pepperoni pizzas call for a Zinfandel and white chocolate is best paired with Champagne.
Snack Attack
A Snacks Meet-Up recently took place in NYC. The objective of the program was to introduce new snacks and to raise consumer awareness of existing products – with a healthy twist. I was most impressed with the following enjoyable snack options:
Perfect Pairings: Wine and Snacks
Turkey-Jerky Godshall's Artisan Butchers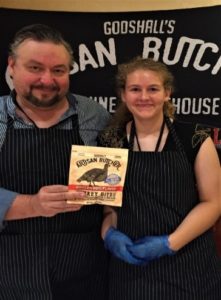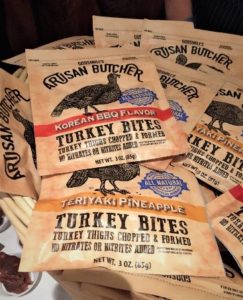 I was stopped in my tracks when I spotted Turkey-Jerkey and delighted to learn that the product is made from real turkey thigh meat. The bacon smell is delicious because Godshall's products are wood-smoked and chemicals are not used in the production process.
Godshall's is employee owned and recently received the Independent Processor of the Year (2017) award by National Provisioner. The honor recognizes the Best in American producers of meat and poultry. The company uses solar modules, and has a record for cleanliness.
The Natural Turkey Bites are moist and have bold flavors that include mango Sriracha, Korean BBQ and pineapple teriyaki. The Snack Sticks are tender and are available in beef, turkey or pepperoni flavor. Natural fully cooked Turkey Bacon (5 seconds in the microwave or direct from the pouch), delivers real wood smoked turkey bacon that could fool a pork bacon fan. I teamed Bites with scrambled eggs in a microwave – and was happy with the appealing outcome.
Wine Pairing: For Turkey Bites/Bacon, pour a sparkling white or rose. For Other Bites and jerky recipes, pour a Cote du Rhone. The Bites are also enjoyable with Lambics and dry ciders (especially after a day of hiking and biking).
David Pedrol, CEO, WineToBe, recommends… "a light Merlot from Chili…light body, crisp acidity and slightly sweet."
Farm Rich Avocado Slices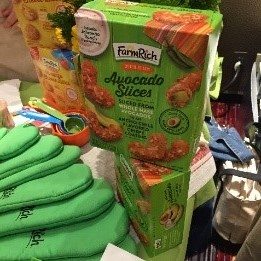 The Avocado slices are selected from Hass avocados and coated with an ancho Chile pepper breading and can be enjoyed solo or added to recipes calling for avocados. The correct dipping sauce in Jalapeno Ranch
Wine Pairing: The appropriate wine with the Avocado Slices is a Sauvignon Blanc. Pedrol recommends a fresh, crisp Prosecco, "The wine should be light and high in acidity to balance the fat of the avocado."
GoGo Squeez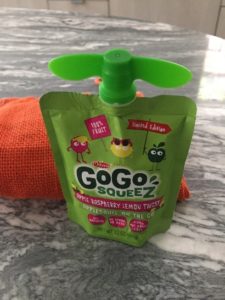 GoGoSqueeZ is 100 percent food in a cute and convenient pouch. The high-quality and natural ingredients offer a delicious treat without sugar. The product is non-gmo, contains no peels, is vegan friendly, made from 100 fruit that is gluten free and certified Kosher.
Wine Pairing: Pedrol recommends a light Parellada grape from Spain or Xarel lo (found in Cava). He suggests a focus on light wines with green flavors and high acidity. Fiona Beckett, a noted food, wine and travel writer recommends a late harvest Riesling or late harvest Sauvignon Blanc.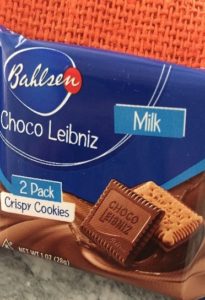 Bahlsen Choco Leibniz
In 1889 Hermann Bahlsen launched is business in Hannover, Germany and his biscuits have been produced, continuously for over 125 years. Bahlsen is the largest family-owned/managed business in the world and continue to focus on traditional quality and innovation. Currently the company is directed by Werner Michael Bahlsen, Hermann's grandson.
Wine Pairing: Pedrol recommends Monbazillac or Moscato, bringing extra flavor to this palate pleasing combination. In addition, for dark chocolate biscuits, a Merlot, Shiraz or Zinfandel is recommended. Milk chocolate will be enhanced by a Cabernet Sauvignon or Sangiovese, while white chocolate will be enjoyed with a Rose of Sauvignon Blanc.
H-Chew (Morinaga). Fruity/Chewy Japanese Candy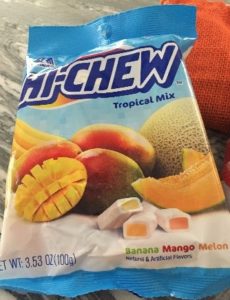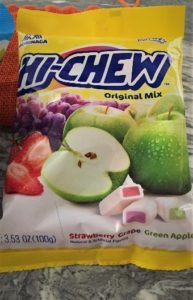 Taichiro Morinaga was born on the southern Japanese island of Kyushu. He grew up in poverty, without a father or a formal education. He moved to the USA at the age of 23 and experienced, for the first time, a piece of candy. He converted to Christianity and vowed to learn the secrets of making candy.
With his new skill-set he returned to Japan and began to sell his candy on the streets. The product was so favorably received that he was able to open a store in Tokyo, The Morinaga Western Confectionery Shop. In 1905 the Angel became the official image of the company, symbolizing his guiding philosophy, "Delicious, Fun and Healthy."
In 1918, after two decades of success, Morinaga & Company was formally established as the first modern candy company in Japan. Hi-Chew was introduced in 1975 and has been available in 170 different flavors over the years. Today it is a cultural icon among the Japanese and it is officially approved as food for astronauts by JAXA, the Japan Aerospace Exploration Agency. In 2017, Hi-Chew Sours and Bites are introduced in the USA.
Wine Pairing: Some sommeliers recommend Prosecco, Cava, Sparkling Wine/Rose, or a light red such as a Pinot Noir or Gamay. Another recommend a late harvest Riesling from Washington State (sweet and sour notes of green apples, apricots and honey) or Domaine Renardet-Fache Bugeg-Cerdon NV. The Bugeg is a low-alcohol pink sparkling wine from Gamy and Poulsard grapes made through the methode ancestrale where the grapes are fermented in chilled vats until the alcohol reaches about 6 percent. A light filtration leaves most of the active yeast in the unfinished wine, when it is bottled and continues fermenting, stopping at about 7 ½ – 8 percent alcohol, retaining the grape sweetness (EmpireWine.com).
Kayleigh Westerfield of Morinaga-America recommends Hi-Chew Cherry with a well-balanced red such as Cabernet Sauvignon, a white Zinfandel with Green Apple Hi-Chew and a crisp Pinot Grigio with Hi-Chew Grape.
The Place for Wine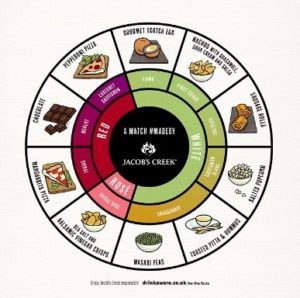 Wine belongs next to every snack. The process is not complicated and definitely brings even the most mundane nosh to a sophisticated adult level. A votre sante.
© Dr. Elinor Garely. This copyright article, including photos, may not be reproduced without written permission from the author.