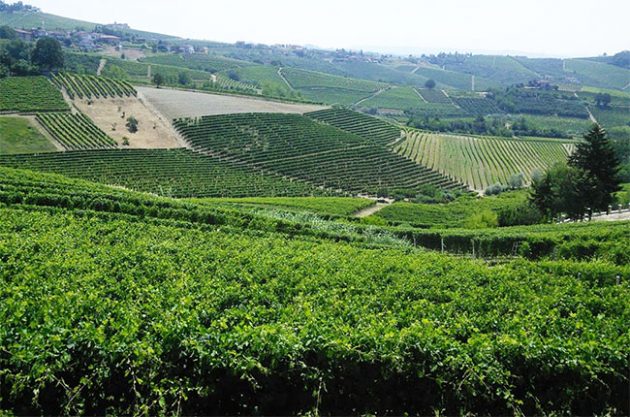 Jefford on Monday: Value in the Langhe
Andrew Jefford catches up with Cinderellas old and new.
Regular readers of this blog will be familiar with my continuing search for great co-operative wineries. The co-operative ideal is a beautiful one: fair pricing; common endeavour; shared rewards. I admit, though, that my reasons for the quest are not wholly disinterested.
I love to buy good wine, but I'm not rich. The top wines of outperforming co-operatives offer some of the best value in today's wine world. In particular, when you find a great co-operative in a classic region, then you can call on an unrivalled source of affordable, dependable wine from proven terroir, as those who follow the wines of La Chablisienne in Chablis and the Cave de Tain in Tain l'Hermitage will know.
Fans of Piedmont's greatest reds will already be familiar with Produttori del Barbaresco, but let me briefly resume some of the reasons why it, too, is such a great source.
First, it's a true specialist: it only vinifies Nebbiolo grapes from Barbaresco; indeed 95 per cent of production comes not just from the DOCG of Barbaresco, but from the village itself (the rest is from Neive). The decision to take Nebbiolo alone was a brave one when the co-operative was re-founded back in 1958 (its initial founding date was 1894, but it was closed by fascists in the 1930s), as many back then predicted the future lay in the easier-to-drink Dolcetto and Barbera. Ever since, it has stayed true to its ideals. The 54 growers have to bring all of their Nebbiolo (from 105 ha) to the co-operative, which then vinifies the wines in the most traditional manner – no rotofermenters or barriques, for example, have ever been used here. The Nebbiolo delle Langhe is pure declassified Barbaresco (from younger vines), and in good years the winery makes a range of nine single-vineyard wines which are given additional ageing, and qualify as Reserva-level wines. The results are superb; unquestionably better than the wines of the DOC's weaker private cellars as well as many unambitious négociant efforts. They can be aged with confidence.
Until very recently, the co-operative equivalent in Barolo (Terre del Barolo) didn't strive to match the ambitions of Produttori, though it was an intermittently useful source of own-label Barolo for overseas buyers, and offered some decent though unexceptional blends. With 300 members and over 600 ha in production from 11 villages, though, it certainly qualified for Sleeping Beauty status.
Has its Prince finally arrived? Has an awakening kiss been gently pressed on to Terre del Barolo's lips? Perhaps — though the prince in this case has returned from the dead. He's called ArnaldoRivera.
The original Signor Rivera was the long-serving mayor of Castiglione Falletto who, in 1958, galvanised local growers into forming Terre del Barolo at a time when Fiat's factory in Turin was draining the area's manpower. Around 15 years ago, those running the co-op realised that if they didn't find a way to make great wines from the best of their members' vineyards, then the next generation would begin to drift away and establish their own private cellars. So in 2008, the cooperative launched a project under the ArnaldoRivera name featuring a single new pan-regional blend plus a cru wine series. Different vineyard sites and enthusiastic growers were identified; a quality charter was drawn up, and winery investments made. It's been almost a decade in the making, but just over a month ago the new range was launched featuring the outstanding 2013 vintage, and including rarities like wines from a single site in Grinzano Cavour and a Rocche di Castiglione. In general, skin-contact times are a little shorter than at Produttori, and there is some discreet use of new oak (tonneaux rather than barriques) for most of the crus. The range also includes a white Nascetta from Novello, as well as a single-vineyard Diano d'Alba Dolcetto and a Valdisera Barbera d'Alba.
I recently had the chance to taste both this range of cru Baroli and some of the recent Produttori releases in a single June day: notes follow. There are some great Langhe classics here – and they're wines we can afford.
Tasting Produttori del Barbaresco
Produttori del Barbaresco, Langhe Nebbiolo 2015
A pale Nebbiolo with drifting strawberry and red cherry scents. After that aromatic prettiness, its light yet firm structure, savoury qualities and impressive concentration are startling: a complete wine, with more power and grip than many higher priced bottles. 90
Produttori del Barbaresco, Barbaresco 2014
There are around a quarter of a million bottles of this, the co-op's flagship wine; it gets around 35 days' maceration time, and spends two years in large oak botte. In 2014, moreover, Barbaresco growers experienced just one-third of the rain which fell in Barolo in the same vintage. Plump, bright black fruits and a firm, pure and lively palate in which once again black fruits take the lead. 90
Produttori del Barbaresco, Barbaresco 2013
Although it's now sold out at the cellar door, this lovely vintage is generally available on export markets. Deep though translucent in colour, with elegant, articulate aromas of teasing fruits and warm earth. Elegant, sappy, brisk wine with an arresting elemental appeal to it. Pure, dry redcurrant fruits and plenty of textural wealth despite its grace and charm: classic Barbaresco. 92
Produttori del Barbaresco, Asili, Barbaresco Riserva 2013
From one of the top crus of Barbaresco, though one with multiple aspects. Warm and generous scents, yet gently flower-perfumed, too. Ample, generous, lush and soft in the mouth, with almost feathery tannins; teased ripeness. Great harmony and charm here. 93
Produttori del Barbaresco, Montefico, Barbaresco Riserva 2013
From a south-facing site, but one which acts as a corridor for winds from the river which head towards Neive, giving it zest and precision as well as ripeness and wealth. Bright, pristine, fresh and elegant at first, then with hidden generosity of apple and plum fruits in the mid-palate, dropping away to an exuberant, stylish, engaging finish. 93
Produttori del Barbaresco, Rabajà, Barbaresco Riserva 2013
Rabajà is often considered as potentially the greatest Barbaresco site of all: a long, sinuous ridge line which begins with a roasted amphitheatre above Martinenga; limestone percentages in the marly soils vary here to great effect. This wine has up to 45 days with its skins held as a submerged cap before three years in large wood and a further years' storage in bottle. Warm, vibrant, harmonious and well-rounded aromas; exuberant, resonant flavours of currants, earth, undergrowth and wild mushroom. Round, soft and complete on the finish: a glorious drink. 94
Tasting ArnaldoRivera
ArnaldoRivera, Undici, Barolo 2013
This is the multi-cru blend named after the eleven ('undici') villages and from no fewer than 54 individual sites; there are 50,000 bottles of this wine in 2013. A deep blood-red in colour, with soft tobacco warmth and glowing plum scents. In the mouth, the wine is concentrated, vivid and long, with a rousing acid-tannin complex filled out with dense fruits. An impressive statement of intent. 91
ArnaldoRivera, Castello in Grinzano Cavour, Barolo 2013
Grown on a single south-west facing vineyard of clay-rich marls at 250 m in this 'satellite' zone of Barolo, separated from the main body of the DOCG by a strip of Diano d'Alba land. Light in colour, with dusty redcurrant scents and slender, elegant, light pomegranate and cranberry fruit on the palate. 89
ArnaldoRivera, Boiolo in La Morra, Barolo 2013
Grown in a SE-facing, clay-rich vineyard at 420 m, owned by the co-operative itself since 1999. A clear deep red in colour, with scent of dried herbs, roses and kirsch cherries. The palate opens softly and sweetly, then juicy acidity and cherry-bramble fruit become apparent over earthy tones and fine tannins. 91
ArnaldoRivera, Ravera in Novello, Barolo 2013
Grown in five different south-facing vineyards in this site of very limey marl, exposed to cool alpine winds. Gothic rather than Romanesque: a rosebud scent and vivid, refined, tight-skirted flavours. Brisk, pert. 90
ArnaldoRivera, Monvigliero in Verduno, Barolo 2013
A fine, intensely limey site of talc-like marl soils in the north of the region, and four separate south-facing vineyard sources averaging 250 m. Very pale in colour, with refined scents of vellum, truffle and polished antique wood. A charming, graceful, open-textured yet fine-textured wine with coffee, truffle and white mushroom notes. Chiffon it may be, but it has width, depth and sumptuousness, too. 95
ArnaldoRivera, Bussia in Monforte d'Alba, Barolo 2013
From two different vineyards towards the southern end of this large, 300-ha cru: south-west-facing on relatively poor soils at an average of 410 m. A dryer scent than its peers, recalling prunes and incense; very classy on the palate (flowers and incense woods) with plunging, sober, serious flavours. 92
ArnaldoRivera, Rocche di Castiglione in Castiglione Falletto, Barolo 2013
From a single, south-east-facing site belonging to the co-operative at 340 m in this astonishing vineyard, perched over cliffs, in the slightly sandier sector, and aged in large new French oak tonneaux. Translucent, glowing red in colour, with scents which combine raspberry, bitter almond and the crystallised violet note typical of fine Cognac. Pure, refined and sustained: a long high-wire walk, pure-fruited yet almondy, too. The faintly bitter asperities add to the refreshing effect. 94
ArnaldoRivera, Vignaronda in Serralunga d'Alba, Barolo 2013
From a single, south-facing site in this great cru of intensely limey marls, also aged in large new French oak tonneaux. Note, though, that in this case the vines were only planted in 2003. Clear and bright in colour, with scents which may remind you of fenugreek, dark berry fruits and wet earth; an enveloping palate of bright, lively fruits with a little more of that Indian spice. 91
More Andrew Jefford columns on Decanter.com:
The politics of wine colour…
Jefford on the Alsace grand cru debate…
The pressing issues in 2017 so far…
Andrew Jefford on Crozes-Hermitage 2015…