Dirndl – or no dirndl – that is the question. For locals, it is a must, and for tourists arriving at the Munich Main Railway Station, there are plenty of stalls ready on the platform for those who want to dress the part. When getting off the trains, for those who arrive without, it's fast food and a fast dirndl to go.
I am walking behind a couple of breathless and breast-less Japanese girls who leave the station in nice push-me-up dirndls a little later. For men, it is Lederhosen – and a must for Arnold Schwarzenegger as well who arrived on Tuesday and rocked away at his table in one of the beer tents.
The very first and very modest tents started 150 years ago in 1867, accommodating not more than 50 people and had little petroleum lights at nights. This has changed now. The largest tent is the Löwenbräu Tent and can accommodate 10,000 guests. More or less a city… in a tent… a really big tent.
This year, Oktoberfest will last two days longer, ending on October 3, with a half-price Family Day on Monday, October 2.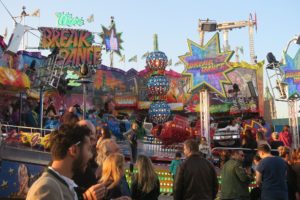 The classics in the form of roast chicken, pretzels, and beer is still the favorite foods in the tents. New is the increasingly wide range of vegetarian and vegan dishes.
So far, 60 oxen ( in 2015 it was 55) were consumed in the Ochsenbraterei and 21 calves in the Kalbsbraterei.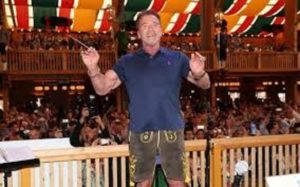 Food to go had a slow start due to the rainy weather, but as soon as the skies cleared, roast sausage, salmon, and Leberkäse sandwiches were as popular as usual. The numbers of sold dishes and drinks is about level with last year.
The cold weather on the first days of the Oktoberfest was terrible for all the outdoor vendors and gigantic entertainment park.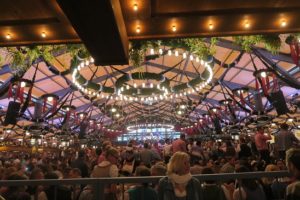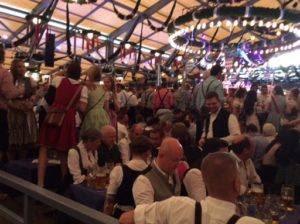 While the Oktoberfest Lost and Found Office was doing well until Saturday night, the office counted 1,300 items – among them 350 pieces of wardrobe, 350 passports, 120 wallets, 110 smart phones and portable phones, 110 pairs of glasses, 100 umbrellas, 85 keys, 35 bags and backpacks, 30 pieces of jewelry, 10 cameras, one tenor, one flugelhorn, one Napoleon hat, one monk's robe, one limited edition Oktoberfest mug (with a price tag of 120 euro), 2 wedding rings (both with engravings), 2 paddles, 2 blood sugar analyzers, and a pair of high heels.